Combloux is the perfect family nature destination for going on vacation in the Alps with children. With its many outdoor activities, throughout the seasons, the mountain is an incredible playground for young and old. Heading for the best parent-child nature activities to try during a stay in our Alpine village: a way to (re)discover the local fauna and flora as a family while soaking up the authenticity of our mountains.
Due to its privileged geographical location, the vast majority of Combloran distractions take place in the heart of nature: What good news for lovers of wide open spaces!
Exploring the mountain and its peaks with the family
The 11 commandments of the little budding hiker
Before leaving
An adapted activity, you will choose
Your itinerary: carefully, you will watch
Le weather report, you will consult
In your pocket: your name and contact details, you will keep
Everything you need (sunscreen, snacks, water bottle, sunglasses, camera, helmet if necessary): in your backpack, you will provide
Another person, of your departure, you will inform
In the mountain
To preserve the beauty of flowers: on the trails, you will stay
After your passage: fences and barriers, you will close
The tranquility of the animals, you will respect – they do not eat the same thing as you
Your picnic: for you, you will keep / your waste: in your bag, you will bring back
With other users: nice, you will be

Family hikes to do independently with children
There is no age to begin to survey the alpine trails comblorans! Even in the Pays du Mont-Blanc, hikes are not exclusively reserved for good walkers and other seasoned athletes.
Here is our suggestion of beautiful mountain getaways to practice at any age. Enough to get some fresh air as a family in a magnificent natural environment!
Explore the themed trails of the Pays du Mont-Blanc
How about adding a touch of extra entertainment to your family outings?
Whether exploring the surrounding nature, delving into local history or tackling other exciting themes, the extensive variety of themed trails in the Pays du Mont-Blanc will capture the interest of all members of your family.
Children's activities to get closer to nature
To the delight of visitors of all ages, a wide range of nature activities awaits you in the picturesque village of Combloux: walks, hikes, farm visits and activities, etc.
Children's multi-activity courses
Whether you stay in our village in summer or winter, our multi-activity courses offer children of all ages a multitude of exciting hobbies and originals including indoor summer skiing, adventure trails, summer tobogganing, aquatic hiking, orienteering, hiking, heritage discovery, gastronomy, creative hobbies, wildlife and flora...
Don't wait any longer to offer your child an unforgettable experience, where he can have fun, learn and grow in a stimulating and secure environment!
---
Visit of Les Montagnards farm
During school holidays, the GAEC Les Montagnards opens its doors to the public. Completely refurbished in 2013, this farm, which brilliantly combines tradition and technology, is the pride of Combloux. An exciting visit rich in learning, which will certainly arouse the interest of young and old alike.
Milking cows at GAEC Val Mont-Blanc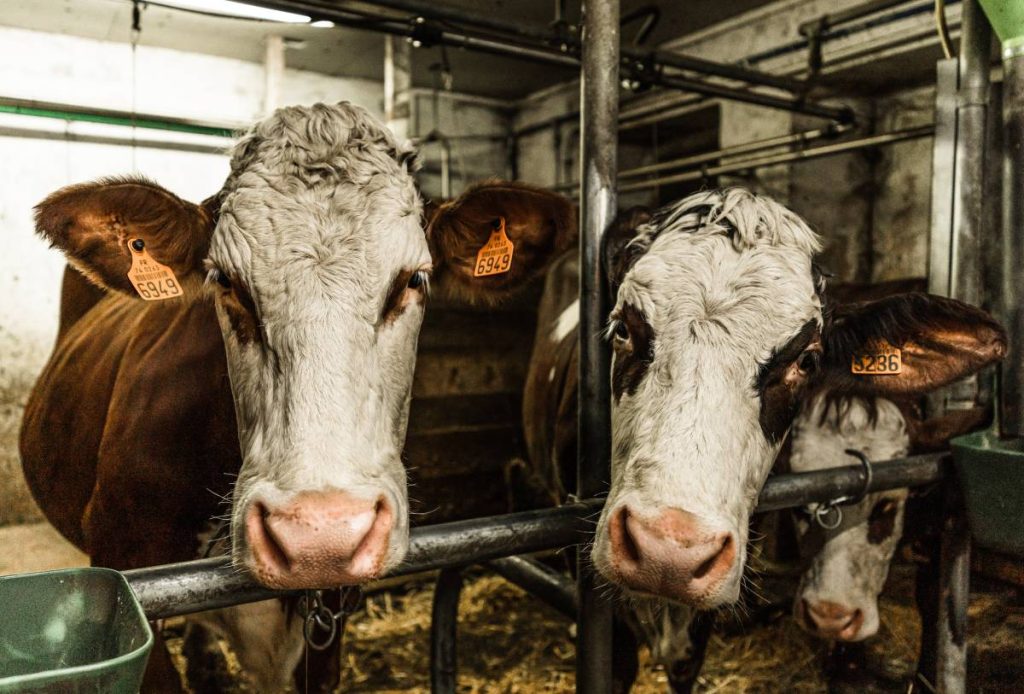 The Paget family welcomes you to introduce the whole family to milking cows, an ancestral know-how used in the past in the mountain pastures.
Need to stock up on good local products? No need to leave the Pearl of the Alps to feed your family decently!
Here, everything you need is close at hand. Moreover, if you wish to obtain good handicrafts : visit The store La Ferme du Val Mont-Blanc in the center of the village of Combloux! It is also the perfect opportunity to come meet our regional producers. Practical: you can find raclette machines for rent here.
A day at the Combloux biotope lake
This summer, dive into pure water facing Mont-Blanc, a stone's throw from the village center! Since 2022, Combloux has had the first ecological body of water open to swimming in France.
This natural swimming pool – designed for both sports enthusiasts and lovers of water games – will delight families in summer!
So that parents and children can enjoy the joys of 100% natural swimming (thanks to the plants that regenerate the water), reservations are strongly recommended.
Small family yoga sessions at the Combloux biotope lake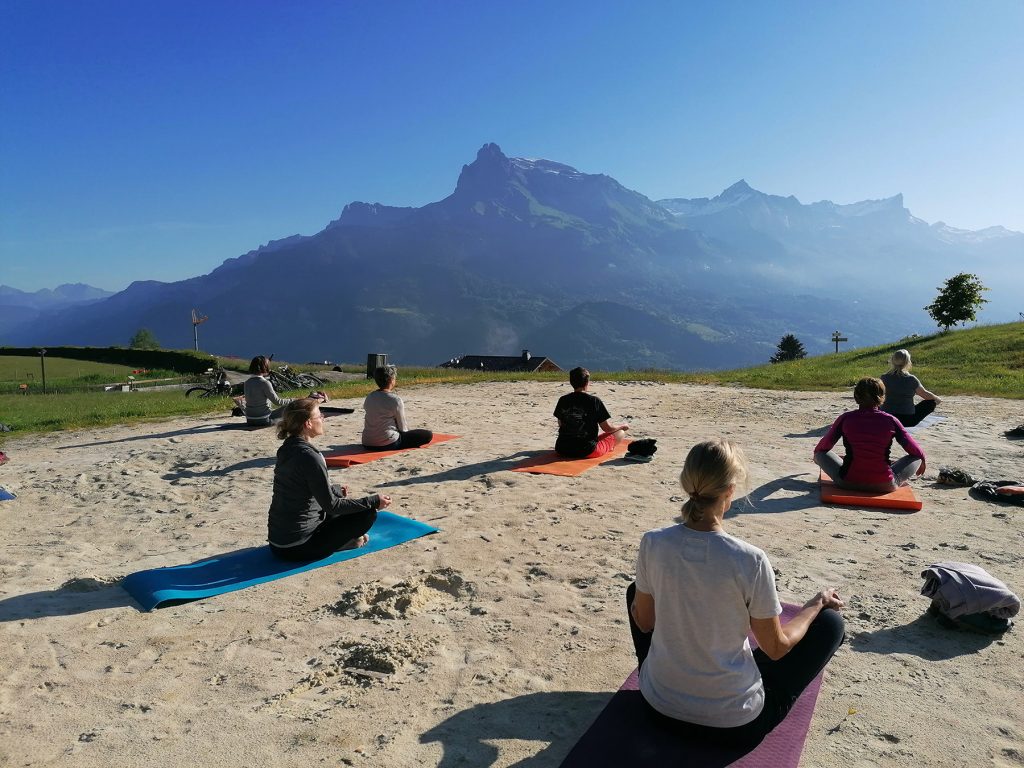 Who said the benefits of yoga were only for adults?
Whether you are an inveterate yogist or a neophyte, practicing yoga as a family is within everyone's reach. This will allow you, among other things, to improve the overall well-being of your whole little tribe – for a zen and serene holiday in the mountains.
In the summer season, parent-child yoga sessions are offered near the Combloux biotope lake.
In Combloux, fill up on adrenaline and beautiful landscapes with your family!
Does your tribe have an adventurous soul? If you like things that take your breath away and your children are not shy either, the whole family will be served at Combloux.
Here are our leisure suggestions to get your adrenaline pumping and enjoy an extraordinary experience, alone or with your family.
Family nature activities in the Pays du Mont-Blanc
Depending on the weather, the season, your desires, your physical abilities… the Pays du Mont-Blanc's family leisure offer can be combined in all weathers.
The Jardin des Cîmes, a relaxing break facing Mont-Blanc
Friends of nature, how about a moment of tranquility and discovery in the company of your loved ones? Ideally located on the Plateau d'Assy, the Jardin des Cimes is a unique place of nature, creation and culture enjoying a breathtaking view of the Mont-Blanc massif.

During a pleasant one-hour ride accessible to everyone, young and old alike can soak up thedreamlike atmosphere of this little corner of paradise, through a original immersive journey appealing to the 5 senses. In the program :
immersion in the heart of mountain environments,
discovery of plant species and vegetable gardens of the world,
sound walks through the peaks,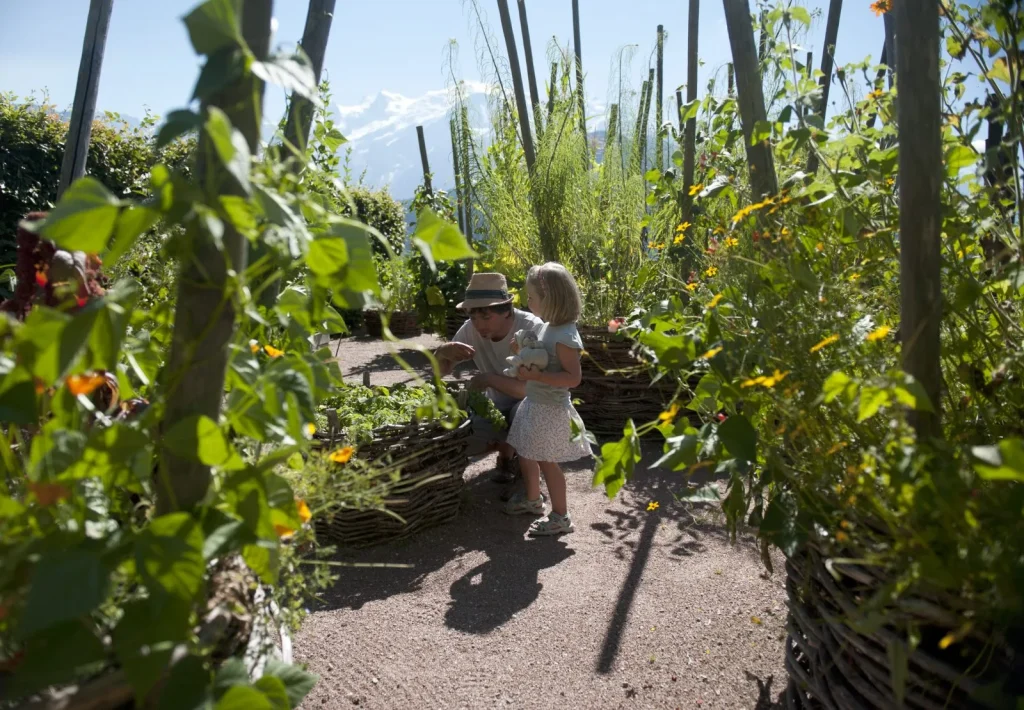 Bonus: once the walk is over, you have the option of continuing your journey in a tasteful way at the garden café.
---