Looking for a village-resort in the heart of the Alps, both authentic but also suitable for welcoming children (and their parents)? Make the right choice: demand the best! Labeled "Famille Plus Montagne" since 2006, Combloux is committed to providing each member of the family with a quality welcome. Here everything is implemented to facilitate the stay of families: from the wide range of leisure and entertainment accessible to all ages, to the infrastructures adapted to both the youngest and the oldest, through specific services dedicated to children and for families… Light on the requirements of the Label Famille + – a real guarantee of quality – allowing us to guarantee you a memorable family stay in our mountains.
Combloux, family destination labeled for its welcome for young and old
Combloux pulls out all the stops in order to guarantee any family un exceptional mountain stay.
Committed to bringing a great satisfaction to our visitors of all agesour intergenerational destination par excellence leads a real welcoming policy towards parents and children.
Family Plus services from the Tourist Office
To welcome you as best as possible, the Tourist Office has a children's area with games to keep them waiting while they ask the stay counselors all their questions. We have also set up a free board game loan system for your stay (a deposit will be required).
A mascot that melts the whole family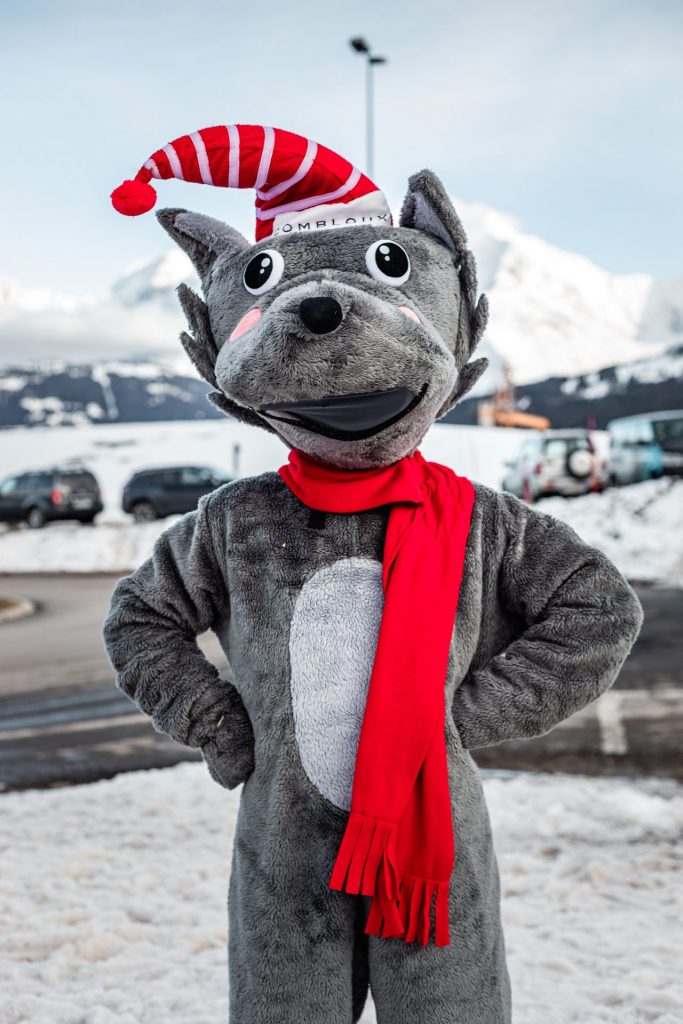 Tilou, the resort's mascot, is a wolf cub who likes to have fun with the children on the entertainment.
Tilou is playful and curious, eager for discovery and adventure. Combloux offers him an ideal playground in summer and winter alike. He was born above the Intages at the virgin stone.
He is a very smiling little wolf who likes to make people laugh. His parents, who find him too nice, sent him to the "School of the Big Bad Wolves" but nothing helped, he's like that, Tilou! In winter he hits the slopes since he has his silver star and in summer he likes to go hiking in the mountains. He dreams of becoming the first wolf ski instructor. After skiing, he likes to play in his den and in summer he sharpens his senses and perfects his balance on his "A pas de loup" trail. He gladly shares his two spots with the children!
The P'tits loups guide: the practical guide to your family holidays
Our guide to the Little Wolves is available at the Tourist Office or for download to guide you. It contains all the beads and tricks for children.
Reception and health structures
Safety instructions
Baby play and changing areas
Activities and walks
Discovery of the village
Play areas
Labeled restaurants
Labeled accommodation
In short, staying in Combloux is the guarantee:
One thing is certain: young and old will leave the Pearl of the Alps with stars in their eyes!
The flagship activities of our family resort village
Looking for an authentic destination for your next family mountain excursion? Benefiting from a inexhaustible source of leisure, suitable for both children and adults, a stay in Combloux seems to be the perfect choice!
Whatever your interests, you are bound to find something to entertain you in our intergenerational destination. Each member of the family will then be able to try out a whole host of new hobbies in the company of their loved ones. A perfect opportunity to create memorable memories while forging even stronger family ties.
The icing on the cake: from the center of the village to the top of the resort, there is one that will not take your eyes off you: Mont-Blanc. There is nothing like sharing privileged moments in a grandiose alpine environment, facing the most at the top of Europe, to strengthen family ties.
An entertainment program designed for children and the family
How brighten up your family evenings or even liven up your après-ski with your children in Combloux ? Answer in our weekly entertainment program !
Force of proposals, our entertainment and events department sets up, every week, a multitude of colorful events and entertainment for the whole family: culture, sport, leisure, discoveries, there is something for everyone. tastes and all ages.
A paper program published each week is available at the Tourist Office or at our comblorans merchants.
Marine MARTIN – OT Combloux
The Combloux Tourist Office and its partners offer various events accessible to families throughout the year;
In June, the Comblorane is a Nature Trail event organized in Combloux and accessible to all. La Comblorane offers different routes for adults and teenagers as well as fun mini-trails and races for children.
In September, the Gourmet Hike is a sporting, cultural and gourmet event to do with family or friends. This hike, of about ten kilometers, will make you discover the riches of our heritage with tastings of local products all along the route.
In the month of August, the nocturnal relay adapts to all ages with courses for the youngest, and another for adults to be completed in pairs. All in a festive atmosphere. Good humor guaranteed.
The Legends of Combloux, delight you every season with a video mapping show, its treasure hunt, its theatrical walks and many other activities. Find them this winter 2022-2023 with a new season 4!
Our partners with the Famille Plus label
The commune of Combloux makes it a point of honor to reserve a special welcome for families. Also offering services and entertainment to satisfy visitors of all ages, Combloux is labeled Family Plus mountain – a national label – since 2008.
Wishing to give the best welcome to families, several Combloran tourist structures have also committed themselves to the FAMILLE PLUS approach.
Lights on the commitments of these establishments towards families
Where to eat with children in Combloux?
Eating in a restaurant with the Famille Plus label means being sure to enjoy the following services and facilities:
Possibility to warm the bottles.
On request, children are served first.
Children's menu offered, generally consisting of: snack or adapted dish of the day + a dessert
High chair or booster seat available
Our labeled restaurants
Our selection of Family + labeled accommodation in Combloux
Tempted by a 100% family stay close to the peaks, in an authentic alpine village? Here is a selection of Family + labeled accommodation that may interest you!
Feel free to contact our accommodation department to be directed to accommodation adapted to your needs.
By telephone on + 33 (0)4 50 58 60 49
ou by email
Our destination experts will be happy to answer all your personalized requests relating to the organization of your stay in Combloux!
The guarantees of accommodation with the Family + label
---
Learn to ski in Combloux
Attached to the Portes du Mont-Blanc ski area, the resort of Combloux offers a fun and family skiing, all in an exceptional setting. Its 100km of slopes, with quality snow cover, connect the resorts of Combloux, Megève/Le Jaillet, La Giettaz.
The whole family will be able to hurtle down beautiful slopes while enjoying a masterful panoramic view of the highest peak in Europe and its surrounding mountain ranges. Good to know, the Portes du Mont Blanc ski pass also gives access to the Cordon ski lifts – not linked on skis. Finally, note that the snow-covered slopes of the Portes du Mont-Blanc are also ideal for all types of skiing.
---
To learn to ski in the best conditions, ESF Combloux accompanies your children in their learning through various services.