Combloux makes every effort to welcome and facilitate the stay of families and offer entertainment for young and old alike, to do as a family or separately.
Combloux is the ideal family destination for your mountain holidays! Labeled Family Plus since 2008, the Tourist Office offers an adapted entertainment program, events and activities accessible to all ages, equipment and services dedicated to children and families...
An entertainment program designed for children and the family
@Marine-Martin-OT-Combloux
Legends of Combloux
Show in videomapping and living theater in front of the Tourist Office.
The entertainment and events department sets up an entertainment program for the whole family: culture, sport, leisure, discovery, there is something for all tastes and all ages. A paper program published each week is available at the Tourist Office or at the shops.
The Combloux Tourist Office and its partners offer various events accessible to families throughout the year;
In June, the Comblorane is a Nature Trail event organized in Combloux and accessible to all. La Comblorane offers different routes for adults and teenagers as well as fun mini-trails and races for children.
In September, the Gourmet Hike is a sporting, cultural and gourmet event to do with family or friends. This hike, of about ten kilometers, will make you discover the riches of our heritage with tastings of local products all along the route.
In the month of August, the nocturnal relay adapts to all ages with courses for the youngest, and another for adults to be completed in pairs. All in a festive atmosphere. Good humor guaranteed.
The Legends of Combloux, delight you every season with a video mapping show, its treasure hunt, its theatrical walks and many other activities. Find them from winter 2022-2023 with a new season 4!
Activities to do with the family
Combloux offers you many diversified activities for the pleasure of all: walks, hikes, cultural and recreational visits, sports activities, treasure hunts, and many others.
Culture, sport, leisure, discovery, there is something for all tastes and all ages, in a magnificent setting with a view of Mont Blanc.
Combloux, family destination labeled for its welcome for young and old
As previously mentioned, Combloux is pulling out all the stops in order to guarantee any family un exceptional mountain stay.
Committed to bringing a great satisfaction to our visitors of all agesour intergenerational destination par excellence leads a real welcoming policy towards parents and children.
Our commitments related to the Family + label
A personalized welcome for families
Activities suitable for all ages
From the smallest to the largest: to each his own price
Activities for young and old, to enjoy together or separately
All shops and services at hand
Children pampered by our professionals
Family Plus services from the Tourist Office
To welcome you as best as possible, the Tourist Office has a children's area with games to keep them waiting while they ask the stay counselors all their questions. We have also set up a free board game loan system for your stay (a deposit will be required).
A mascot that melts the whole family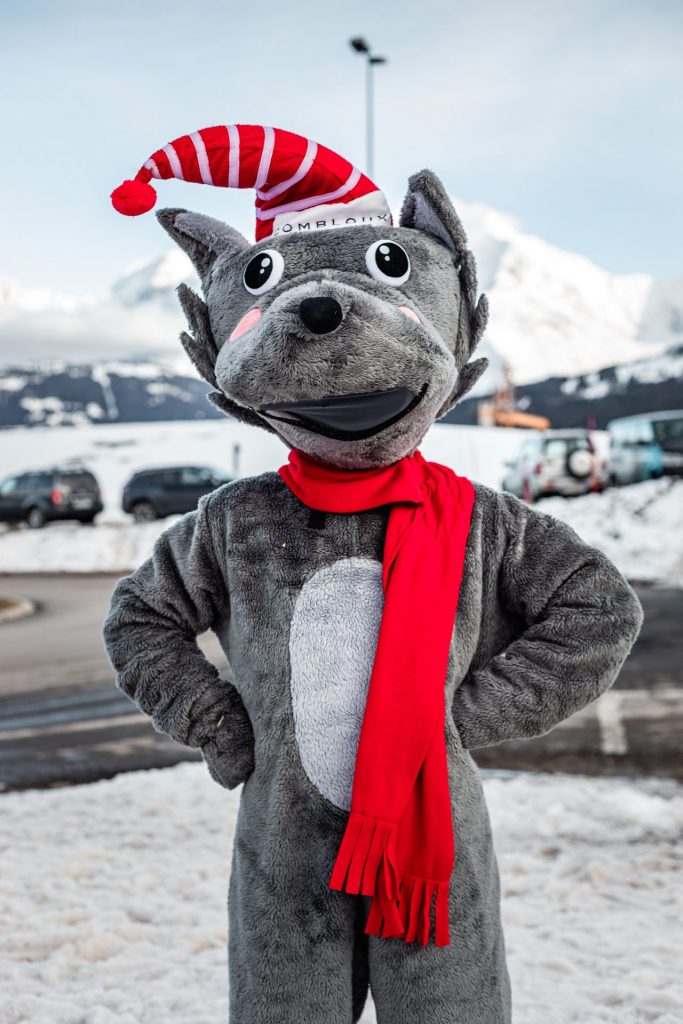 Tilou, the resort's mascot, is a wolf cub who likes to have fun with the children on the entertainment.
Tilou is playful and curious, eager for discovery and adventure. Combloux offers him an ideal playground in summer and winter alike. He was born above the Intages at the virgin stone.
He is a very smiling little wolf who likes to make people laugh. His parents, who find him too nice, sent him to the "School of the Big Bad Wolves" but nothing helped, he's like that, Tilou! In winter he hits the slopes since he has his silver star and in summer he likes to go hiking in the mountains. He dreams of becoming the first wolf ski instructor. After skiing, he likes to play in his den and in summer he sharpens his senses and perfects his balance on his "A pas de loup" trail. He gladly shares his two spots with the children!
The P'tits loups guide: the practical guide to your family holidays
Our guide to the Little Wolves is available at the Tourist Office or for download to guide you. It contains all the beads and tricks for children.
Reception and health structures
Safety instructions
Baby play and changing areas
Activities and walks
Discovery of the village
Play areas
Labeled restaurants
Labeled accommodation
In short, staying in Combloux is the guarantee:
One thing is certain: young and old will leave the Pearl of the Alps with stars in their eyes!
Services designed for the family in Combloux
Equipment and services in stores
Some shops in Combloux also offer equipment and services suitable for children: changing table, toys and stuffed animals, baby products, 4×4 strollers, baby carriers, etc.
Play areas
Several playgrounds are freely accessible in the village of Combloux:
The LouParc is a play area designed for children with different structures: a pump track, a City stadium with football pitch, basketball court and athletics track, a skate park, an acrobatic course, agility modules and play structures.
All our play areas are accessible free of charge under the responsibility of an adult. Each area and each game has its own age category.
Babysitters
Summer, like winter, child care facilities are at your disposal. They are combined with skiing or sports, nature or manual activities. Children are welcome from 12 months.
The Tourist Office provides a list of babysitters, updated twice a year.
Health and emergency
For minor ailments, Combloux has a Pharmacy, open all year round.
For emergencies, head to the hospitals of the Pays du Mont-Blanc just 10 minutes away.
Our partners with the Famille Plus label
The commune of Combloux is committed to welcoming families. Since 2008, Combloux is labeled Family Plus mountain, a national label.
Several tourist structures in Combloux are also certified.
Labeled restaurants
Eating in a restaurant with the Famille Plus label means being sure to enjoy the following services and facilities:
Possibility to warm the bottles.
On request, children are served first.
Children's menu offered, generally consisting of: snack or adapted dish of the day + a dessert
High chair or booster seat available
Labeled accommodation
Accommodation with the Famille Plus label meets the following criteria:
A welcome adapted to families.
Bedding corresponding to the comfort and age of the children.
Childcare equipment to meet the physiological needs of children.
At least one connecting and/or family room (criterion not mandatory for tourist residences and furnished tourist accommodation).
Indoor games and/or outdoor games if space is available.
The provision of the list of activities and entertainment.
The list of telephone numbers for doctors, pharmacies and emergency services.
An adapted pricing policy.
Feel free to contact our accommodation department to be directed to accommodation adapted to your needs.
Learn to ski in Combloux
The Combloux resort is adapting to allow progressive and stress-free learning to ski.
ESF Combloux supports your children in their learning through various services:
A Pioupiou Club for children from 3 to 5 years old.
A gardiski system from 3 years old, which combines skiing and daycare for the day or half-day.
A beginner's area with 2 snow wires and suitable slopes
Group or private lessons
Adapted rates (free pass for children under 5, child rate for 5-14 year olds and 10% family discount for the purchase of a minimum of 4 passes)