To discover all the richness and variety of landscapes that Combloux has to offer, nothing better than mountain biking. Far from being reserved for an audience of seasoned athletes, mountain biking comes in an electric version to reach the heights and swallow the drop without exhausting yourself. This peak that you thought was beyond your reach is reaching out to you, join it!
Independently or as part of a hike with qualified guides, discover the many mountain bike trails between Combloux and Megève, in the heart of the Alps.
---
Cycling yes, but with a view!
Find the MTB route that corresponds to your level and admire the view! Beautiful trails of varying difficulty await you in Combloux, starting from the village center or on the Les Portes du Mont-Blanc area to the top of Les Salles, facing an exceptional panorama. With portions on the road and others on trails, our itineraries have been designed for the practice of electrically assisted mountain biking, but sports enthusiasts can just as easily explore them with the strength of their legs!
---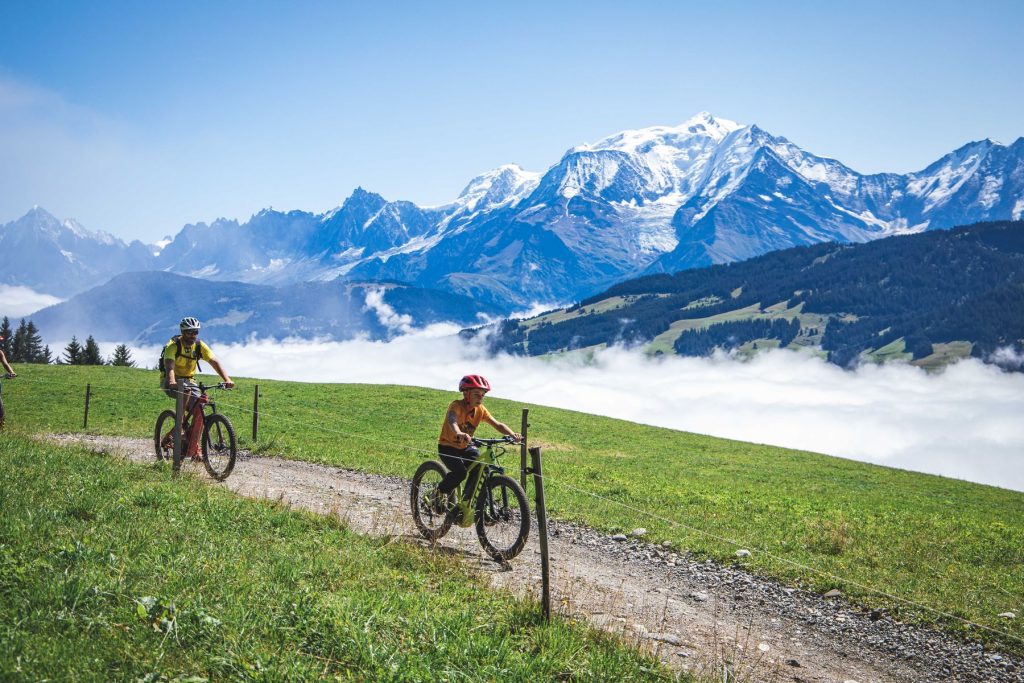 Mountain bike outings with a guide
Get on your mountain bike and let our qualified instructors guide you during a supervised outing. By classic mountain bike or with electric assistance, discover the most beautiful bike rides around Combloux, Megève and Val d'Arly.
---
Combloux, a cycling destination labeled for its welcoming of cyclists
Proudly labeled Accueil Vélo , Combloux opens its arms wide to cyclists from all walks of life, whatever their age and level. In line with this distinction of excellence, our destination is committed to offering superior quality services to all cycling enthusiasts, novices and seasoned alike. Immerse yourself in a mine of practical information and fully live your passion for two wheels in Combloux!
---
Practical services for mountain bikers
Trust our professionals at the station for the rental or repair of your mountain bike or VTTAE equipment.
In July and August, take advantage of our free shuttles from Combloux center to reach the Cuchet car park and the start of the marked routes, or go to the Jaillet gondola in Megève. The shuttle can accommodate up to five bicycles on board.
The Jaillet gondola is also equipped to transport mountain bikes and allow you to reach higher altitude trails more easily.
---
MB Race: the toughest mountain bike race in the world
In 2010, Combloux saw the birth on its territory of the MB Race, a mountain bike competition now famous for the length and difficulty of its course. The MB Ultra Somfy, the premier event on the UCI calendar, offers a 140 km circuit for 7000 meters of elevation gain between Savoie and Haute-Savoie. Other mountain biking, mountain biking and enduro events are also on the program and cross the breathtaking landscapes of the Pays du Mont-Blanc and Val d'Arly. As a participant or spectator, you too live the MB Race experience.
---