Combloux, such a gourmet destination, we want more! Far from the modern and refined dishes of cities famous for their gastronomy like Paris or Lyon, let yourself be seduced by the traditional gourmet Savoyard cuisine.
You will appreciate the richness of our good dishes and local products after a day spent in the mountains!
Haute-Savoie, an authentic, traditional and gourmet region
The authentic Savoyard fondue
A traditional recipe based on melted cheese.
There is no shortage of local products in Haute-Savoie. From the aperitif to the dessert, including the main course, the cheese, without forgetting the drinks, the terroir can be tasted throughout the day and all year round!
From authentic know-how, local products are the result of the daily work of farmers and producers, and of a unique environment, in the middle of the mountains.
Local and regional Savoyard products
Cheese: star of Savoyard dishes
Reblochon, Abondance, Tomme de Savoie, Beaufort… like everywhere in France, we don't laugh with cheese in the Savoyard region! On the markets, in restaurants, in local cookbooks, in shop windows, our good cheeses will make your mouth water and delight your taste buds.
8 recognized cheeses
Savoie and Haute-Savoie alone have 8 traditional cheeses recognized by a Protected Designation of Origin (PDO) or a Protected Geographical Indication (PGI):
Abondance
Beaufort
Buckshot
Savoy Emmental
Savoy raclette
Reblochon
Volume of Bauges
Tom de Savoie
And of course, many other cheeses, not classified, are to be discovered and tasted in the various farms and shops in the region!
Charcuterie, always there!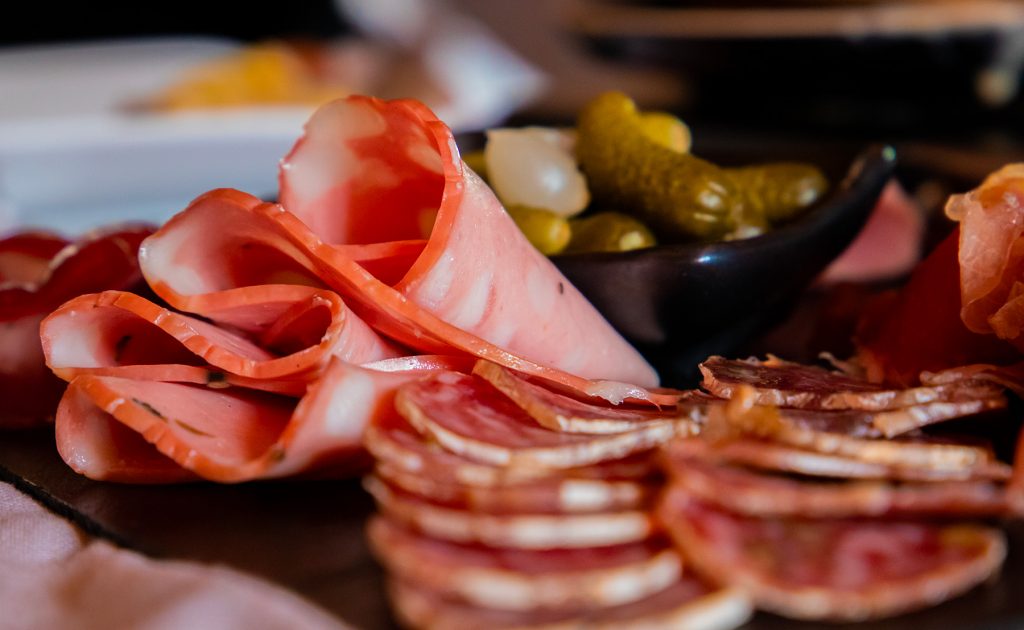 Savoy dry-cured ham, dried sausages flavored with cheese or mushrooms, diots, pormoniers (sausages with herbs)… Savoyard charcuterie is featured in a large number of local recipes!
As an aperitif, at the heart of a good dish or as an accompaniment, savor Savoy charcuterie!
Savoie wines: red, white, rosé, discover the 3 AOPs
Less famous and less famous than the wines of Burgundy or Bordeaux, the wines of Savoy have not finished surprising you!
Long considered as simple table wines to accompany raclette or fondue, Savoie wines are now recognized as wines of excellence! The vineyards of our terroir count more than 2 hectares of vines et 3 Protected Designations of Origin : Savoie, Fruit bat of Savoie, Seyssel.
Do you know the main grape varieties of our Savoyard terroir? We reveal the great classics for your general culture: Roussette, Mondeuse, Altesse, Marsanne, Jacquère, Apremont, Bergeron, Roussanne, Gamay.
Are you ready to let yourself be charmed by a Savoie wine?
Other specialties not to be missed!
Among the lesser known local specialties of Savoy are the pear and the apple. Both benefit from the IGP appellation (Protected Geographical Indication). It is more than twenty varieties that are produced each year on the soil of our two departments.
Crozets are small homemade pasta, made from buckwheat flour. The dough is flattened with a rolling pin and cut into small square pieces, which gives it its atypical and recognizable shape. Crozets are eaten au gratin, accompanied by cheese or diots.
Culinary specialties in Savoie and Haute-Savoie
Forget the diets and melt with pleasure with the Savoyard gastronomy and its specialties based on cheese and charcuterie!
Savoyard cuisine adapts to the requirements of the climate and the mountain terrain with rich recipes that comfort your stomach.
Among them, the famous cheese-based specialties such as raclette and fondue or desserts that thrill the palate such as blueberry tart.
We reveal to you the specialties of Savoyard cuisine, from the most emblematic to the least known.
---
Savoyard fondue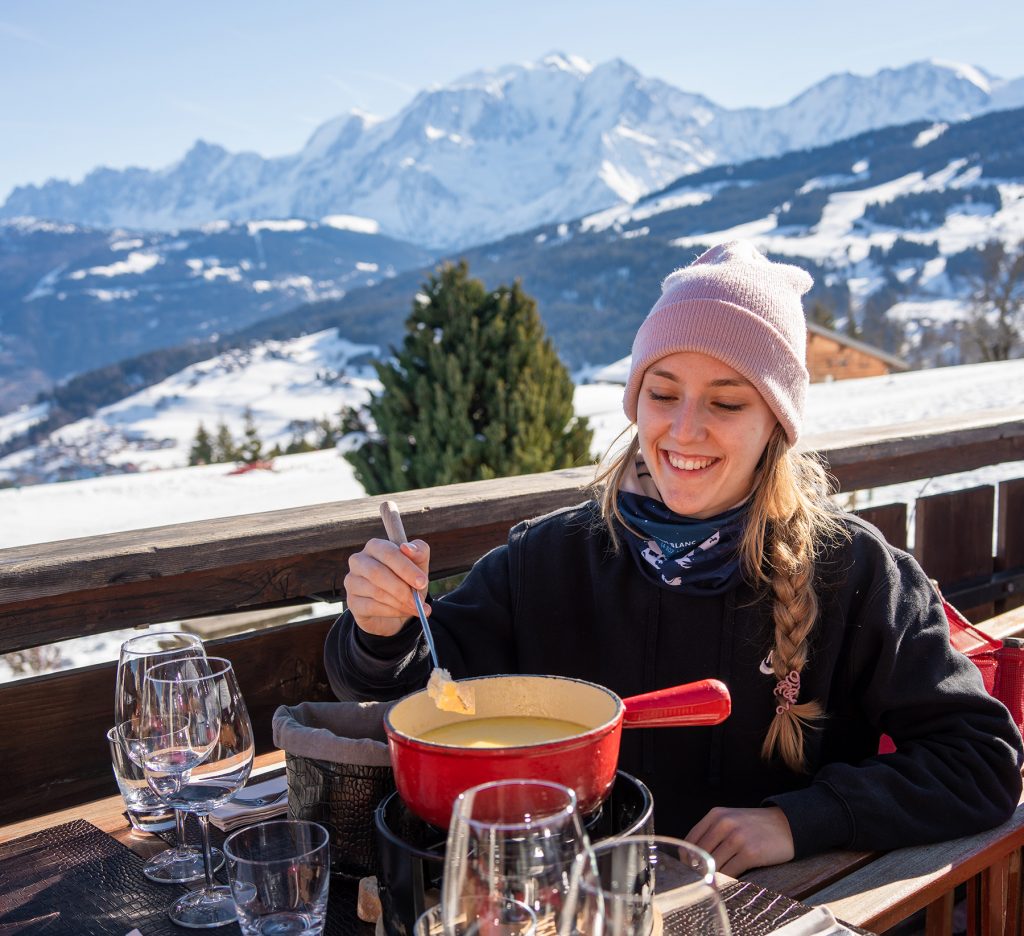 The Savoyard fondue, or the convivial dish par excellence! With family, friends or lovers, what could be better than meeting around a caquelon filled with a tasty blend of melted Savoyard cheeses ?
Easy to prepare with the right recipe, it can be eaten for lunch and dinner, in a restaurant or at home! Those with a sweet tooth will dare to try less conventional flavors such as porcini mushroom or truffle fondue.
---
The raclette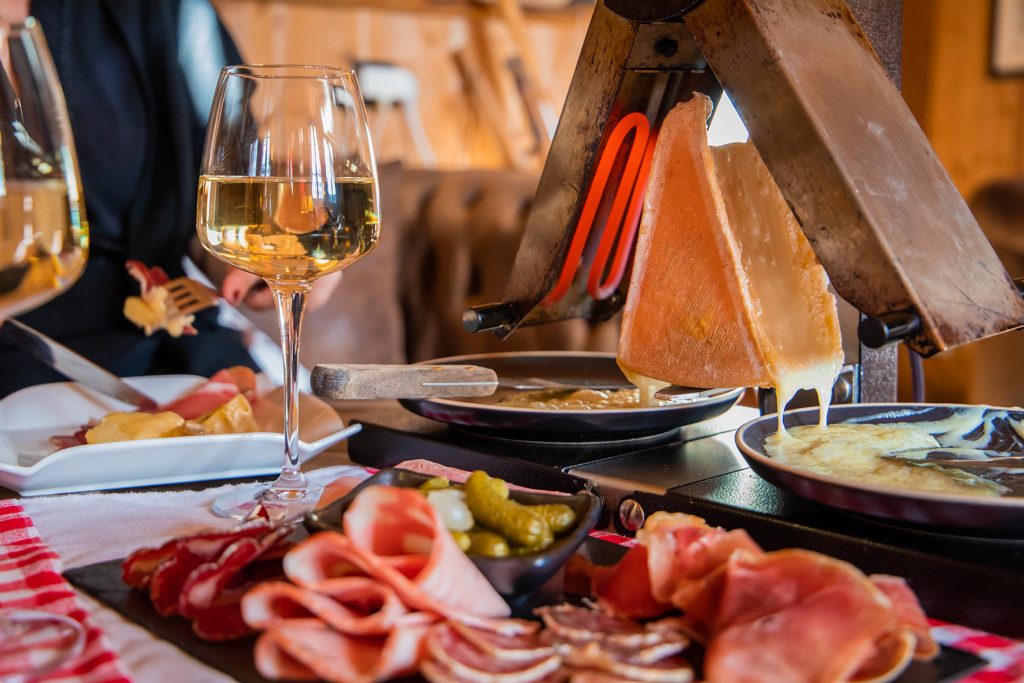 In terms of conviviality and gluttony, the raclette is not to be outdone!
Accompanied by potatoes, charcuterie and pickles, taste the raclette: traditional IGP, farmhouse, smoked, with goat cheese, wild garlic, rubbed with Arbois wine... With all the flavors offered, impossible to get tired of it, the most difficult will be to stop.
Because a successful raclette requires a little organization, we will reveal to you very soon our secrets for a perfectly successful raclette!
---
The tartiflette and its cousin the Croziflette
Satisfying and comforting, enjoy a tartiflette after an outdoor activity, it's always a safe bet!
This cheese-based specialty (yes another one) is cooked in a gratin dish in which are placed diced potatoes, onions, bacon bits and the famous reblochon, main actor of this dish!
---
The prank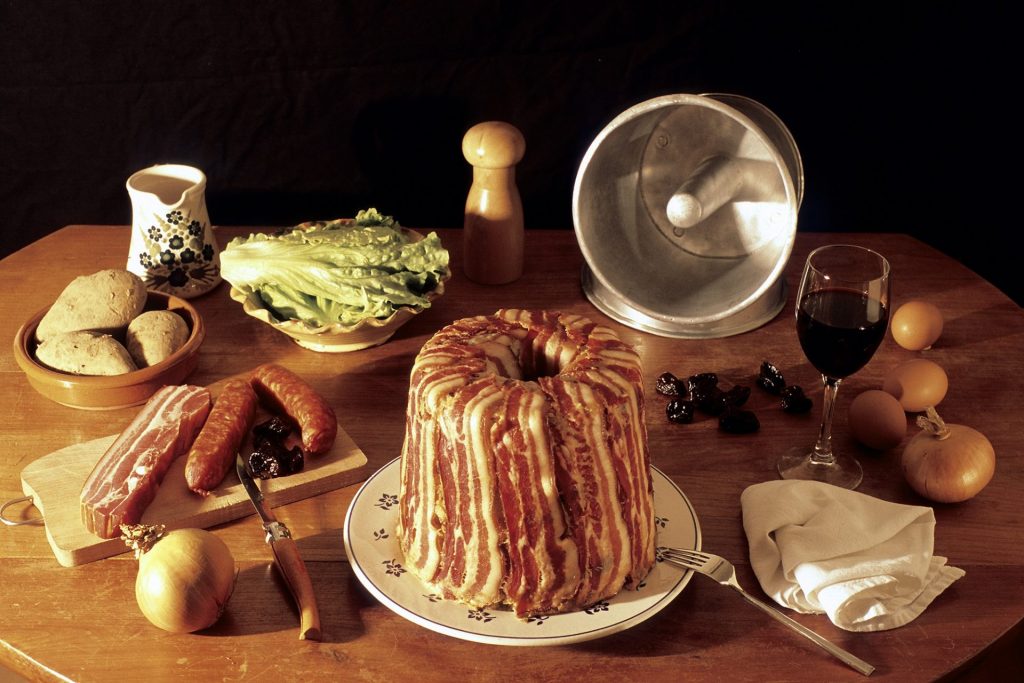 This dish originates from the Arve valley! That is sure the most local and perhaps the most amazing dish, that you could discover in Combloux. This dish with sweet and savory flavors resembles a Panettone in its shape. To assemble your stuffing, you will need potatoes, smoked breast, fresh cream, raisins, prunes and pears.
---
La Pela
La Péla is a bit the ancestor of the tartiflette. It looks a lot like its little sister, except for a few details: the potatoes are not peeled and the whole dish is cooked in a pan.
Burgdorf
Abondance is the key cheese in this recipe unknown. In small gratin dishes, accompanied by white wine, garlic, Madeira or port and nutmeg, it is baked in the oven and eaten with bread or potatoes dipped in melted cheese and a few charcuterie and salad.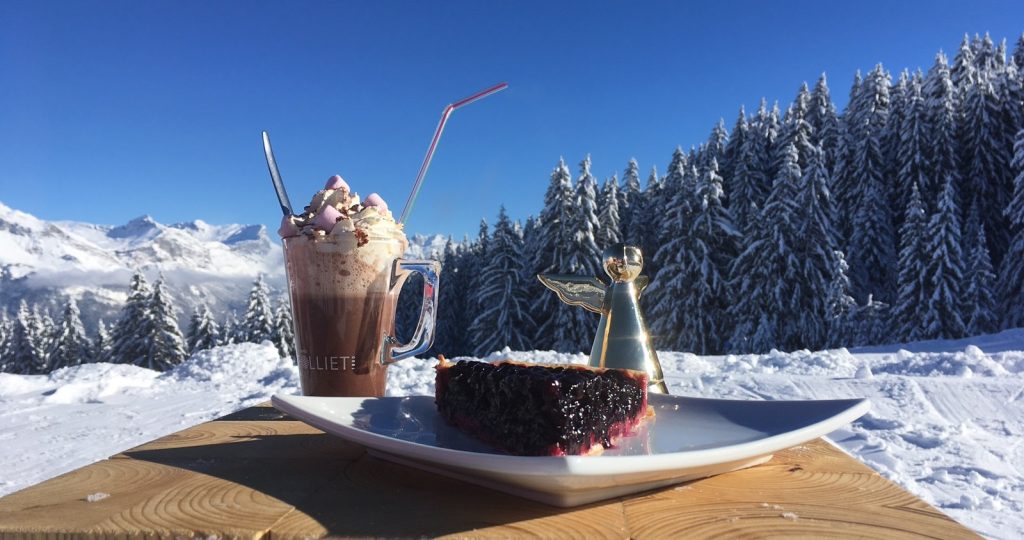 The region still has many specialties, including:
Matefan (a potato pancake)
Diots in white wine
Savoy cake
Blueberry pie
Rissoles (small square filled turnovers)
---
Savoyard specialty restaurants in Combloux
Are you a lover of good food or curious to taste the specialties cooked by local chefs? Find all the good addresses of Savoyard specialties in Combloux:
---