Nestled in the heart of the Alps, the resort-village of Combloux, in Haute-Savoie, enjoys a privileged geographical location and a panoramic view of Mont-Blanc.
At an average altitude of 980 meters, Combloux is the ideal playground for the practice of outdoor activities in the 4 seasons, whatever your level of training.

Located between the posh resort of Megève and the town of Sallanches, a few minutes from the more discreet resort of Cordon and the lively Saint-Gervais les Bains, the village of Combloux is part of a rich and dynamic territory: the Pays of Mont Blanc.

Less than an hour from the Swiss border and its Geneva airport, and very close to Italy, Combloux is both accessible and a good starting point for a discovery stay in the Alps.
1 resort, 2 domains
©Marine-Martin-OT-Combloux
Combloux is part of 2 ski areas : "The Gates of Mont-Blanc" et "Mont Blanc Escape".

Between 1200 and 1900 meters above sea level, the "Les Portes du Mont-Blanc" area connects Combloux to the Jaillet massif (Megève) and the Giettaz resort in the Savoie department. 100 km of slopes of varying difficulty await you in an enchanting setting, with its fir trees and 360° panoramic view.

The sunny slopes of Combloux and its large beginner sector are perfect for family and contemplative skiing, while adrenaline junkies will have a blast in the La Giettaz sector.

The pass also allows you to ski at the neighboring resort of Cordon, to be done over one day because there is no ski-to-door connection.

Many snowshoeing and ski touring routes are also to be discovered on "Les Portes du Mont-Blanc", as well as 2 cross-country ski trails.

The "Evasion Mont-Blanc" ski area includes, in addition to the Portes du Mont-Blanc, the resorts of Megève, Saint-Gervais-les-Bains and Les Contamines-Montjoie, representing a total of 445 km of slopes.
Combloux in the heart of the Mont‑Blanc region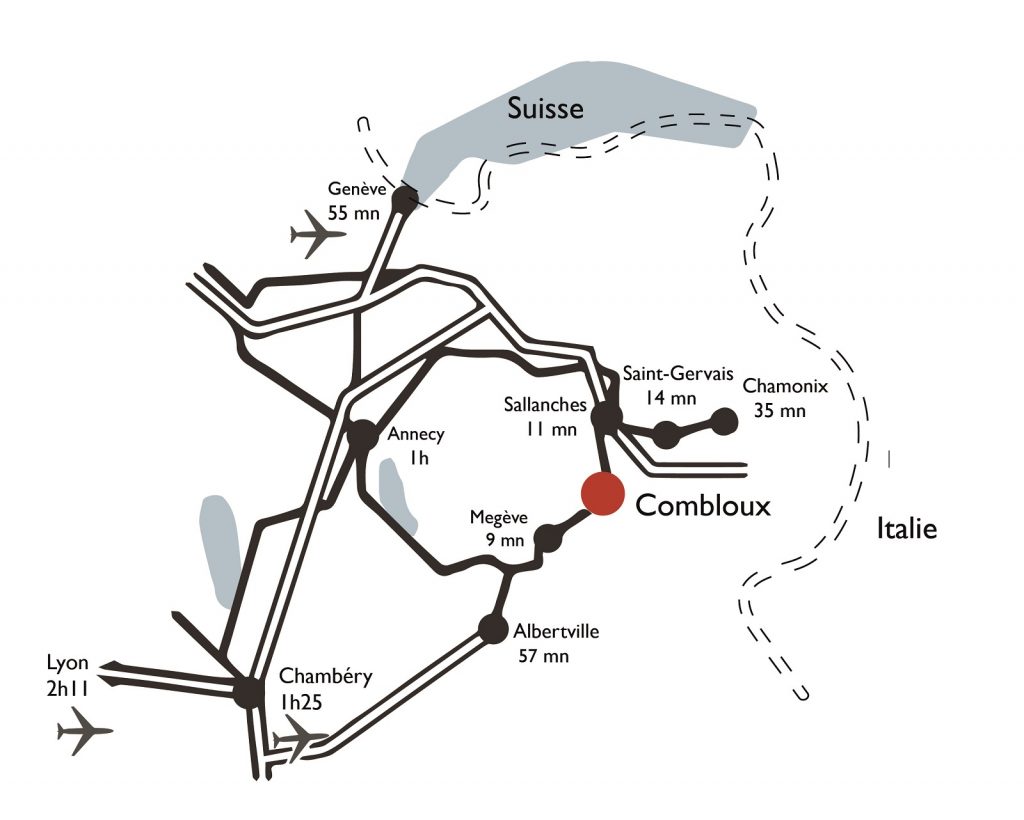 Combloux is one of the 10 municipalities that together form the territory of the Pays du Mont-Blanc, in the heart of the Haute-Savoie department.

Between plains and mountains, the Mont-Blanc region is full of forests, rivers, meadows and mountain peaks opening up an infinite field of possibilities in terms of sports and outdoor activities.

By booking your holidays in Combloux, you can enjoy the charm and authenticity of a village in the Alps in both summer and winter, while benefiting from the proximity and diversity of the offer of neighboring towns.

At the foot of Mont-Blanc in its crystalline setting and overlooked by the Fiz limestone massif and the Aravis range, the Pays du Mont-Blanc offers postcard landscapes according to the seasons, in a wide range of colors. With a little distance and height, the view from Combloux is breathtaking.
Visit the towns and villages of the Pays du Mont-Blanc
From Val d'Arly to Chamonix, via Megève and Saint-Gervais, the Pays du Mont-Blanc is made up of several towns with charms and assets that are both different and complementary.
Discover Combloux in the 4 seasons
Whatever the dates of your stay, in Combloux you will not have time to get bored! Whether you are sporty, passionate about history and heritage, or rather in relaxation and contemplation mode, you will necessarily find the activity that suits you!
How to come to Combloux?
Combloux is located approximately:
600 km from Paris (6 hour drive)
400 km from Marseilles (4h30)
200 km from Lyon (2h30)
Access by car
Combloux is easily accessible by motorway to Sallanches (8 km) from the north and to Albertville (37 km, Savoie department) from the south, then by the secondary road RD 1212.
Important information:
Since November 1, 2021, special equipment (4 winter tires or metal or textile chains in the trunk of the car) is now compulsory for driving in mountain regions during the winter period. More information on the government website.
By train
Possible access by TGV to Sallanches station, then connection by bus with the company SAT – line 83.
Please note that the buses do not run at night, outside of running hours we invite you to use a taxi service (see information below).
By plane
Geneva International Airport is less than an hour from the town of Combloux, bus connections are organized daily to reach the resorts.
Lyon airport is about 2 hours from Combloux, bus connections allow you to reach the village.
Outside the hours of bus circulation, we invite you to use a taxi service.
Taxis
Call on our taxi drivers to reach Combloux from train stations and airports:
Taxi Bottollier-Pissard – +33 (0)6 08 32 08 17 – Website:

taxi-bottollier-pissard

Taxi Roth Didier – +33 (0)6 77 77 12 24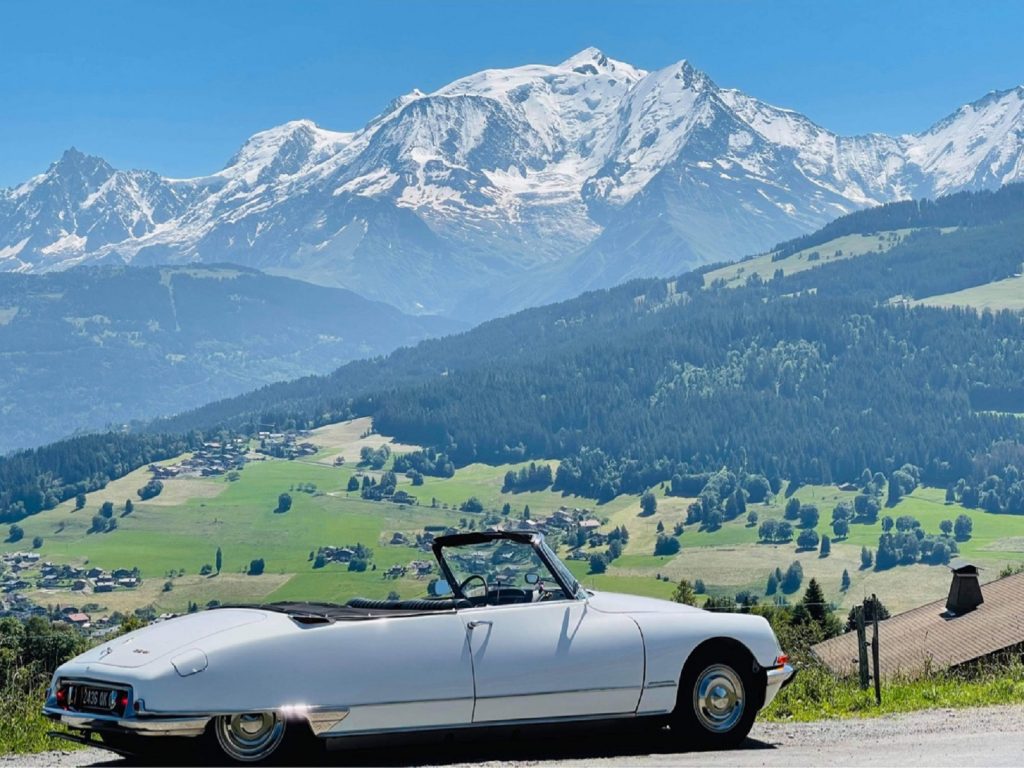 Find your accommodation in Combloux
Your choice is made, you will spend your holidays in Combloux but you do not yet know where to sleep? Call on our services to assist you in finding the accommodation that will meet your expectations. At the foot of the ski slopes in winter or a stone's throw from hiking departures or our biotope lake in summer, renting an apartment or chalet, in a hotel, tourist residence, bed and breakfast or still camping, give free rein to your desires ... we are here to enhance them!