Live the incredible experience of a night in the heart of nature. In a comfortable transparent bubble or nestled in an igloo, your night in Combloux will leave you with stars in your eyes and memories in your head. Discover our 2 unusual accommodations to spend a magical night facing Mont-Blanc.
Night Nature: a cocoon under the stars
In the heart of the mountain pastures, out of sight and far from the hustle and bustle of the resort, are two transparent bubbles with a refined and uncluttered decor, real cozy nests for a night under the stars. Coiled up warm in your bubble, you can enjoy the magic of the sunset over the mountains before the sky fills with stars and you fall into the arms of Morpheus. Each season gives way to new colors, new sounds that will leave you with lasting memories.
To enhance the experience, a gourmet meal is served to you in the bubble, and top-of-the-range services are offered as an option (spa, massages, champagne, barrel organ concert, flowers, etc.).
Live this moment for two by booking the Prestige bubble or with your family in the Bulle Mont-Blanc.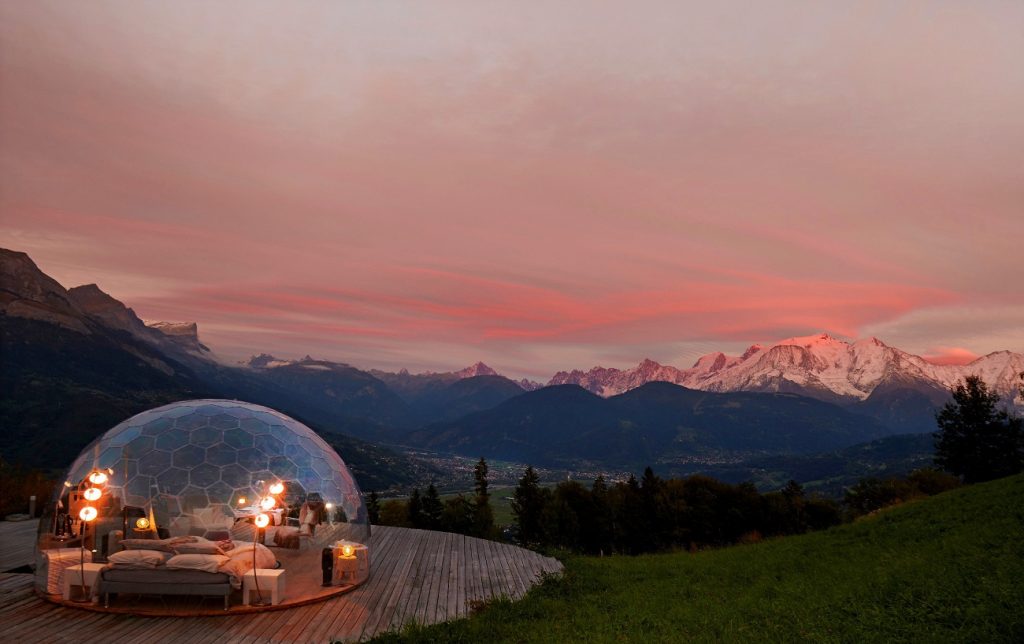 Book your night in the bubble
---
Sleep in an igloo in winter
When night falls and skiers and hikers desert the snowy slopes, the mountain reveals itself. After a snowshoe walk in the moonlight, share a delicious fondue under a tepee, in the comforting warmth of the wood stove. Good-natured atmosphere around the table, we revel in the anecdotes of Rémy, your guide and host for the night.
Then comes the time to join his igloo for a cozy night lulled by the muffled sounds of nature. Privileged moment in the early morning, when the first light of day bathes the immaculate snow. It's already time to put on the snowshoes to go down and close this enchanted parenthesis.