Every June, Combloux becomes the trail running capital of Haute-Savoie with the Comblorane, an emblematic race that ignites the village for a weekend full of emotion and sport.
On the program for these 2 days of racing: 4 timed competitions on loops of 7, 15, 25 and 42km through forests and mountain pastures on balconies facing the Mont-Blanc massif, a canicross, an obstacle course dedicated to families and mini trails for children.
La Comblorane: presentation of our weekend dedicated to trail running
La Comblorane is thetrail event accessible to all, which has become a must in Combloux.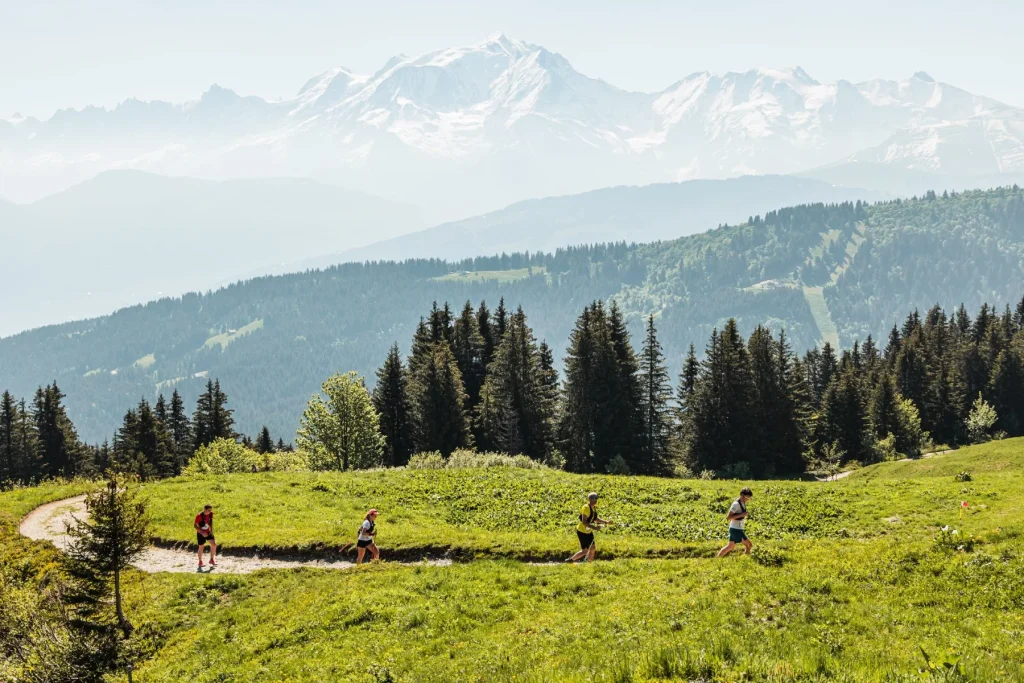 His ambition? Gathering lovers of running, trail and more broadly outdoor activities around a single event. Conviviality, authenticity et kindness are the watchwords of this combloran sports weekend.
More than a race in the middle of nature and whatever your level, the Comblorane is a pretext for adventure, exploration of alpine landscapes, social cohesion and surpassing oneself.
With this in mind, the Comblorane offers trail course at a time originals et attractive in breathtaking alpine panoramas.
With distances and variable positive elevations, the events of our trail weekend are established for allow everyone to run without "putting themselves in the red". Thereby :
Trail running enthusiasts will turn to formats such as the 25 km ou 42 km, while neophytes and enthusiasts of short distances will have fun on the 7 km format !
Families will have fun on playful obstacle courses.
Children will learn about the joys of this discipline through different tests adapted to their age.
Dog owners can try their hand at a dog endurance race with their faithful companion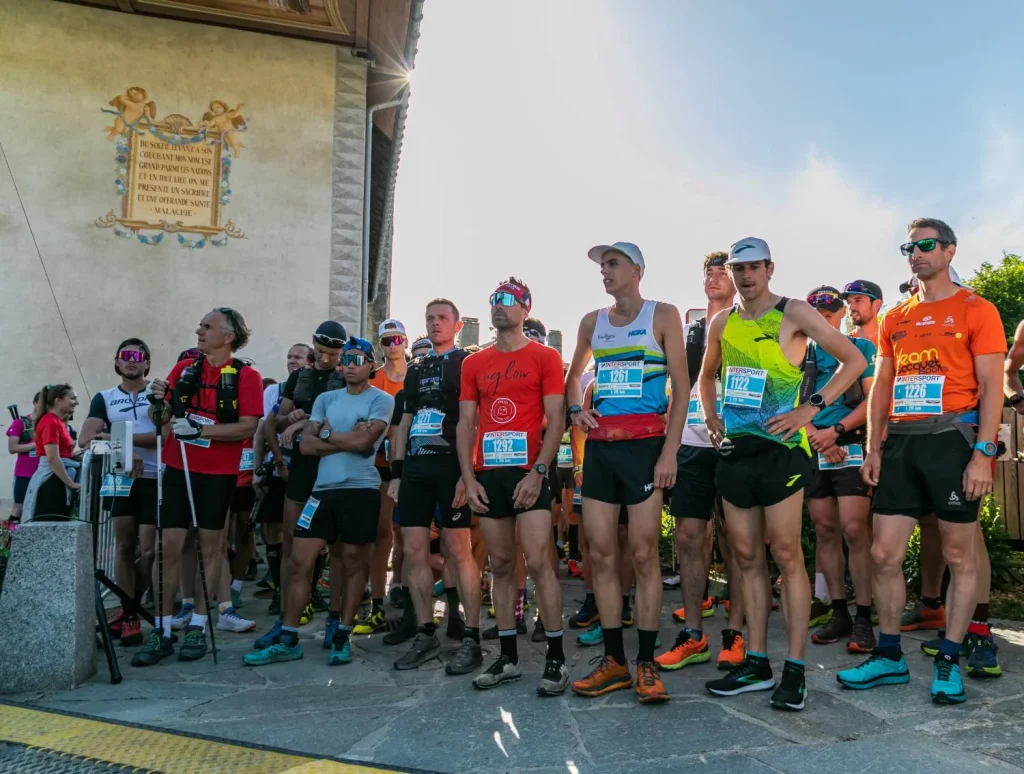 ---
The different race formats of La Comblorane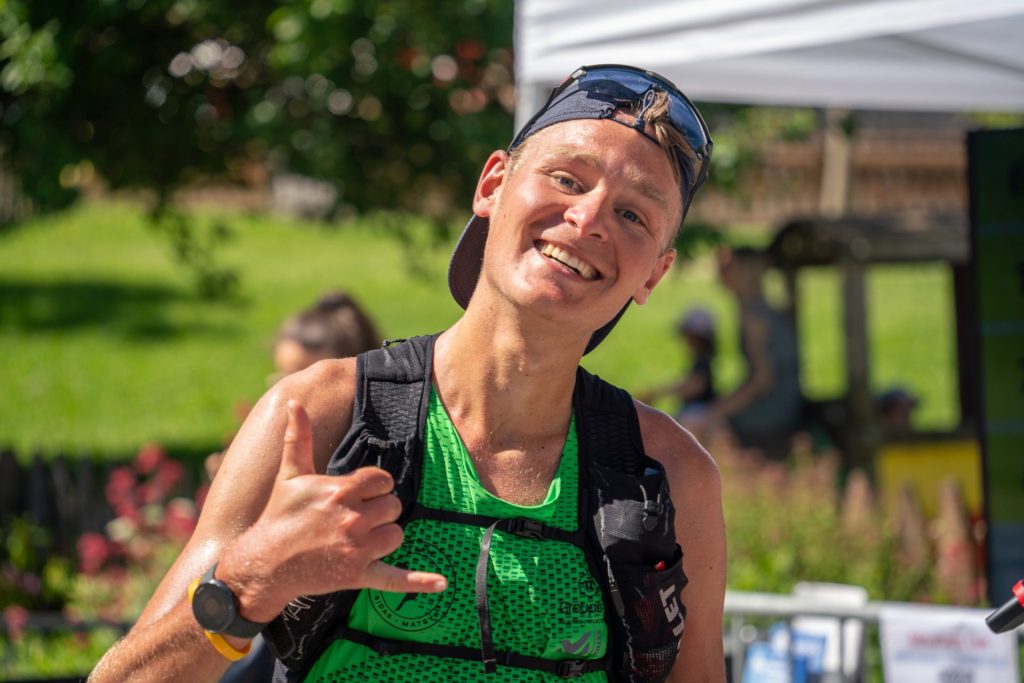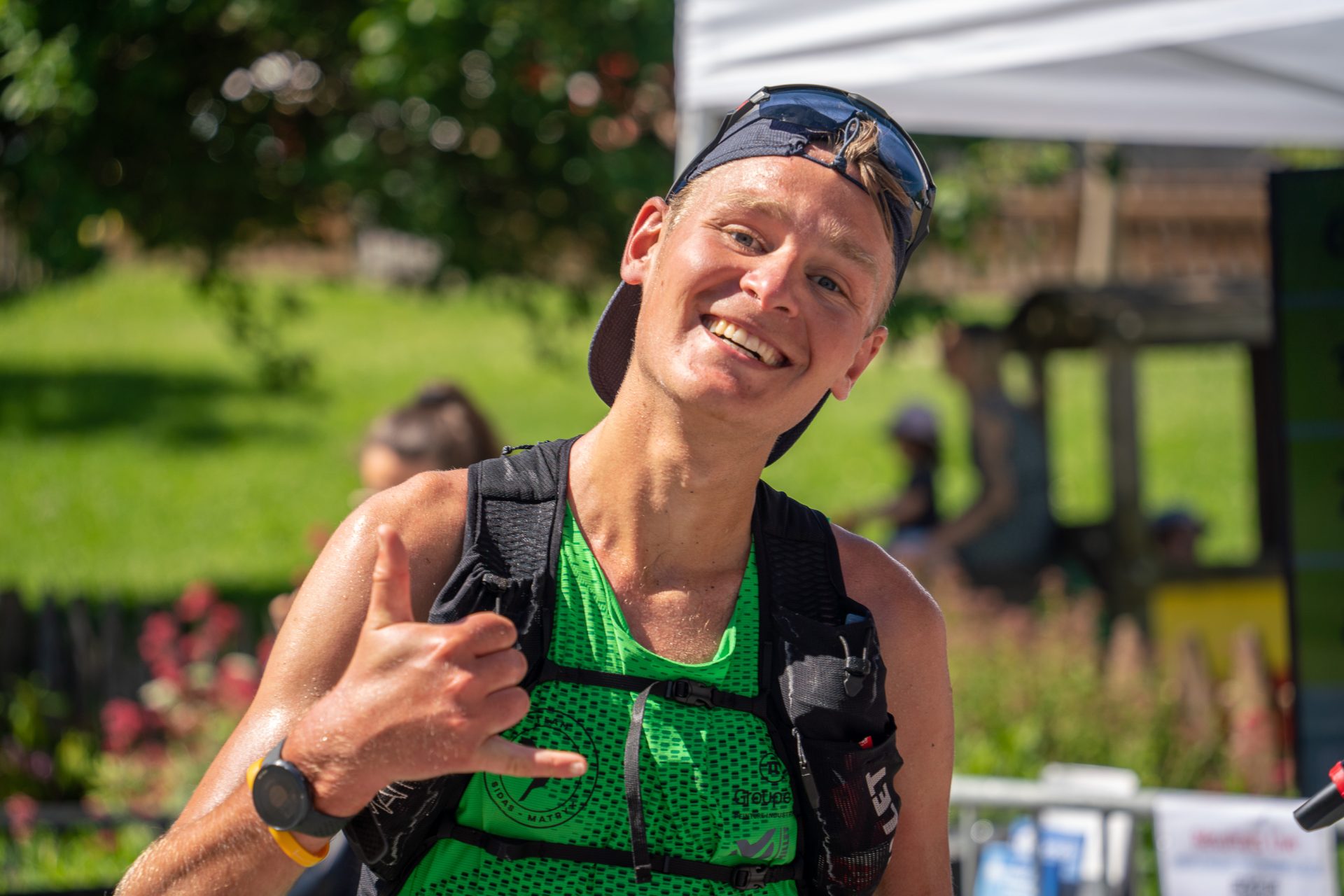 Let us recall it from the outset, whatever the reason:
meet a personal challenge
beat the clock
win the competition against the other racers
or recharge your batteries in contact with mother nature
La Comblorane is open to everyone.
Choose from the 4 trail formats offered, the cani-comblorane 7km or let yourself be tempted by a family format: family race or kids race. Select your course according to your level and your sporting objective.
---
Useful information
Registration conditions
Conditions of participation
Prices and price increases
Medical supporting documents
Collection of bibs…
Find all the practical information about Comblorane.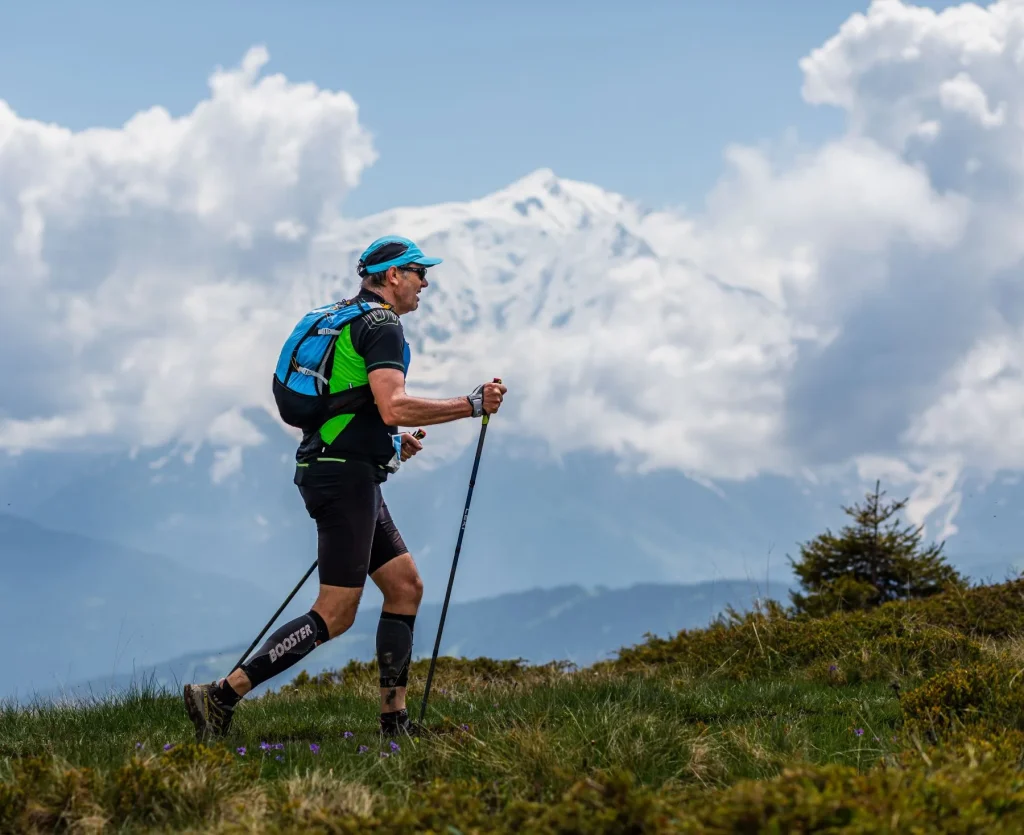 ---
Complete rules of La Comblorane
Registration for one of the race formats constitutes acceptance of its rules. We invite you to read these rules carefully, which include all the useful and essential information for your participation.
---
Accommodation near the start
Are you coming from afar and want to sleep there the day before the race to make sure you don't miss the start? Or are you planning to take advantage of your participation in La Comblorane to spend a few days with your family in Combloux?

We offer a selection of accommodation near the race village so you don't miss a thing during the weekend!
---
How to prepare for the Comblorane trail?
In view of the distance, the difficulty and elevation of the different routes of our mythical combloran trail weekend, these challenges, both physical and mental, require careful preparation and planning.
To prepare you well for La Comblorane, we have concocted a guide with some practical advice to approach the race in the best conditions : training plan, material guide, post-race recovery…
Consult our articles dedicated to the preparation of La Comblorane and put the odds on your side to arrive in excellent physical condition on D-Day.
#in the eye of
#portraits of the territory
Portrait of the territory: Baptiste Chassagne, high-level trail runner
Baptiste Chassagne is a top athlete. His disciplines: trail and ultra. Our athlete represents Combloux and performs well in renowned races! He notably performed on the OCC of the UTMB (6th), the CCC of the UTMB (9th), the French Trail Championships (3rd), the SaintéLyon (4th), the Transgrandcanaria…
---
La Comblorane is committed to the environment
We are fortunate to be able to offer you courses in the heart of nature, in an exceptional mountain environment. We take all the necessary measures to preserve and enhance this mountain.
Before the race
A day of inventory around the courses is organized.
During the demonstration
No departure from the marked route will be tolerated and waste management will be strict. Failure to comply with the rules will result in the disqualification of the offending runner.
Volunteers, first aiders and the public will be made aware of the vulnerability of these spaces. Motorized vehicles will not be tolerated and noise will be limited.
after the race
Garbage collection and unmarking will take place the same evening.
An inventory on the ground will be carried out again after the event.
Special attention on the XL trail – 42 km
Participants, you will be led to cross natural areas subject to biodiversity protection regimes. This is an area subject to a prefectural decree of biotope, "APB" of the Aravis, of nearly 580 hectares and a Natura 2000 area at the top of Croisse Baulet (2236 meters above sea level) highest point of the course . We thank you for being particularly attentive and respectful in these sensitive areas.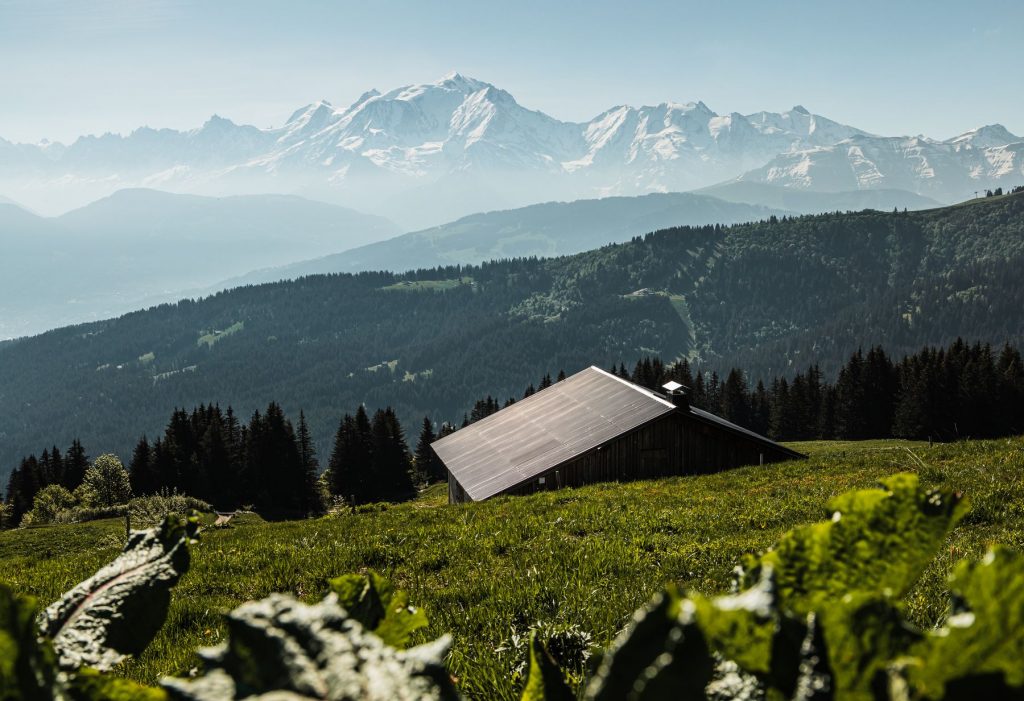 ---
Become a partner of La Comblorane
Take part in the adventure by becoming a partner of the event! We are looking for all types of partnership: financial endowment, exchange of goods (prizes, voluntary gifts, supplies for supplies, etc.) material or logistical support. In exchange, benefit from visibility with a target group of runners of all ages.
---
Become a volunteer for La Comblorane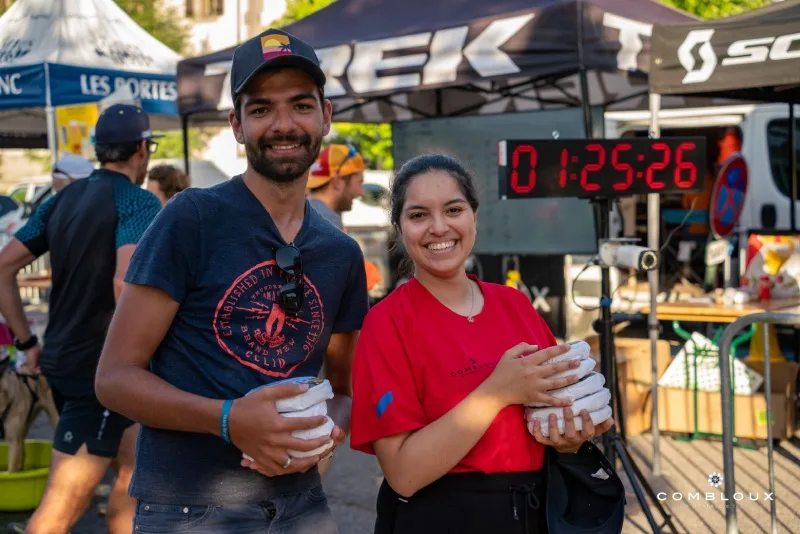 La Comblorane needs you to exist! Every year, about 70 volunteers come to lend a hand to make this event a success, why not you?

Live a moment of sharing with the runners, in a friendly atmosphere where smiles and jokes are on the agenda.

Different positions are offered before, during and after the race (marking, registration and withdrawal of bibs, supplies, signaling on the course, etc.).
---
Frequently Asked Questions La Comblorane
How to register for La Comblorane?
We encourage you to register for Comblorane directly online from the dedicated platform. As a reminder, a sports license for trail running or running, or a medical certificate of no contraindication to trail running in competition dating back less than one year on the day of the race must be presented at the time of registration or at later when collecting the bib (except for XL and L races – no later than June 6).
If you are unable to register online, you can contact us at [email protected] or register directly on site (additional cost). Attention, no registration the same day for the XL format.
From what age can I register?
Where can I pick up my bib?
How long before departure should I show up?
A briefing will take place 10 minutes before the start of each race. We recommend that you be there at least 15 minutes before the departure time if you have already collected your bib, and at least 30 minutes before if you need to collect your bib on site. If you haven't registered yet, plan to be there an hour in advance. (Attention no registration the same day for the XL format).
How many aid stations will I encounter during my race?
Are there time barriers on timed events?
Are poles allowed on the trails?
Yes, the use of telescopic poles is authorized (except Family Race and Kids Race)
Is there any mandatory equipment?
Yes, for the XL trail: personal cup, water reserve of at least 0,5 L, survival blanket, whistle, mobile phone.
For other formats, only the personal cup and mobile phone are mandatory.
Does the Comblorane allow you to acquire ITRA points?
Yes, the XL format allows you to obtain 2 ITRA points, and 1 point for the L trail.
I no longer wish to participate, can I transfer my bib to another person?
No, no transfer of registration is allowed for any reason. Any person retroceding his bib to a third party will be held responsible in the event of an accident suffered or caused by the latter during the event. Anyone with a bib acquired in violation will be disqualified.
If you cannot participate due to injury or illness, your registration will be refunded upon presentation of proof. Abandonment for any other reason will not give rise to a refund.
Is La Comblorane maintained in case of bad weather conditions?
Route modifications may be made a few days before the date of the event in the event of residual snow on dangerous sections. A fallback route will be planned to avoid parts at risk in case of bad conditions on D-Day (fog, rain, snow, etc.). Except in extreme conditions, the event will be maintained whatever the weather.
If the event were to be canceled by the organiser, would I be reimbursed?
Of course, in the event of cancellation on our part, your registration will be refunded to you. A small percentage could be kept to cover organizational costs in case of last minute cancellations due to government measures.
For more information, we invite you to consult the race rules or to us us.