Want to see the Portes du Mont-Blanc area differently this winter? So take part in the Escapée Rando to learn about ski touring in the best conditions, in the company of experts. Whether you are a novice or an expert, this night climb offers the ideal setting for practicing this popular nature sport in the resort!
During evening supervised by mountain professionals – to guarantee a optimal security – live a unforgettable moment en Nordic skiing on marked route gently sloping.
---
A brief overview of this ski touring evening in Combloux
Whether you've never stuck skins under your soles or whether you're already a fan of the discipline – alone, with family or friends – it doesn't matter! Let yourself be tempted by this most original outing in the heart of the Portes du Mont-Blanc At nightfall.
Marked route, expert advice, we offer you the best in terms of security. In such conditions, the Echappée Rando constitutes thefavorite event to learn about this winter discipline.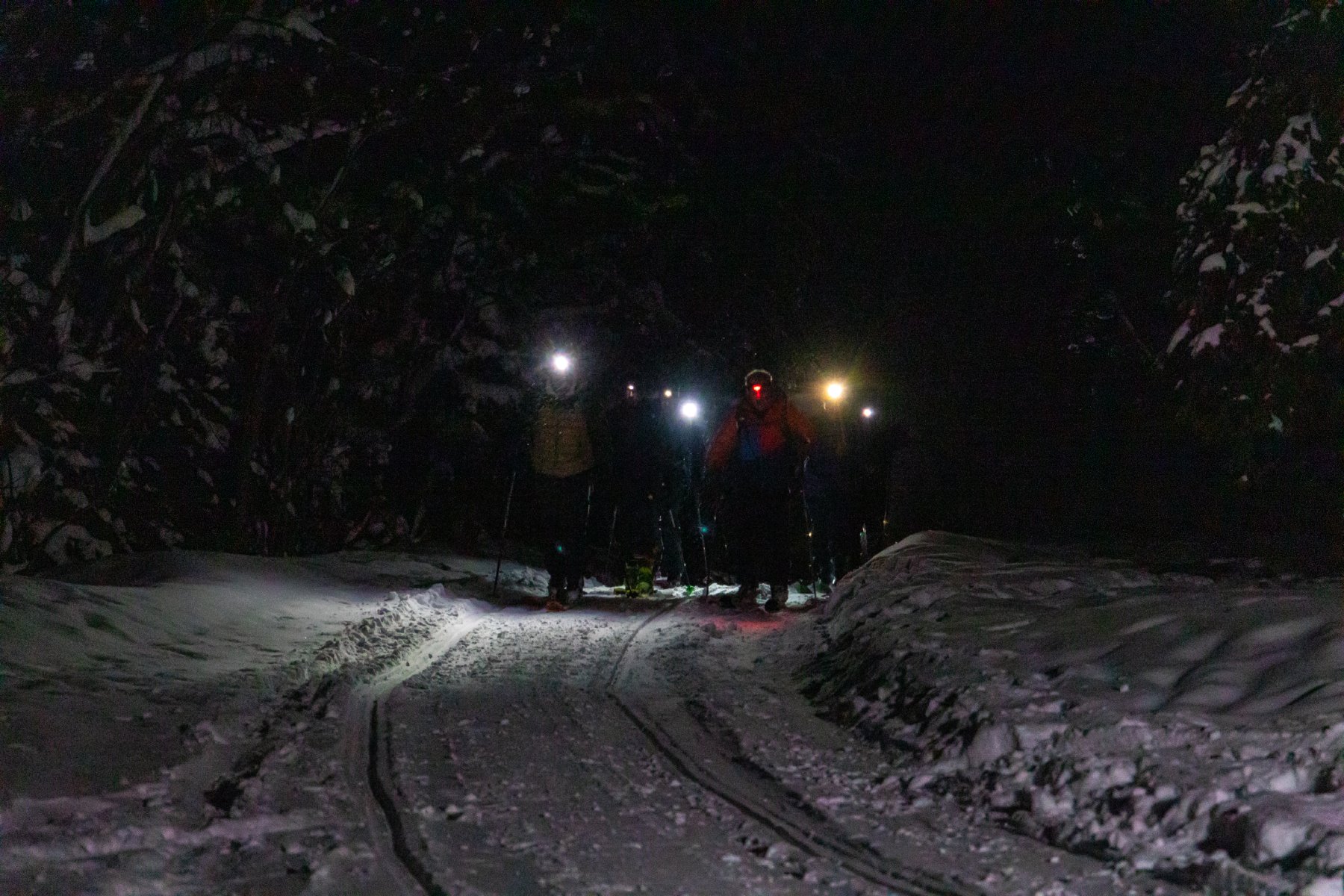 Program of the 2022-2023 edition of the Escape Rando in Combloux
After departure briefing to explain the course of the evening and the instructions to be followed, themanagement team (ESF instructors and ski area trackers) will take you to experience your first ski touring sensations on the slopes of the Combloux ski area.
Once thefun and sporty ascent completed, you can finally take off your skins to hit the track! It will then be an opportunity to savor the joys by well deserved slip in the light of your headlamp, all in one enchanting night setting.
Calendar of the Rando Breakaway 2022-2023
Our combloran ski touring evenings are getting a makeover!
New itinerary, new formula for the Escape Rando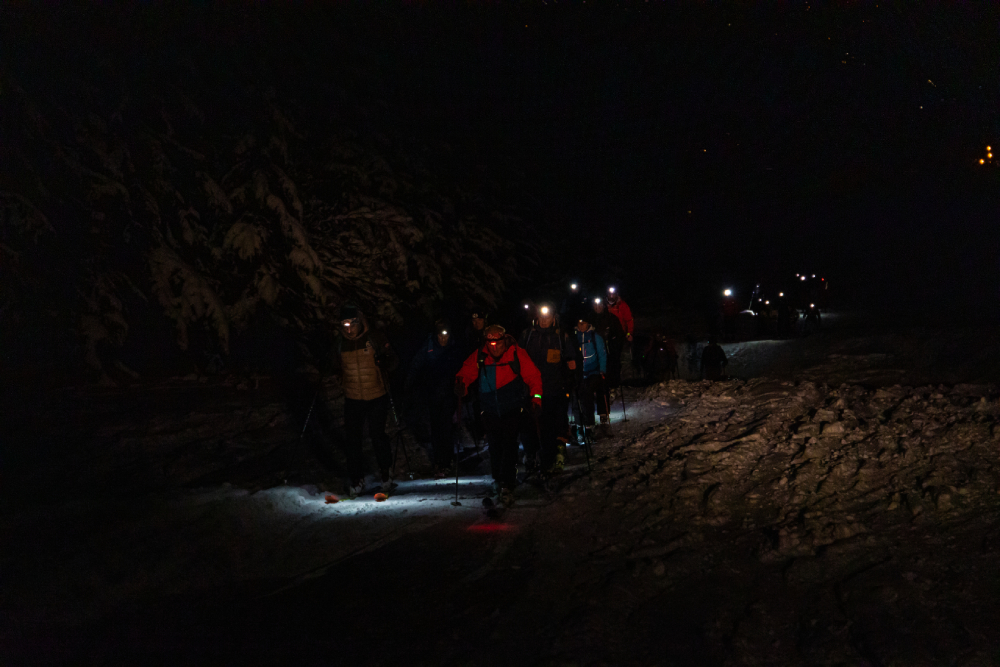 Unpublished! L'route the weekly combloran evening dedicated to ski touring is renewed this winter season.

This year 2022-2023, the Echappée Rando route will leave from the La Cry car park in Combloux to go up the green Roitelets trail.
The route of this new edition will then branch off onto the blue Papa, to allow participants to begin their last ascent towards the top of the Beauregard chairlift.
Once the summit of TS Beauregard has been reached, it's time for the pleasure of skiing!
One and only group descent by the ascent path is planned. Everyone then descends the route climbed together, in conviviality.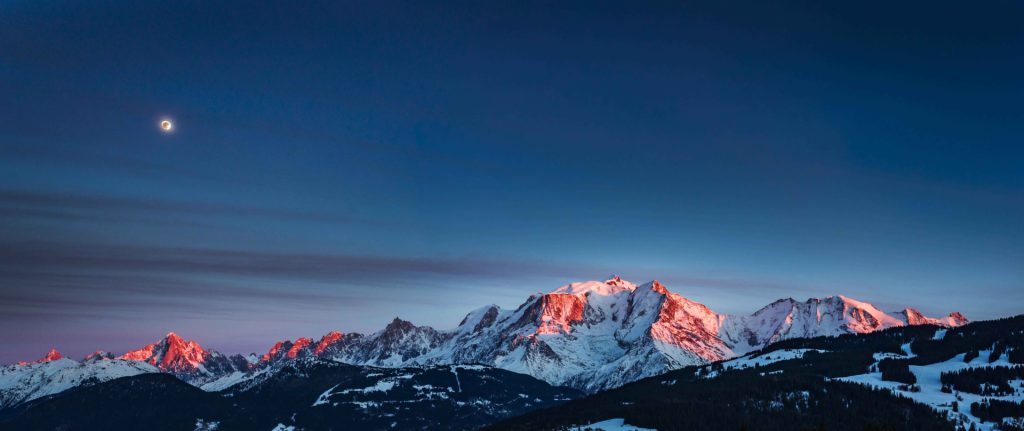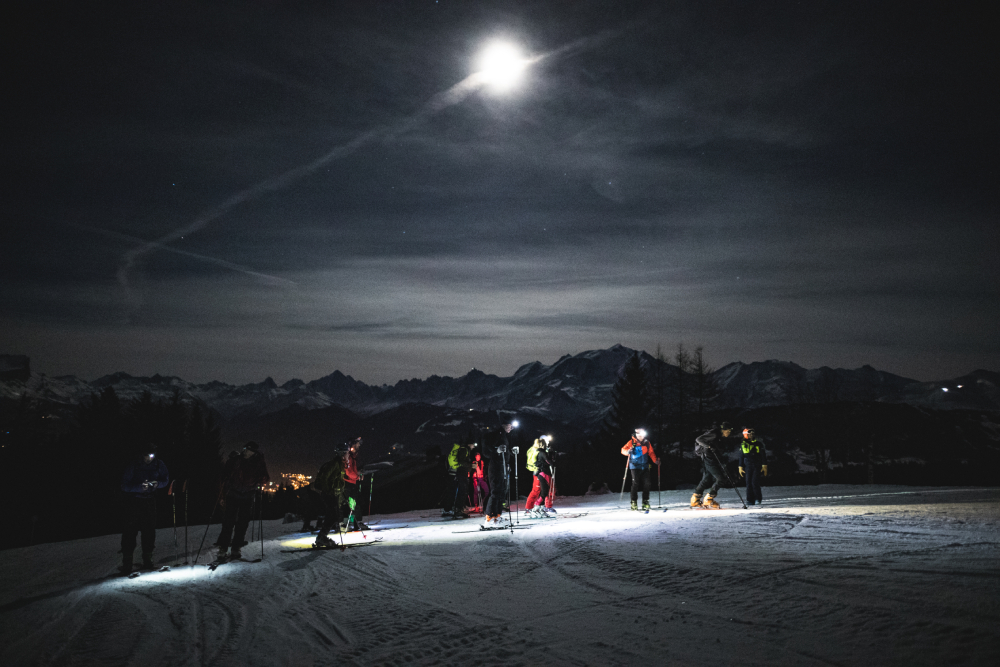 To adapt to everyone's level, an intermediate stop will be offered, if necessary.

For those who wish to push the hiking experience a little further, the supervising instructor will be able to demonstrate conversions on the slopes and initiate the applicants.
If no prerequisites are required in ski touring, please note that it is however essential to have a minimum red piste level in alpine skiing for register at the Escape Rando.*
* Any descent by snowmobile for insufficient level of alpine skiing will be invoiced.
L'Echappée Rando in a few figures
After the effort, comfort in Combloux
To end the evening in style and reward efforts of the ascent: once everyone has descended, each participant in the Echappée Rando is invited, if they wish, to taste some traditional Savoy specialties in a warm environment :
Genepi-based hot drink to regain strength
Platter of cheeses and cold meats from the farms to eat
The themed evenings of the Echappée Rando
Ski evenings Test Völkl, partner brand of the resort of Combloux
You may have realized it during our ski touring outing under the stars: going up the slopes on skis isn't rocket science. It is also possible to have fun in ski touring even when you are just starting out.
If L'Échappée Rando has made you want to renew the experience and take up ski touring on a regular basis, Getting your own equipment will allow you to progress and be independent in your practice.
Never mind ! The Völkl brand – official partner of our charming destination facing Mont-Blanc – will be present at our evening event on 14th February 2023 and will present its range of touring skis.
Le ski test Völkl will give you the opportunity:
bytry different pairs of touring skis for free, and to compare them to real field conditions
to benefit from expert advice
to find the equipment that suits you,

according to your desires and your level of practice
to make the most of the snow this winter season and the following ones
---
L'Echappée Rando gourmande: the coup de grace of this 100% combloran event
To mark this last playful ski touring outing with a white stone, le Tuesday March 07 2023, young and old were warmly invited to come and spend a pleasant evening on the ski area, all in a festive and friendly atmosphere!
To warm bodies and hearts, this final ascent of the season will be punctuated by stands tasting local products : aperitifs, local sweet treats, stuffing, the unbeatable charcuterie cheese combo...
We won't tell you more, but we are waiting for you!
Whether you come for:
challenge you,
introduce you to the practice of ski touring,
taste good local products,
the pleasure of sharing a ski touring ascent in good company, quite simply,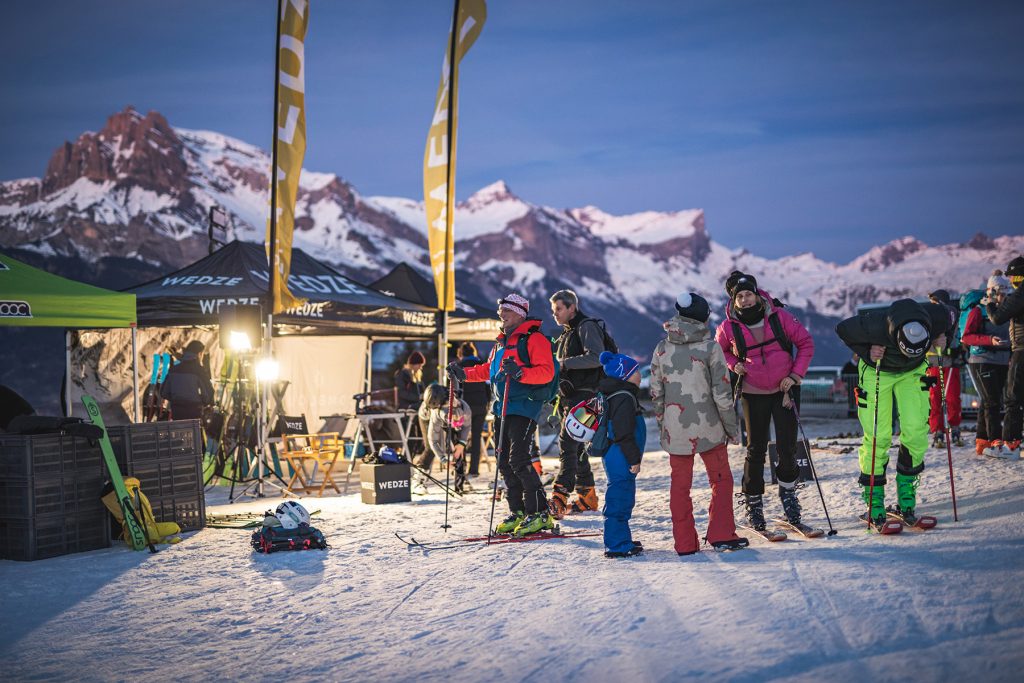 ---
The Escape Rando in practice
Rates and registrations for the 2022-23 edition of the Escape Rando
Find below the amount of a registration for the new edition of our combloran event dedicated to ski touring.
Please note that registrations for the Echappée Rando 2022-2023 only include the ascent + snack formula. These latter must inevitably get done on Internet from the online store of the Combloux Tourist Office (no registration on site the day of the event).
*Find all the details relating to our "Complete equipment rental package" offer later on this page.
---
Equipment pack rental
Do you want to participate in the Echappée Rando but do not (yet) have the appropriate equipment?
No worries! For this night outing, the resort brands equip you at a preferential rate, offering participants a complete pack for hire at the single price of €27.
Go directly to our partner stores to take advantage of this exclusive offer.
Good to know: pick up your "ski touring" equipment pack from 16:30 p.m. at our partner combloran rental companies. Please note that this material must be returned by 9:30 a.m. the next day at the latest.
Please note: it is essential to reserve your equipment in advance!
---
What are the conditions for taking part in these ski touring nights in Combloux?
The only prerequisites necessary to register for the Echappée Rando are the following:
Knowing how to descend a red run in alpine skiing (Any call for the snowmobile to descend due to lack of sufficient ski level will result in the intervention being billed at your expense (60€)).
To be able to go up a gentle snow-covered slope with the strength of your legs
Compulsory equipment to participate in the Escape Rando
In order to take full advantage of this outing, it is recommended to have the following items:
Mobile phone (battery charged),
Warm clothes for the descent, a pair of gloves, a backpack and a bottle of water,
Wearing a helmet strongly recommended
A snack in case of hollow on the climb,
And above all, your good mood!
Regarding ski equipment, you will be asked:
Touring skis with skins,
Shoes adapted to your ski touring,
Ski poles
Front.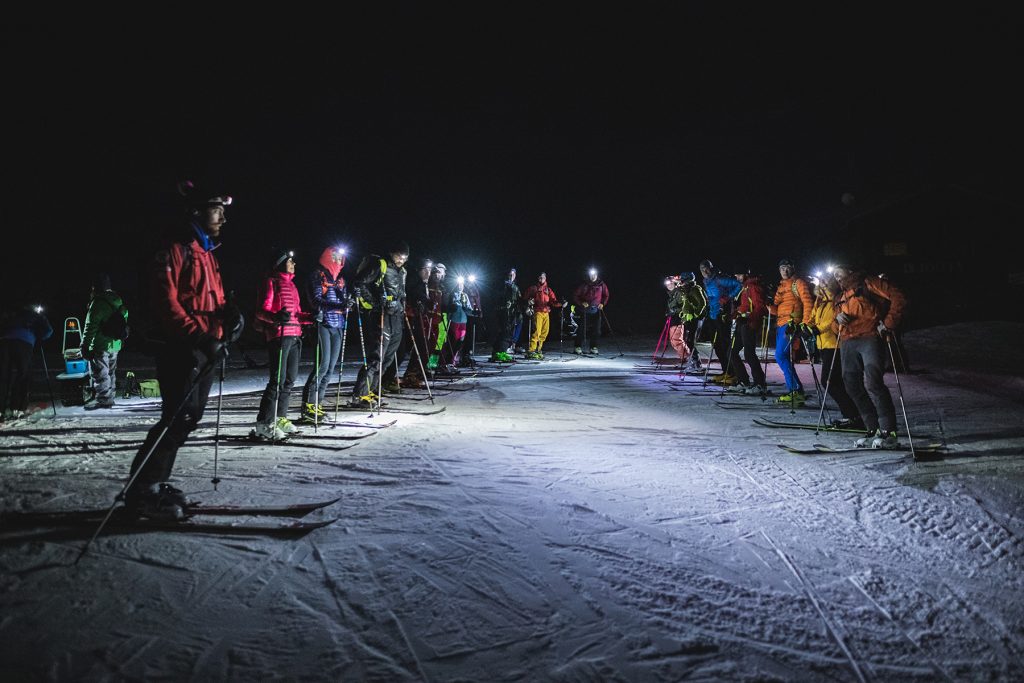 ---