Want to vary the pleasures on snow in Combloux? The Portes du Mont-Blanc put children in the spotlight! The fun areas of the ski area are ideal for learning to ski or snowboard while having fun. Stimulating a new way of learning about the joys of skiing, these recreational areas are a delight for toddlers as well as adults.
Where are these equipped and secure spaces for progressing on spatulas without taking yourself seriously?
Which recreational infrastructure(ies) to choose according to their age and level?
So that each member of the family can find what they are looking for among our fun areas and thus flourish during their skiing holiday in Combloux, follow the guide!
Combloux play areas: skiing while having fun
Our ski area is full of slopes with varied profiles to satisfy skiers of all levels, of course. Nevertheless, thelearning to ski is not always tender when you start. Before you can set off on kilometers of slopes, you must already learn how to put on your skis, keep your balance, know how to stop...a ​​whole program.
Once these basic techniques have been assimilated, you wonder how to give your children a taste for skiing? What if we told you that it was finally possible tolearn to ski while having fun ? Light on the fun areas of the resort of Combloux !
What is a fun track?
Amusement hotspots, play areas are developed areas allowing novices to learn about different sliding practices :
playfully

in a safe environment.
These tracks originally intended for children of all ages – from toddlers to teenagers – are usually perfectly maintained and adapts to all skiers.
When it comes to designing the water sports learning experience, fun spaces are flawless!
Breaking with "old-fashioned" teaching methods – sometimes considered too academic – the play areas innovate et promote new methods of learning winter sports.
This recreational equipment on the track therefore experiences a great success, both for beginners and snow sports enthusiasts.
Allowing to satisfy the desires of laughs, the play areas are ideal for beginners eager to :
improve in alpine skiing, snowboarding while having fun on the slopes

to experience new sensations on the spatulas

, safely
The play areas are generally intended to be adapted to the age and abilities of the child
The concept of learning while having fun is not new. Truth be told, the games constitute a fundamental source of development in the little ones.
Through sporting and fun challenges , our fun trails allow children to wake up for progress at their own pace, in joy and gladness.
Obviously allowing link the useful to the pleasant, we easily understand why play areas are so popular in ski resorts!
The fun areas of the Portes du Mont-Blanc ski area
The recreational structures of the Portes du Mont-Blanc offer, to all public in quest for entertainment, a fun approach to skiing.
If the combloranes play areas are particularly aimed at children – be aware that adults are not excluded.
Explore them as a family for privileged moments of sharing on the slopes. Yes, in Combloux, people of all ages have fun in the resort's play areas!
L'Ours de Prés, an area dedicated to beginners
Located near the arrival of the Jaillet gondola and accessible by the La Ravine chairlift, the Ours des Prés playful slope is equipped with game modules for fun while skiing!
On the way cross (or sometimes avoid!) the obstacles, don't forget to tap with your hand or your stick the modules specially designed for it, bend down to cross the final tunnel and above all, above all... don't forget to tap in the bell on arrival! Even the grown-ups get into the game!
Have fun on skis with the Combloux Boardercross
Challenge yourself with friends on the Combloux boardercross! Between bumps and banked turns, it will be necessary to balance between speed and technique. Who will be the first to finish?
The Combloux boardercross is located along the Ambourzalles red run and accessible by the Pertuis chairlift.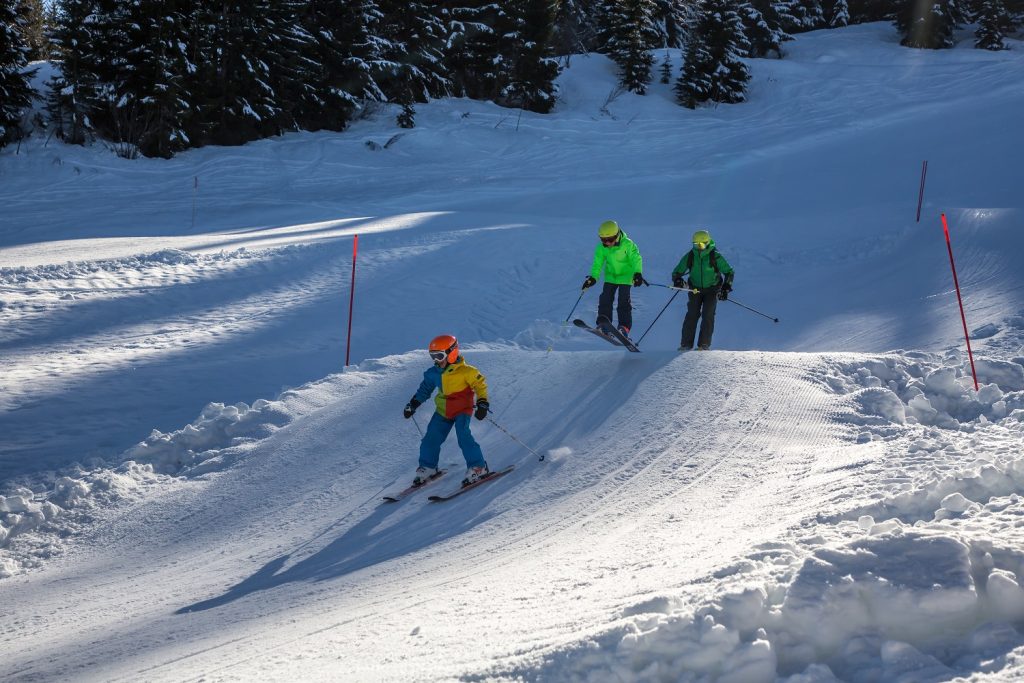 ---
Light on our toboggan areas facing Mont-Blanc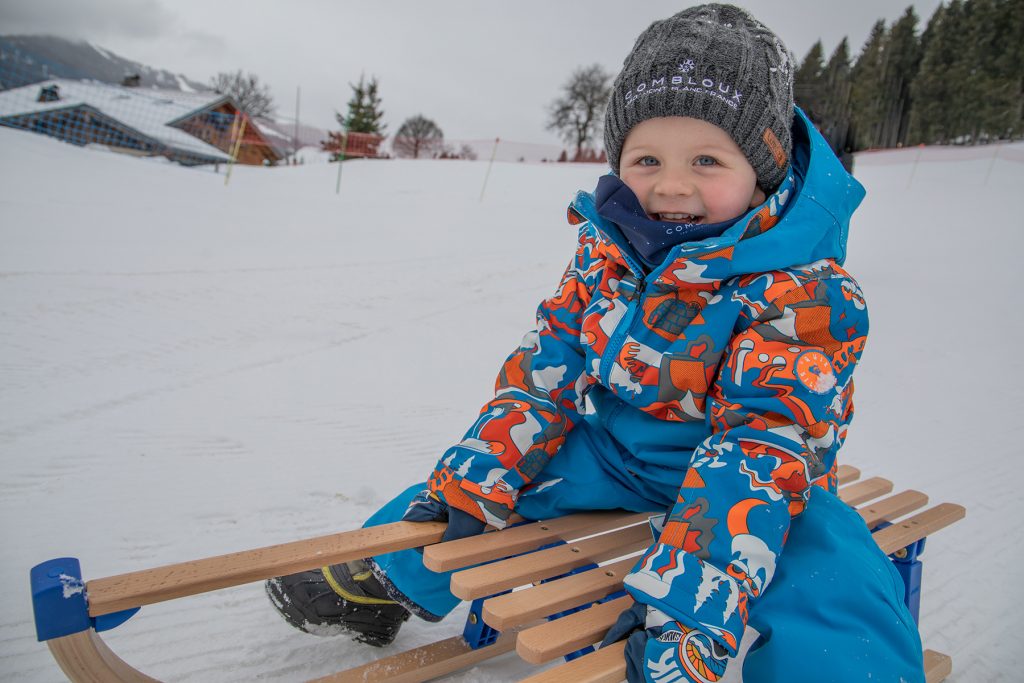 It's not just skiing for fun at all ages in Combloux. Tobogganing also has some fun times!
Take advantage of the two slopes on the Combloux snow front, at La Cry for toddlers, and at Cuchet for children from 6 years old.
---