Find out how to come to Combloux and how to get around the village and neighboring towns.
Getting around Combloux and its surroundings
Climb aboard the free shuttle and enjoy your stay!
Want to enjoy the joys of our charming destination, less the clutter of the car?
In Combloux, winter and summer, leave your vehicle warm! Thanks to our Free Shuttle, navigate in the village resort of Combloux hassle-free!
Bus journeys must remain a possibility offered to as many people as possible, which is why our comblorane shuttle is suitable for people with reduced mobility.
Timetables for the free Combloux shuttle
Boarding the free Combloux shuttle service means choosing the ecological alternative!
You will then have plenty of time to rest during the journey, while admiring the spectacular view of the Alps that our destination has to offer.
Opening hours from July 08 to September 09, 2023

Monday
Open from 09:30 a.m. to 18 p.m.
Tuesday
Open from 09:30 a.m. to 18 p.m.
Wednesday
Open from 09:30 a.m. to 18 p.m.
Thursday
Open from 09:30 a.m. to 18 p.m.
Friday
Open from 09:30 a.m. to 18 p.m.
Saturday
Open from 09:30 a.m. to 18 p.m.
Sunday
Open from 09:30 a.m. to 18 p.m.
Rotate every 30 minutes
The free Combloux shuttle runs every 30 minutes to the bus stop located at the forecourt of the Office.
From the center of the village:
It will transport you once in two from Cuchet (Haut Combloux).
It serves the Jaillet once in two.
In other words, our summer shuttle brings travelers:
every hour at Le Cuchet
every hour at Jaillet
---
Departmental and regional bus lines to come to Combloux
Prepare your stay in Combloux! The Pays du Mont-Blanc benefits from a extensive urban transport network, allowing you to move, at your leisure and in an economical way, from our charming destination to the confines of the valley and vice versa.
here all the details of the departmental bus lines Y82 and Y83. Please note that these coaches do not run on Sundays!
Bus line Y83, from Sallanches to Flumet
As mentioned at the outset, several intercity bus lines serve the Pearl of Mont-Blanc on a regular basis.
Among these, the SAT Y83 bus line serves the municipalities of Sallanches, Combloux, Demi-Quartier, Megève, Praz-sur-Arly and Flumet.
Bus line Y82, from Chamonix to Praz-sur-Arly
The Auvergne Rhône-Alpes region transports you! The Y82 intercity line, managed by theBorini comblorane company, serves the municipalities of Chamonix, Houches, Saint-Gervais, Combloux and Megève, to allow you to visit the unmissable tourist sites of the valley, in complete peace of mind.
Find here all the useful information to prepare your trip to the Pays du Mont-Blanc.
Need to geolocate your bus in real time?
To find out if your means of transport has indeed planned to stop where you expect it, nothing could be simpler! Take your smartphone and scan the QR code located on the information panel at each stop on the network. Smart!
How to get your tickets
Y82, Y83… please note that the regional bus lines are Pay*: their prices vary according to the distance traveled and any luggage to be put in the hold.
*The amounts for the journeys are indicated on the timetable flyers for each line, available above.
*Convenient ! Buy your tickets directly on board the bus. Please note that only cash is accepted.
Tips for traveling cheaply
Do you regularly use public transport? These offers are likely to interest you (non-exhaustive list):
If you are under 26,

subscribe to the Declic Card

and get discounts on your journeys.

Do you regularly take the same route? Note that you have the possibility of buying booklets of 10 tickets at 50% "with obligatory mention of the journey" to benefit from a significant reduction
Fullerenes Borini coaches (550 route de Plan Mouillé – 74920 COMBLOUX) also offer a monthly pass for the general public, sold on board the coaches, allowing you to save money on your journeys.
Montenbus, the on-demand transport service of the Pays du Mont-Blanc

With Montenbus, the on-demand transportation service of the CCMB (the Community of Municipalities of the Pays du Mont-Blanc), facilitate your journeys on all 10 municipalities of the territory:
Combloux,
Les Contamines Montjoie,
Cord,
Half-Quarter,
Domancy,
Megeve,
Praz-sur-Arly,
Passy,
Saint-Gervais-les-Bains and
Sallanches.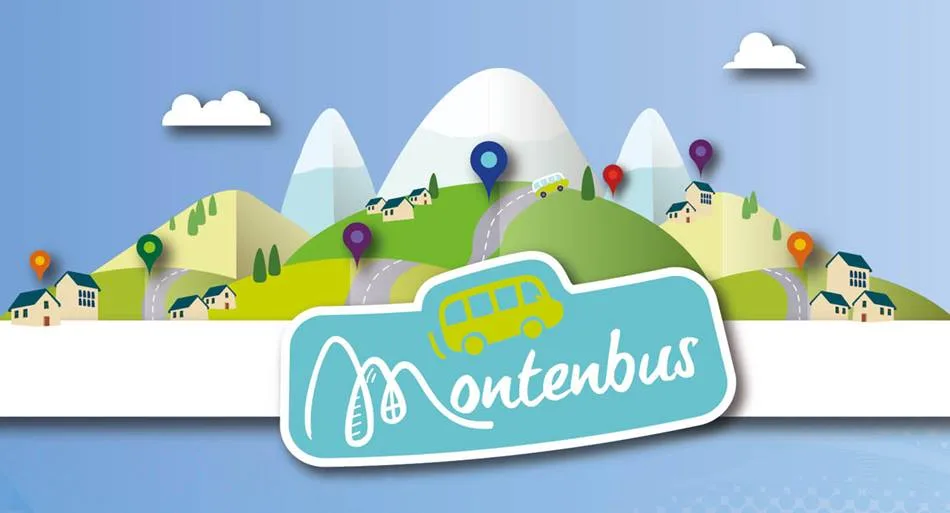 Leave your car in the garage! With over 380 stops scattered on both sides of the upper valley of the Arve: shopping, going to an appointment, reaching the center of a town... never going about your daily activities without taking your personal vehicle will have been so simple.
Accessible to all*, whether you are from the region or on holiday, the Montenbus service stands out as a practical and inexpensive addition to the existing public transport offer.
*Children under 12 must be accompanied by an adult. So that everyone can move around with complete peace of mind, Persons with Reduced Mobility benefit from a door-to-door service.
How does this collective on-demand transport service work?
To be able to navigate smoothly from one Montenbus stop to another Montenbus stop, the use of this service is subject to a membership, weekly or annual, mandatory.
Map of Montenbus subscription points of sale
Join Montenbus directly online or with the various partner agencies.
Once you have subscribed to Montenbus, all you have to do is book your trip by contacting the reservation center on 0 800 213 74.
Borini coaches and passenger transport
Thanks to its large fleet of vehicles and its 50 years of experience in transporting people, theBorini comblorane company stands out as your contact of choice for the organization of coach excursions :
Station transfers et / ou airport
Private transport on request, to travel in an intimate setting
School transport (pick up or travel)
Organization of trips for all types of events (seminars, sports challenges, etc.)
etc… the possibilities are endless.
Out of inspiration? Borini tourist coaches also offer a wide choice of local or regional excursions.
Taking care of the organization of the days, from the visits to the meals, you will only have to get on board to let yourself be transported. Isn't life beautiful?
With a 24/24 helpline – allowing, among other things, to geolocate their vehicles in real time – the entire Borini team is at your disposal to offer you services adapted to your desires and your needs.
Thanks to their top-of-the-range and tailor-made service, the Borini company adapts to your desires, providing you with a wide range of solutions for your daily mobility.
International bus lines
The FlixBus international bus line
Join the Pays du Mont-Blanc from Geneva or Lyon aboard a comfortable bus. Then, follow the correspondence of the AURA lines to reach Combloux! Check the timetables and book your tickets on the website www.flixbus.fr
Coming to Combloux: car, train, plane, taxi
Come by car
By motorway to Sallanches (9 km from Combloux) then by the national RD1212.
Time to come to Combloux:
From Paris: 5h30
From Lyon: 2 hours
From Geneva, Aosta or Annecy: 1 hour
From Milan: 3h30
Before you arrive, check road and traffic conditions, especially in winter. Special equipment on vehicles is compulsory from November 1 to March 31 (Mountain Law).
Coming by train
Direct access by TGV to Sallanches station then connection by bus or taxi. Direct trains from several major cities and TGV Paris-Saint-Gervais line.
Take a cab
Taxi Bottollier-Pissard – 8-seater vehicle: airport/station/resort transport – mountain refuge transfer, seated patient.
Taxi M. Roth Didier – 8-seater minibus: connection between stations and airports in the region and Combloux, local shopping, long-distance journeys, day trips. Telephone: 06 77 77 12 24
Arrival by plane
Connection by taxi, train or bus from the various nearby airports:
Bus Lyon – Pays du Mont-Blanc
Travel between Combloux, Geneva, Annecy and Lyon with Ouibus.
Carpool to come to Combloux
Are you planning to visit Combloux, but you don't know how to get there without complicating your life? Opt for the carpooling !
Economical, ecological, practical and friendly, it is the ideal solution to fully enjoy your stay in our charming destination, while reducing your carbon footprint.
So don't wait any longer and book your carpool to Combloux now!
---