Discover Montenbus, the on-demand transport service of the Pays du Mont-Blanc and the Borini coaches which will allow you to book tailor-made passenger transport services.
Montenbus, the on-demand transport service of the Pays du Mont-Blanc
Montenbus is a transport service on reservation, which allows users to travel at specific times and places, according to their requests. It offers a mobility solution adapted to the specific needs of each, while helping to reduce traffic congestion and air pollution.
Ce wide area network serving the entire Community of Communes of the Pays du Mont-Blanc, is specially designed for facilitate the movement of residents and visitors in all 10 localities in the territory: Combloux, Les Contamines Montjoie, Cordon, Demi-Quartier, Domancy, Megève, Praz-sur-Arly, Passy, ​​Saint-Gervais-les-Bains and Sallanches.
Doing your shopping, attending an appointment or reaching the center of a town has never been so simple and practical. Accessible to everyone*, whether you are from the region or on vacation, the Montenbus service stands out as a practical and inexpensive addition to the existing public transport offer.
*Children under 12 must be accompanied by an adult.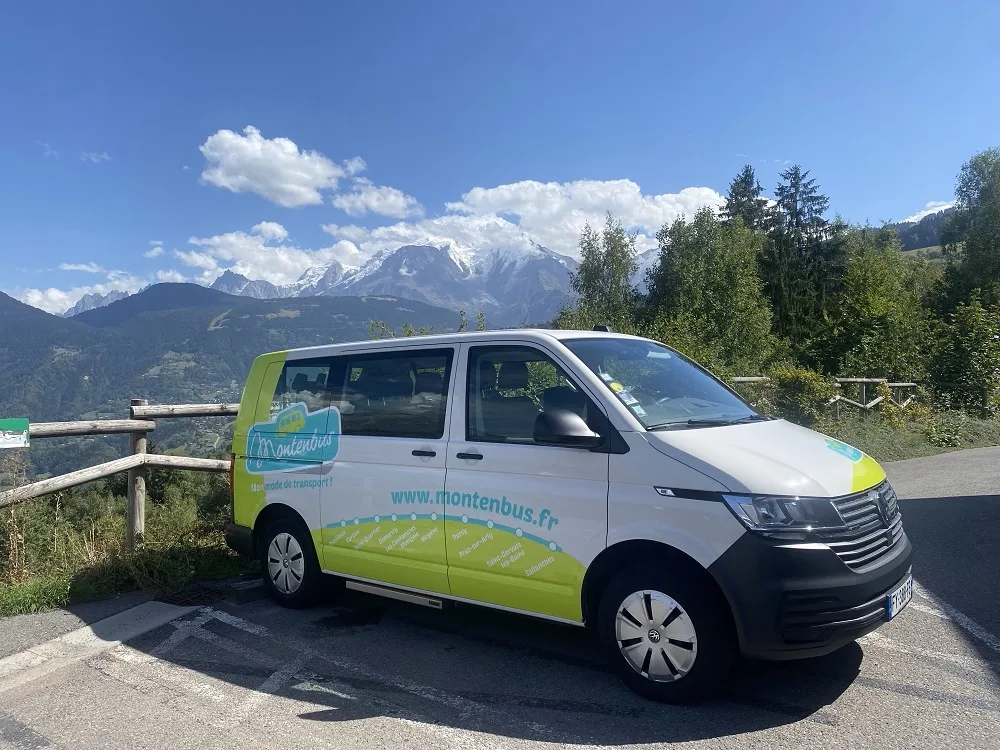 Montenbus is a service particularly suitable for:
people with reduced mobility, who will also be able to benefit from a door-to-door service.
old people
or for people living in areas far from bus stops or poorly served by public transport.
Practical information for using the Montenbus service
Sign up for the Montenbus on-demand transportation service
To be able to navigate smoothly from one Montenbus stop to another Montenbus stop, the use of this service is subject to a membership, monthly or annually, mandatory.
Join Montenbus:
On the Internet : www.montenbus.fr
At the CCPMB headquarters in Passy
By post: form available on request on 04 50 78 12 10 or on www.ccpmb.fr
Prices and reservation conditions
Monthly subscription
Validity period: 30 days from the start date chosen by the user
Ideal for users who need to travel regularly for a limited period of time
Annual subscription
Full price: €40 – Reduced rate for young people < 25 years: €10 * – Reduced rate for seniors > 70 years: €10 * – Reduced social rate: €10 * – Free: TPMR ** and children under 5 years old
Validity period: 12 months from the date of purchase
Ideal for users who need to travel regularly for a long period of time.
Book a trip with Montenbus
Once you subscribe to Montenbus, different options are available to you for booking your trip.
On the Montenbus app
On the internet: www.montenbus.fr
By telephone by contacting the reservation center on 0 800 213 74.
Steps to book your trip
Indicate the desired starting point, destination, day and time.
Arrive at the stop at least 5 minutes before the agreed time.
The exact departure time will be confirmed to you 2 hours before your journey by SMS.
---
With a 24/24 helpline – allowing, among other things, to geolocate their vehicles in real time – the entire Borini team is at your disposal to offer you services adapted to your desires and your needs.
Farm. Opens tomorrow at 08:00 p.m.
550 Route de Plan Mouille
74920
Combloux
Calculate my route
---