With the Flocon Vert label and municipal commitments to reduce the impact of human activity on our planet, the Combloux Tourist Office is part of an ambitious environmental approach. Light on the initiatives driven by our management, our team and our local community to build a greener and more sustainable future.
Find out how theCombloux Tourist Office commits to a sustainable tourism, through their purchasing choices, their travel methods and their waste management.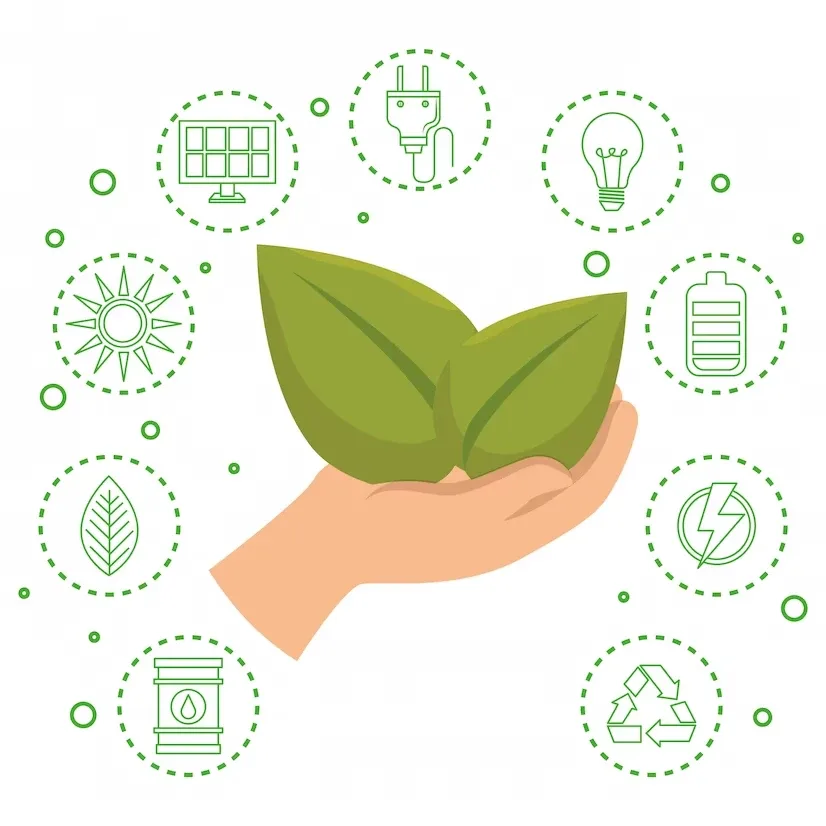 Le Flocon Vert: a label for sustainable mountain tourism
The Flocon Vert label is an important distinction awarded to mountain resorts which are fully committed to preservation of the environment and safeguard of their natural resources, while providing visitors with a high-quality tourism experience.
This recognition aims in particular to highlight good practices in sustainable development, encompassing essential aspects such as:
management of water, energy, waste,
the preservation of biodiversity,
environmental awareness,
and many others.
Combloux, a sustainable tourist destination
Discover our actions to reduce our impact on the environment
Over the years, our sustainable tourist destination has matured an approach resolutely focused on sustainable development.
Proud of its "Flocon Vert" label, our charming village resort has set itself a major objective: carbon neutrality by 2030. In this quest, the Tourist Office is committed to minimizing its environmental footprint at all times. levels of its activity.
We invite you to discover our actions and join us in our inclusive approach. Together we can make a difference!
Daily practices to reduce environmental impact
Explore the daily actions adopted by our employees in their offices. These simple actions contribute every day to making our working environment more eco-sustainable.
Do not turn on the office light if there is enough daylight to work.
Promote ventilation of the premises by opening doors or windows when the outside temperature permits.
Adopt a virtuous attitude in terms of the environment
Reducing the environmental impact of our employees
Discover the ecological actions that we have undertaken at the Combloux Tourist Office to have a positive impact, even during our employees' break times!
We installed a percolator with grinder in our break room to reduce waste related to coffee preparation.
We encourage turning off the electric coffee maker after use.
We encourage our employees to turn off their computer screens if they are out of the office for more than 30 minutes.
We promote turning off lights when leaving the premises.
We make sure to turn off the air conditioning when leaving in the evening.
We provide metal bottles to encourage tap water consumption and reduce bottled water consumption.
We provide glass cups to reduce the use of plastic cups.
We also offer ECOCUPS to encourage sustainable use.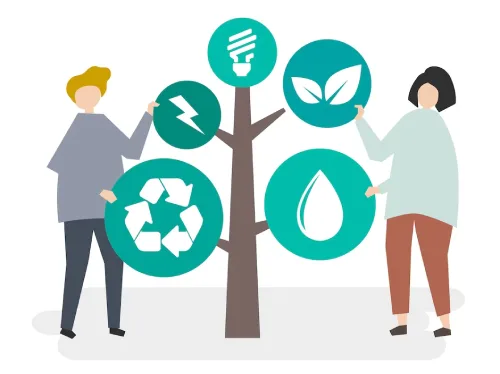 An eco-responsible printing policy: a commitment to the environment
Discover our eco-responsible approach to printing at the Combloux Tourist Office.
We have opted for cold printing technology using solvent-free vegetable ink. Our printer, from the RISO brand, is equipped with ink cartridges made in France.
Print less, better, for a sustainable future
We favor in-house printing to reduce the impact of transporting documentation.
Every year, we carry out audits of the brochures ordered and those that are thrown away, in order to adjust the quantities as best as possible.
We only print when necessary.
We favor the conservation of documents in computer format rather than on paper.
We opt for double-sided black and white printing whenever possible.
We print on scrap paper (tray 3) whenever possible.
We keep obsolete printouts whose reverse side can be used as scrap paper.
For printing in large quantities, we favor photocopying, because it is more economical, by carrying out a test beforehand to ensure the format.
Practices to minimize waste and save resources
As part of our commitment to sustainable development, responsible waste management is at the heart of our concerns at the Combloux Tourist Office.
Sorting and recycling at the Combloux Tourist Office
Explore our practices in terms of sorting and recycling waste, according to their category.
| Cardboards and papers | Yellow plastics and recyclables | Glass | Bulky items and hazardous waste |
| --- | --- | --- | --- |
| Storage in the photocopier room. Evacuation is managed by technical services once a week | A sorting bin is available in each office. It is up to each department to dispose of its waste in the yellow container. | Storage as close as possible to the place of issue. Direct evacuation in glass container. | Evacuation to recycling center on request from technical services |
Our solutions to reduce our other operating waste
Discover our initiatives aimed at reducing our operational waste at the Combloux Tourist Office:
We recycle printer toners and other similar waste by placing them in the boxes provided for this purpose, which the company responsible for their management collects regularly.
We seek to reuse our material as much as possible, for example by using the pouches a second time by turning them inside out.
We favor the use of paper clips rather than staples to avoid waste.
When we need to purchase equipment, we systematically opt for energy and water efficient devices, preferably Class A, when our budget allows.
We favor local suppliers, such as ABAC company located in Sallanches, for our office supplies to reduce the impact of deliveries.
We use AA and AAA rechargeable batteries for our computer and entertainment equipment.
Combloux, responsible destination: our banners, no waste!
We practice upcycling of communication and event tarpaulins in partnership with the "L'Art Recyclerie" association at Balme de Sillingy. The tarpaulins are transformed into shopping bags, pouches, etc., which are then sold in our store without commercial margin.
We limit the printing and replacement of event kakemonos to twice a year to reduce frequent printing and human intervention.
Combloux, a sustainable tourist destination: our actions to reduce our carbon footprint
As a sustainable tourism destination, we are committed to reducing our mobility carbon footprint.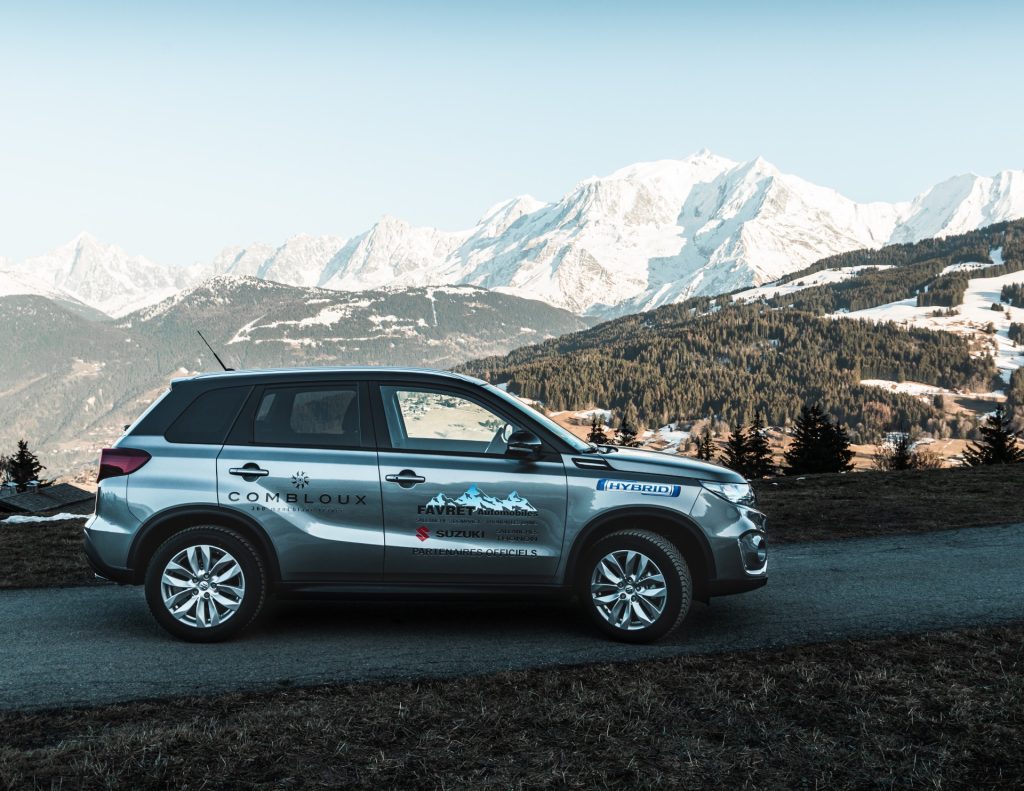 Fleet of eco-responsible vehicles of the Combloux Tourist Office
Our fleet of vehicles at the Combloux Tourist Office includes
a petrol vehicle traveling less than 5000 km per year for the event (compliant with anti-pollution standards),
a hybrid executive vehicle, e
an electric mountain bike available for short trips by employees, such as meetings, training, and appointments in the village.
Measures for responsible tourism in terms of mobility
We have also implemented a sustainable mobility policy to reduce the carbon impact of our employees' travel, in particular:
by favoring the train for long-distance business trips when possible,
by encouraging carpooling through flexible shift schedules,
by offering the possibility of teleworking one day per week out of season to reduce return trips,
by encouraging staff living near the Tourist Office to go to work on foot or by bike.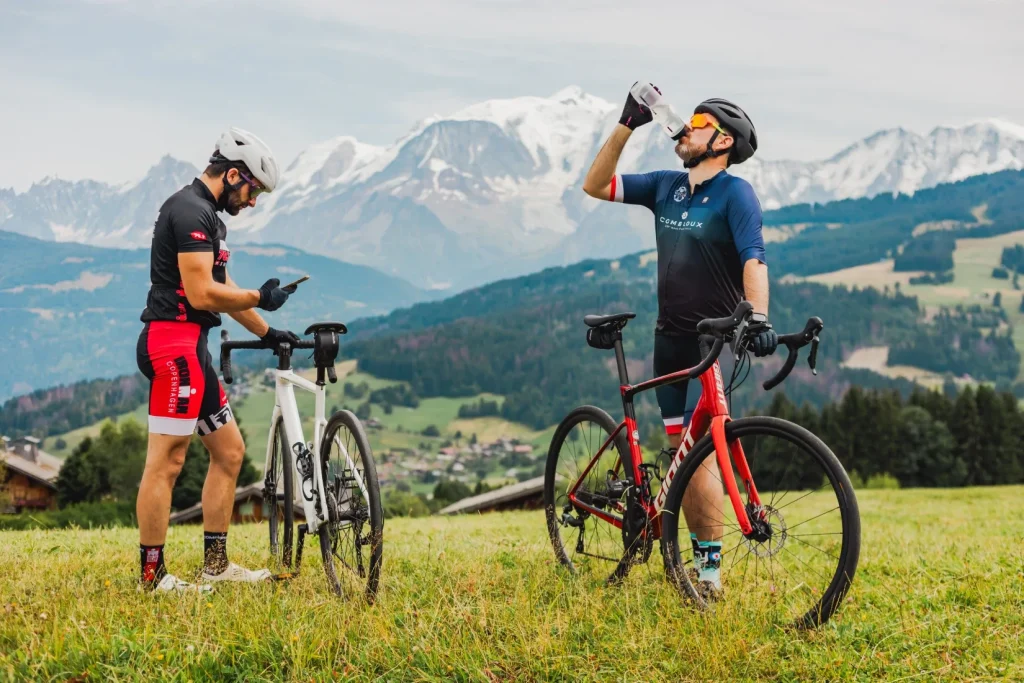 The responsible purchasing policy of the Combloux Tourist Office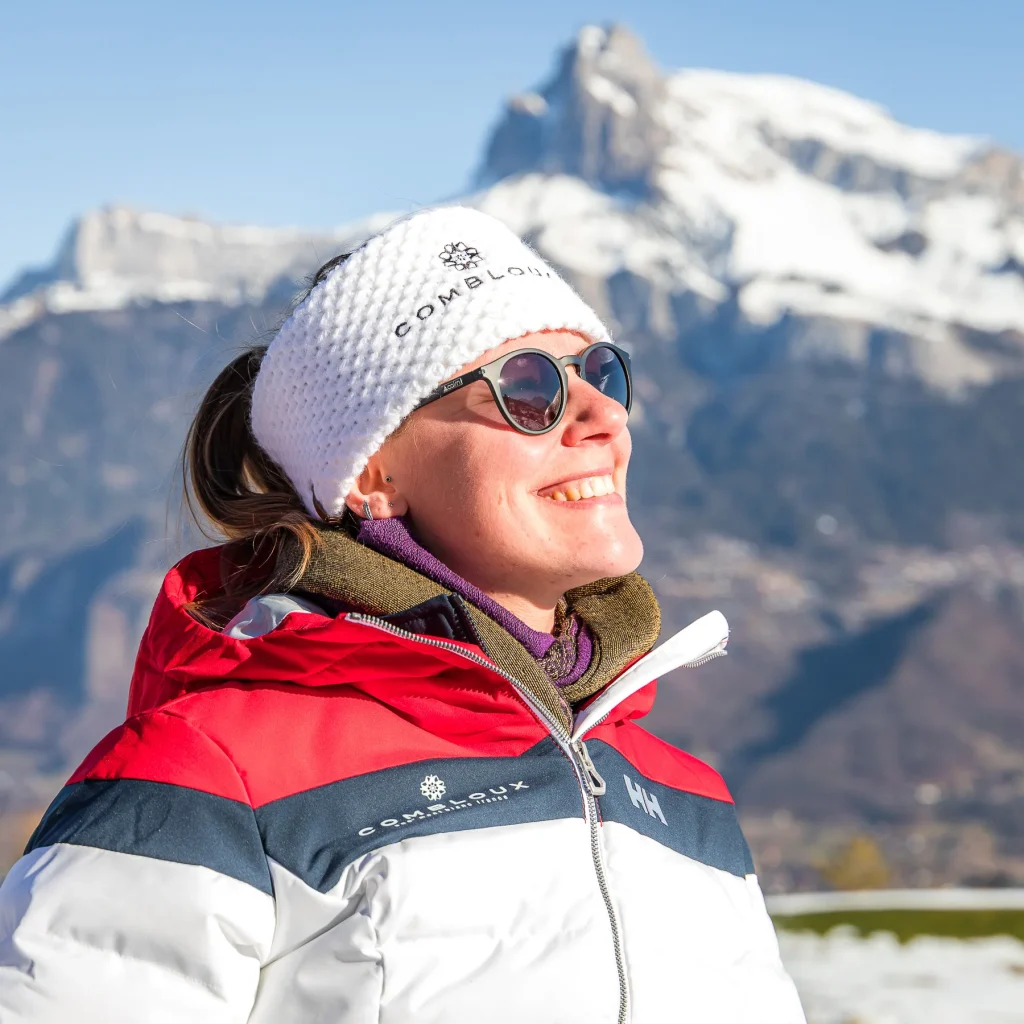 Discover our responsible purchasing policy at the Combloux Tourist Office, with criteria aimed at promoting sustainable and responsible products:
Our purchases for the store are characterized by their superior quality, even if they are fewer in number.
When this is not possible outside Europe: we favor "Made in France" or European products.
When this is not possible outside of Europe, we opt for products with a virtuous approach, such as those made from recycled fibers or green textiles.
In addition, we support local craftsmanship (consignment logic)
The responsible aspects of each product are highlighted in our boutique area and by our stay advisors who sell these products.
Eco-responsible events in Combloux, a way to raise awareness about the environment
Our events respect the commitments of the Town Hall's eco-responsible events charter.
With this in mind, we choose gifts for participants or volunteers by favoring products linked to our territory, such as Reblochon, beer, or granite objects representing a wolf's head, for example.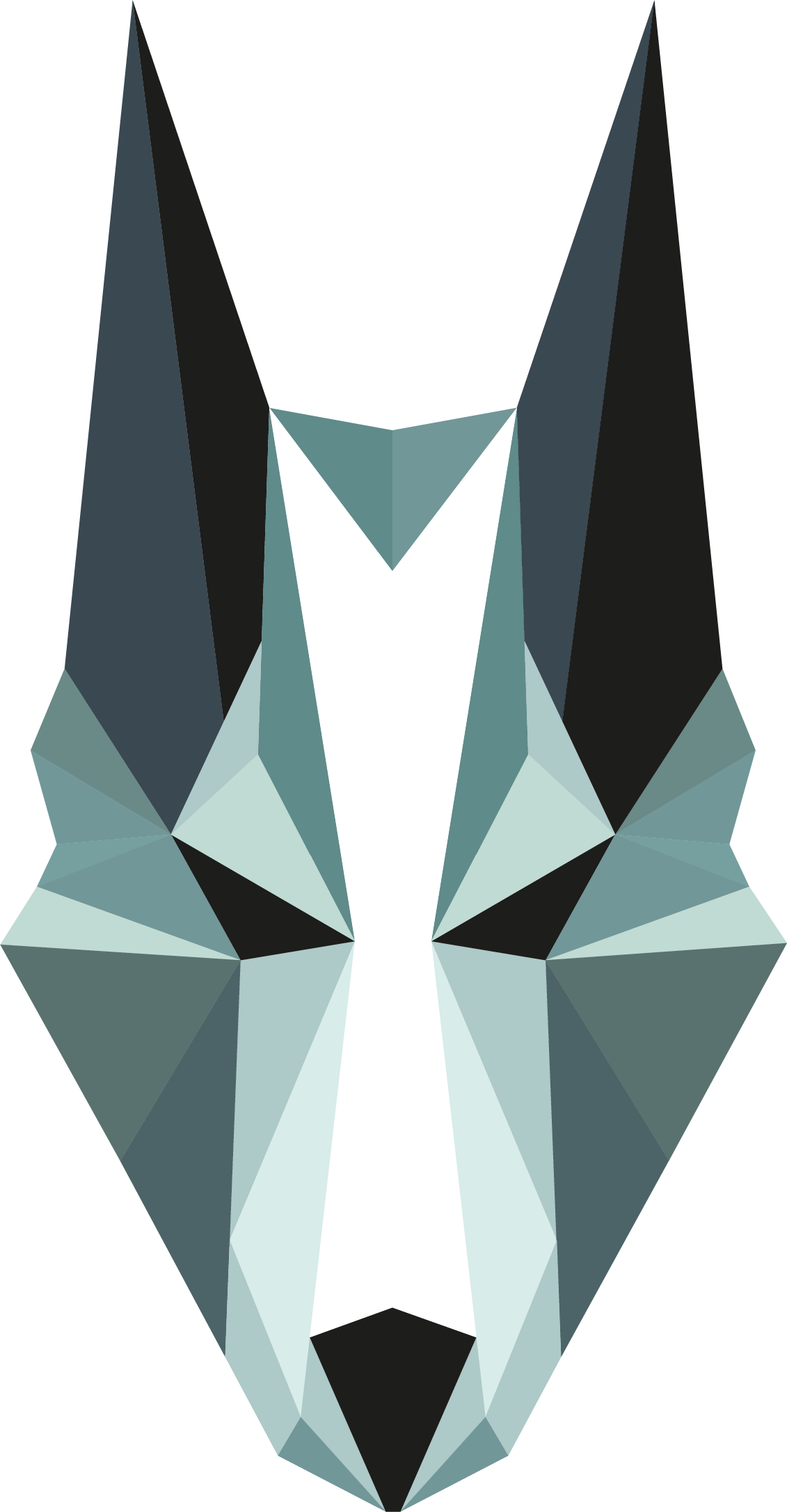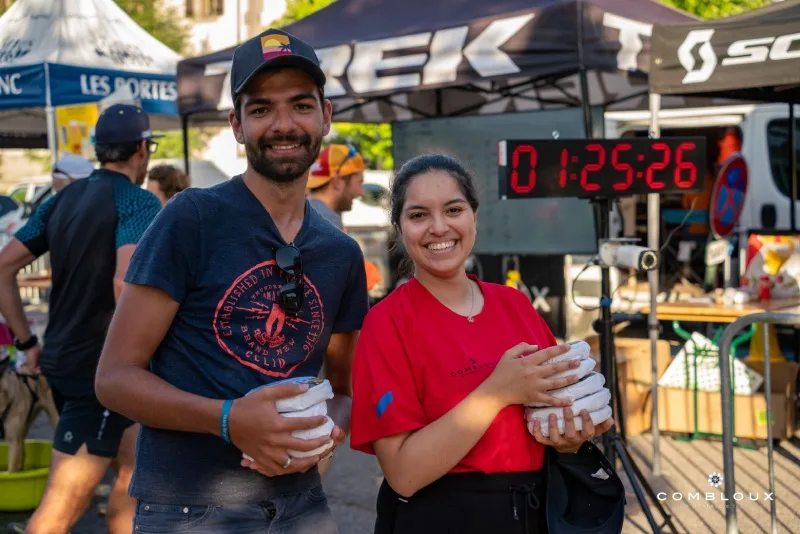 In addition, we source our supplies directly from the local producers, and catering is entrusted to local service providers.
The products served at our events are carefully selected to reflect the terroir and unique character of our region.
Reducing Digital Pollution
Marketing, digital communication and the web are also significant sources of digital pollution. We are committed to reducing the digital pollution generated by these tools by adopting the following measures:
Limit unnecessary email responses
Regularly clean emails stored in the trash
Regularly clean our servers by archiving obsolete content offline,
Deployment of an "eco mode" on our website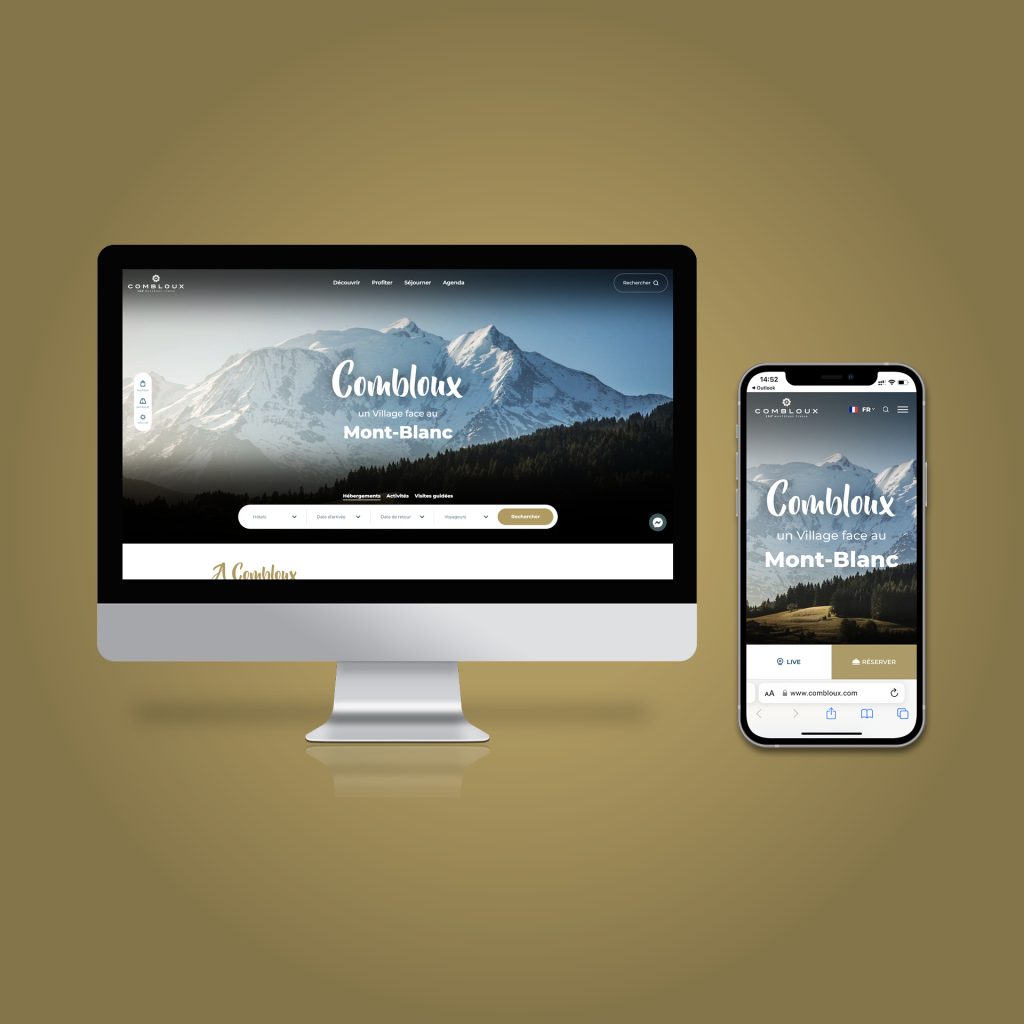 Choice of green hosting for the website www.combloux.com
Le Webaxys Green Datacenter, located in Le Havre, is still considered today as the most innovative in Europe.
Wetaxys was notably rewarded during the sustainable development trophies for:
its eco-responsible approach,
its work in sustainable development
its societal commitments.
Here are some examples of efforts made by this data center to minimize the environmental impact of its services:
One bay in ten is energy self-sufficient,
The servers run 100% on renewable energy,
Data centers are cooled using outside air.