Walking with your dog is not always easy between prohibited areas, spaces shared with other animal species... Here are the walking areas in Combloux and the best practices to adopt for hassle-free walks!
Strolling areas in Combloux
Hikes accessible to dogs
Hikes with a guide on a private outing. Dogs are prohibited on group outings out of respect for other participants. It is important to specify that you have a dog when making your reservation.
The hike of the Croix des Salles which offers an extraordinary spectacle on the Mont-Blanc range.
The Intages hike: suggested itinerary on our village map.
For more hiking ideas, do not hesitate to ask our advisers for advice at the reception of the Tourist Office.
Hiking with your dog: watch out for Patous (guard dogs)
Some mountain areas, especially in the mountain pastures, are totally forbidden to dogs for security reasons. The presence of herds in the mountain pastures, guarded by guard dogs, sometimes leads to hostile encounters. Indeed, patous tolerate the passage of hikers but can be aggressive in the presence of a pet dog.
The sector of Alpage de Croisse Baulet is forbidden to dogs until September 19 by decree.
When you hike in an area that is not forbidden to domestic dogs but on which there are guard dogs, you should be vigilant and adopt the right behavior. The guard dog is there to protect his herd from the attack of the wolves which intervene mainly at night. This is why in the event of a restless night, their behavior can be more or less calm.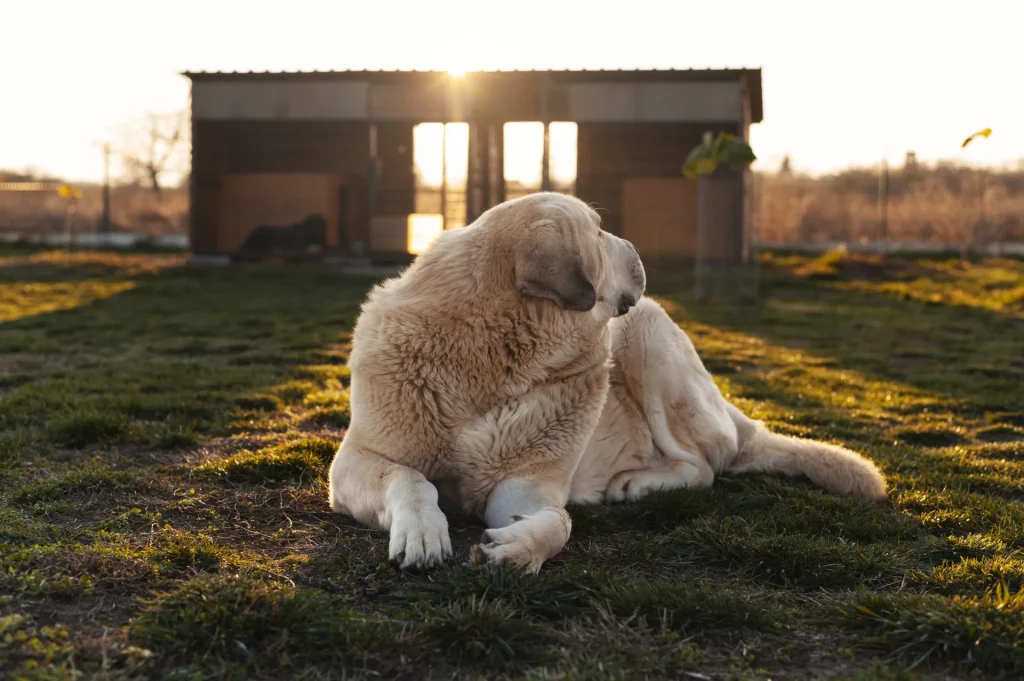 La Community of Communes of the Pays du Mont-Blanc offers attendance cards for guard dogs. They are available at the Tourist Office as well as on the dedicated web page.
Walk with your dog in winter
You can take some ski lifts with your dog. The accessible lifts are the same as those open to pedestrians:
Beauregard chairlift
Pertuis chairlift
Jaillet gondola
Christomet chairlift
Grande Rare chairlift
Torraz chairlift
Dogs are strictly forbidden on the ski slopes for safety reasons. They are tolerated on the side, kept on a leash.
You can snowshoe with your dog on dedicated routes (outside nature reserves).
Just like in summer, dogs are welcome on private supervised outings with a guide (to be specified when booking) but prohibited on group outings.
Dogs are allowed near the cross-country ski routes, on a leash. Their presence must not deteriorate the layout of the tracks and you must take care to pick up dog droppings.
Note: the resort of Contamines Montjoie offers cross-country ski trails accessible by ski-joëring.
Good practices to adopt
In case of hot weather
It is important to protect your animal well in case of high heat. Like you, your pet needs to be well hydrated. Make sure he always has a bowl of fresh water.
Outside, remember to offer him water regularly or give him access to a water source (pond/river).
Also remember to protect his paws. Bitumen can burn your companion's pads.
Keep your dog on a leash
The law requires that your dog be kept on a leash on the road and in public areas. If your dog is category I or II, it must also be muzzled.
In the mountains… for more freedom, you can walk your dog with a lead. This will promote access to nature while ensuring the safety of other mountain users (hikers, herds, mountain bikers, etc.)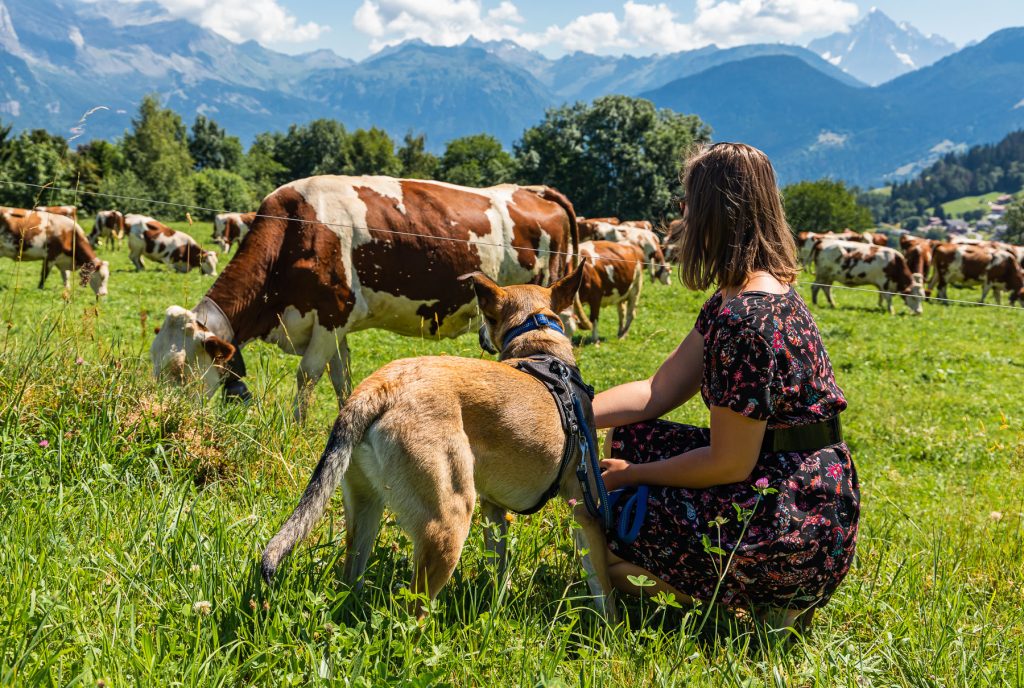 Share space with other users
Our mountains and fields are shared with many wild and farmed animals. It sometimes happens to come across them even during the day. It is therefore necessary to control your dog well to avoid chases or hunts in the forest which could cause a lot of stress to the masters but also to other animal species.
Other users do not always have as much knowledge or love for our hairy ones. So don't scare them!
Pick up dog droppings
Picking up the droppings of our dogs is mandatory (art R632-1 of the penal code). Failure to pick up dog waste can result in a fine.
Beyond a legal obligation, it is above all a question of respect for all: it is never pleasant to walk in dog poo!
---