Are you wondering which snow sport to try at a low price this winter with your family? Combloux delivers the answer to you on a platter of white gold! Our emblematic Savoie village resort invites you to discover an outdoor sporting activity that is fun, comprehensive, accessible to all – and free – all in an idyllic setting facing Mont-Blanc. So, what are you waiting for, put on your skis and set off on an adventure?
If our intergenerational destination enjoys a vast alpine domain straddling Savoie and Haute-Savoie neighborhoods, are the nordic domain is no less represented. In this spirit, the cross-country ski tours of our village-resort adapt to all levels and will make you travel through a preserved nature, breathtaking landscapes as a bonus!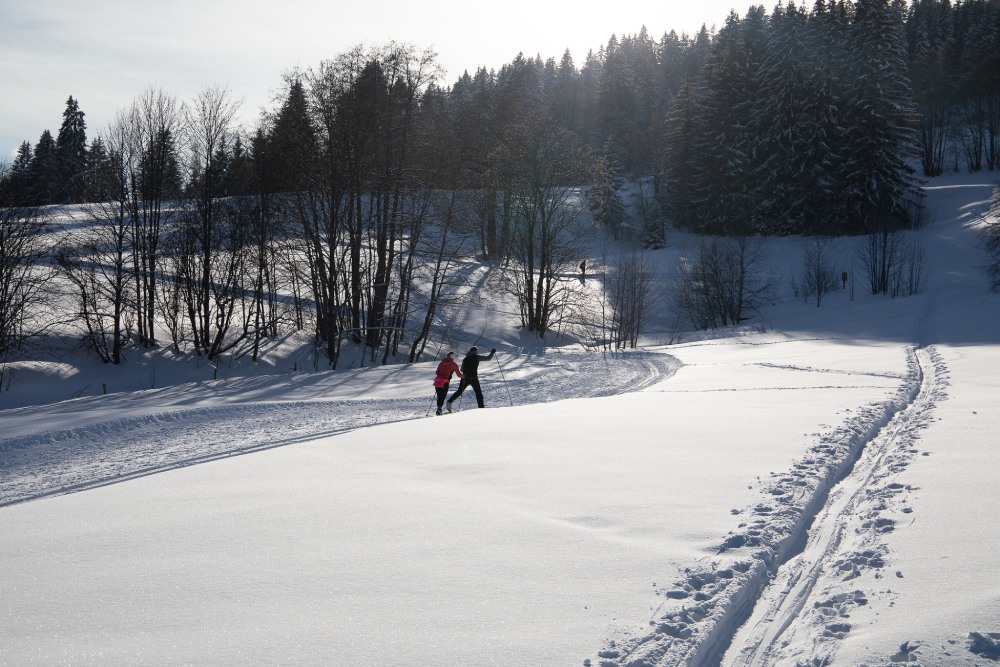 Want to discover cross-country skiing in Combloux?
Check out the list:
Combloux cross-country skiing, discover a physical activity in the great outdoors
Surrounding the 5.5 km of slopes furnished - Between alternative routes, skating and pedestrian zones – the comblorans nordic routes are an ideal warm-up before setting off to explore the vast playground that the Pays du Mont-Blanc conceals.
A dream Nordic domain with an exceptional panorama
Our preserved nature unrolls its snowy coat for you.
Get your cross-country skis and set off with ease in our dedicated Nordic area!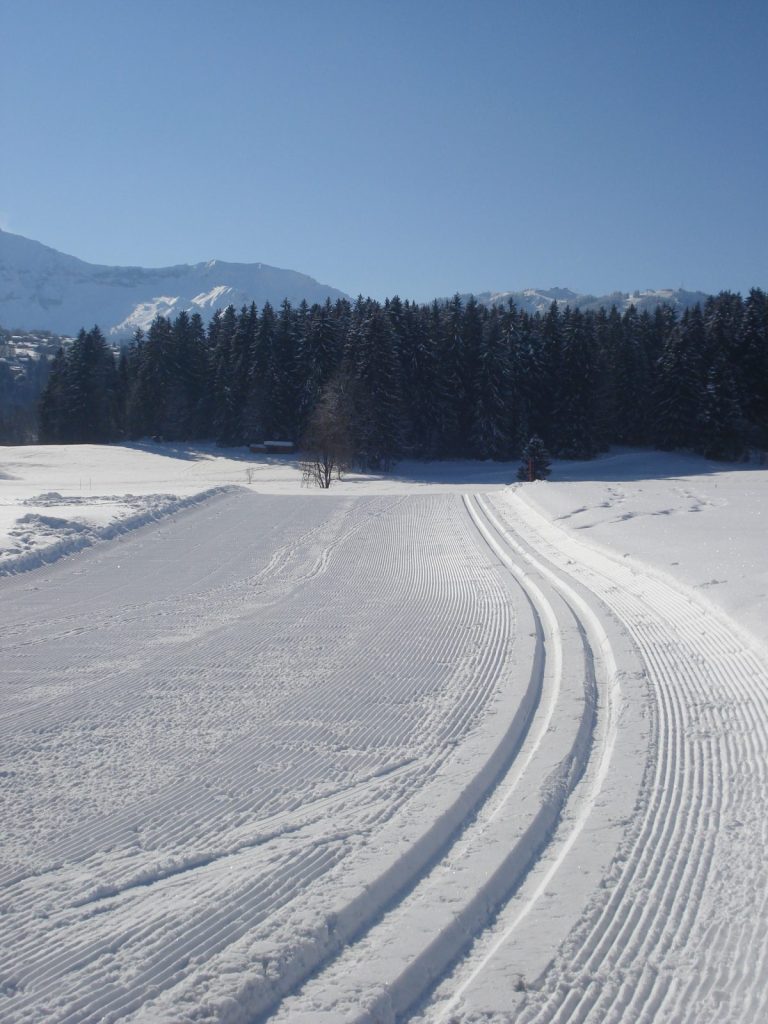 Before telling you everything there is to know about the Nordic itineraries departing from Combloux, let's go together to discover this winter practice in the era of time.
Cross-country skiing: discover this sport!
Cross-country skiing is one of oldest winter sports.
Allowing to move with ease on any type of snowy terrain, it allowsevolve at your own pace, using sticks, on the Groomed or ungroomed slopes – flat or hilly in profile, with low to medium gradients.
It constitutes both a ultra complete physical activity and great way to get around alone or with family while taking advantage of sublime alpine landscapes characteristics of the winter season.
Ce very efficient mode of travel on snow, which is inspired by nordic ski touring, comes straight from Scandinavian countries such as Sweden, Finland and Norway: the homelands of cross-country skiing.
What are the different types of cross-country skiing?
You have surely noticed it: several "zones" coexist on the itineraries dedicated to this modern Nordic discipline.
If the cross-country ski trails include both tracks with rails and a groomed part (without rails) it is because this sport includes two sliding methods quite distinct:
on one side the alternative skiing, which is also called classic style or of traditional method
on the other the skating
So, what type of cross-country skiing to choose when starting out?
Discover how the classic style differs from skating and point to the practice that suits you !
What is the difference between alternative skiing and skating?
While the alternative skis are mainly intended to slide in tracks – the famous rails – at a rythme rather moderate,
Type "cross-country skis"skating" are used more for skate fast on a groomed trail completely unobstructed.
Le traditional cross-country skiing uses a technique perfectly suited to beginners in which the skier – skis placed parallel in the rails – propels himself forward by a gliding motion : the alternate step.
Ce no basis, where the skier alternates the phases of sliding on each ski while pushing on his poles, lends itself perfectly to the balade. Those who wish to progress to low speed, to be able to better contemplate the landscape, will be served!
With regard to the specificities of this type of fun skiing, note that the base of alternative skis has scales. This relief structure prevents practitioners from stepping back.
Skating, meanwhile, became more democratic in the 80s. This discipline is much more recent, invented by certain athletes in search of speed, must be practiced on a groomed surface.
Technical question: the "founder" places these v-skis, propelling itself forward through the famous skater step - A skating movement which consists of a side thrust.
Winter sport: why try cross-country skiing this year?
You wish to learn a new winter sport ? Do not look any further !
Wrongly considered in the collective imagination of the last century as sometimes good-natured, sometimes inaccessible, cross-country skiing has improve its image since his last years.
This sport in the open air is experiencing a growing success among ski enthusiasts. here is a brief overview of benefits that you could take away from this ancestral winter activity, brought up to date.
Get in shape with cross-country skiing!
When it comes to get back in shape, cross-country skiing wins the prize!
This ultra-complete sports practice, acclaimed by health professionals, both for muscle building and cardio – cross-country skiing is one way to:
funny,
tailored
very safe
→ of stay active while doing full of energy during the winter months.
Learn cross-country skiing? Child's play!
In terms of learning, alternative skiing is to everyone.
As long as you have a minimum of physical condition coupled with a bit of willpower, no prerequisites required to learn about this sliding sport. In the space of a few hours, young and old can assimilate the BA-BA of this popular sport.
→ You will have understood: cross-country skiing is for the whole family !
Nordic skiing: an excellent complement to alpine skiing!
Rather bitten of downhill skiing ? Never mind !
Nordic skiing, as one of the most complete sports there is, is a excellent complement to alpine skiing !
More :
byincrease stamina
to be good for the heart and the cardiovascular system,
to increase your proprioception abilities,
de strengthen your support en involving all the muscles of the body : lower and upper limbs, abs, back
at your resistance to hurtle down the slopes of the ski area, it will be seen tenfold and, in fact, the risk of falls, injuries and aches considerably reduced!
In a word, with the bottom, the form is assured! Integrating this outdoor activity with special preparation for alpine skiing becomes one of the best ways to start the season in great shape.
Finally, for the most doubtful: the pleasure of skiing in the Alps is well worth some physical preparation efforts, isn't it?
With Nordic skiing, vary the pleasures of skiing!
With cross-country skiing, the pleasure of sliding is available! This fun activity offers an excellent opportunity for outdoor enthusiasts, regardless of age or skill level, to venture in our enchanting alpine landscapes covered with their snow cover.
Listen to it Silence – just the sound of poles pushing and skis sliding on the snow. There's like a wind magic in the air !
Like the hikes winter, cross-country skiing reveals a universe of tranquility and nature, out of time. This back to basics, conducive to Healing and let go, allows you to detach yourself, for a session, from the hassle and frantic pace of everyday life.
All these reasons are giving rise to a tremendous resurgence of interest in cross-country skiing among a wide audience. Athletes, contemplatives, young and old will be able to enjoy the benefits of this winter sliding activity.
Cross-country skiing or the freedom to ski
This Nordic discipline makes the pleasure of skiing accessible to all, them lifts be open or not !
With equipment that favors great freedom of movement, cross-country skiing in Combloux will allow you to emancipate away from the crowds in our preserved natural areas.
In short, cross-country skiing here means enjoying breathtaking views of the mountains.
Free access to the Nordic area of ​​Combloux: a godsend for small budgets
No package to pay to access the Nordic area of ​​our authentic and friendly resort! You will thus be able to travel the mid-mountains in complete safety, without spending a cent.
The many attractions of cross-country skiing in Combloux
Explore the 5.5 km of Nordic trails in our charming destination and take the time to discover the lesser known places du Portes du Mont-Blanc ski area.
Cross-country skiing in Combloux is a dream opportunity to travel between immaculate mountain pastures, fir trees sprinkled with snow et breathtaking scenery ! Take advantage of it, the domain is freely accessible!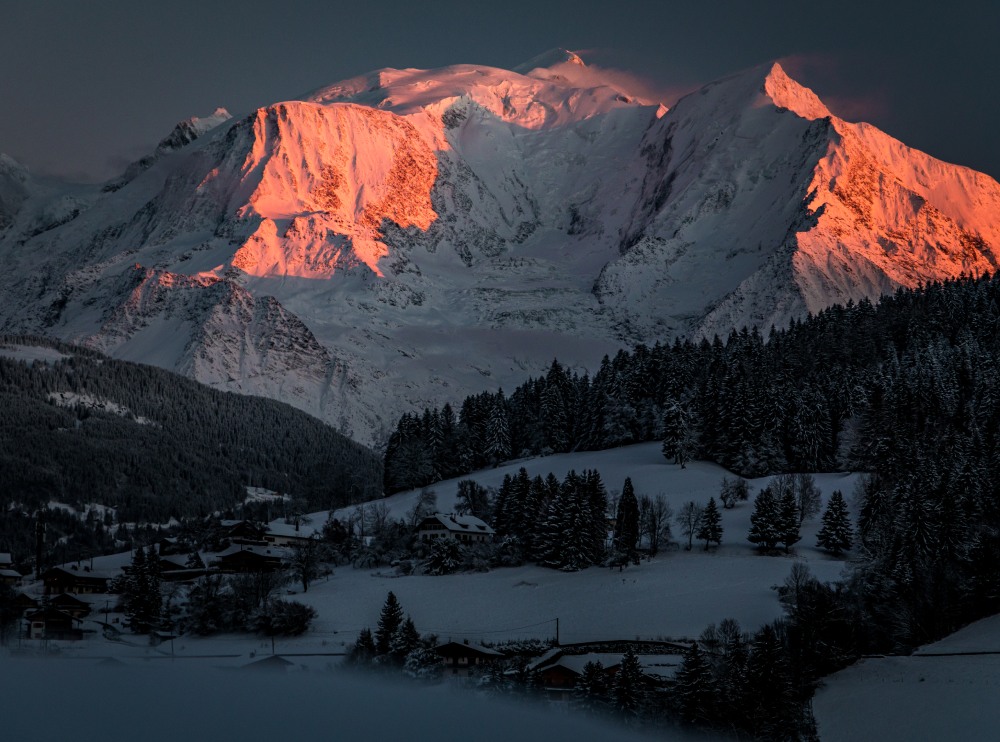 Exploring the Nordic area of ​​the Pearl of the Alps is inexhaustible source of oxygen.
The whole family will come out invigorated et nourished with new positive energy of his cross-country skiing outing in Combloux! What to find well-being and serenity!
Discover our marked routes facing Mont-Blanc
Whether you are a fan of the classic alternating step or rather a keen skater, Combloux has nearly 5.5 km of multi-course trails, start easily this practice in the great outdoors!
Novices, families, people looking for calm but also those who want to train more intensively, will necessarily find what they are looking for on one of the cross-country ski trails in Combloux!
A green track to warm up
A blue run to practice
All of this mixed routes, marked and maintained mechanically allow cross-country skiers – on the one hand – to cohabit with walkers with or without snowshoes - the other.
The northern sector of Combloux thus offers you the possibility of diversifying snow activities within the same output, for even more entertainment !
Combloux Nordic trails: a varied playground for the whole family
Mediafixer two multi-tracks of Combloux come in the form of a roundabout.
Thanks to that loop typology, slide to your heart's content without ski lifts in your field of vision. Welcome to the Nordic land!
Leave with peace of mind ! The combloran nordic sector has a beaconing and specific signage. For your safety and that of all, be sure to respect the signs and the direction of traffic in place.
Finally, for your greatest pleasure, the northern combloran area is dotted with 11 points of interest, with the aim of to discover to children and their parents all the wealth of endemic fauna of the Alps.
Whether as part of a digestive walk or a more sporty excursion, let yourself be guided, in complete autonomy, by the explanatory panels and become unbeatable on local animal species.
The scenography of our "Discovery of Local Fauna" trail, suitable for young audiences, promises you a unique immersive experience appealing to the 5 senses.
Due to its great wealth of activities, the northern sector of Combloux is definitely worth the detour!
The loop of the little wolves: the blue slope of the Portes du Mont Blanc
Good to know: the roundabout "the loop of the p'tits loups" is punctuated by 11 points of interest : something to delight the most curious!
The green run, the combloran Nordic ski route dedicated to beginners
If you want to warm up, start cross-country skiing or simply do a quick loop to oxygenate yourself: the green run is made for you! Discover a easy route bordered by sparse lowland forests et overlooked by majestic peaks...
Combloux Nordic Domain: All the Practical Information
Want to go cross-country skiing facing Mont-Blanc without paying for a pass? It's possible in Combloux!
Ideally located between Cry and Cuchet in Combloux – more precisely in the Fontaine Désir / Crêt du four sector for connoisseurs – the multi-course trails of Combloux are with free access, which means you can enjoy its 5,5 kilometers of slopes without spending a cent.
what a godsend to try out a multitude of winter activities as a family at a lower cost!
Opening of Combloux's Nordic infrastructures
The Nordic season in the Pearl of the Alps extends from december to march. Winter skiing activity requires, the opening of cross-country ski trails is subject to snow conditions.
Opening hours from December 23 to April 01, 2024

Monday
Open from 09 p.m. to 16:30 p.m.
Tuesday
Open from 09 p.m. to 16:30 p.m.
Wednesday
Open from 09 p.m. to 16:30 p.m.
Thursday
Open from 09 p.m. to 16:30 p.m.
Friday
Open from 09 p.m. to 16:30 p.m.
SATURDAY
Open from 09 p.m. to 16:30 p.m.
Sunday
Open from 09 p.m. to 16:30 p.m.
For security reasons (damage), access to cross-country ski routes is prohibited at night (Cf. Municipal decrees).
It should be noted that the cross-country trails are regularly maintained. All you have to do is pull out your skates to take on the freshly groomed infrastructure.
Map of the Nordic routes in Combloux
Here the map of our little corner of nordic paradise. Digital not really your cup of tea? The paper version of this plan is available at the ski lift ticket offices.
How to access the Combloux cross-country ski area?
By car
The northern sector of Combloux has a free parking located a 5-minute walk from the cross-country trails.
Coming to the cross-country ski slopes of Combloux by ski bus
Want to enjoy the joys of skiing, without the bulk of the car? Opt for our ecological transport solution : our winter shuttle service ! This free skibus provides rotations every 15 minutes between the center of Combloux and the Cry car park.
Both for the environment and for your comfort, opt for the Ski Bus reflex!
---
How to learn cross-country skiing this winter in Combloux?
As mentioned at the outset: in terms of learning, alternative skiing is within everyone's reach.
In the space of a few hours, young and old will be able to assimilate the BA-BA of this sport.
Under these conditions: Is taking cross-country skiing lessons really useful?
🔹 Neophytes: don't know where to start?
🔹 Intermediate skiers: have you already learned the basic techniques of this sliding sport but don't know how to improve? Do not panic !
For start cross-country skiing well: there are no secrets. the best way to improve is hire instructors.
besides you guarantee a progression curve defying all records while benefiting from the know-how of seasoned professionals, taking courses will allow you progress at your own pace while learning the right gestures
In addition, be aware that ski instructors are trained:
to teach you the safety rules
to adapt to the physical level and preferences of each.
Whether for :
get started calmly to this new activity in tune with the times
discover how to negotiate descents like a pro
assimilate techniques to move you, whether it's a question of the skater's step or the basics of the classic style
help you establish a 100% personalized Nordic training program
→ we say it, we repeat it: taking classes is the key to your success – whatever Nordic discipline you choose!
Nothing better than benefiting from the expert advice of mountain professionals!
Take a Nordic ski lesson in Combloux
Taking classes will allow you to both:
to start skiing in the best conditions
to master this sliding sport
If you want to perfect your technique or try your hand at skating – for example, we strongly recommend that you seek the wise advice of our qualified professionals.
Whether with theESF Combloux or even with the Megève guide office, these mountain professionals provide lessons suitable for all ages, all levels and all types of cross-country skiing (and even more widely any type of slide).
To progress according to your desires, contact them without delay!
You will be able to choose, among their various à la carte or seasonal course offers, individual or collective, the one(s) that best suits you and your entourage.
Nordic equipment rental in Combloux
Tempted by a cross-country ski outing alone or with the family in the Combloux area, but you are running out of equipment?
Don't worry, our comblorans rental stores will equip you! Check out our "ski and equipment rental page" for all your Nordic equipment searches – from simple outfits to the most specific technical models.
Press ? Find firsthand our comblorans renters!
What equipment do you need for cross-country skiing?
Let's start with a brief overview of equipment !
In terms of equipment, cross-country skis – both long, light, narrow and pointed – are equipped with bindings that release the heel, just like the touring skis and telemarks.
Unlike alpine skis, cross-country skis do not have no metal edges. This allows you to be able toswing with ease and speed (if you wish) on the dedicated Nordic circuits.
Mediafixer cross-country ski boots, both high, flexible and waterproof, allow the foot to bend.
📌 Good to know
The practice of alternative skiing requires a optimal grip, Firstly.
On the other hand for the skating it's here slips who is privileged
➡ It is therefore IMPOSSIBLE to practice these two disciplines with the same pair of skis.
Cross-country skiing: The essential equipment to take on your outings
Nothing is more effective than a good "checklist" to make sure you don't forget anything on D-Day before you can set off on miles of slopes!
In addition, more than one nordic ski-boot set corresponding to the chosen discipline – do not forget to provide:
of ski poles to your size, equipped with straps
of cross country ski clothing adapted to climatic conditions, i.e. a multi-layer system composed, at least:
by base layer
by jacket, allowing you to adjust garment thicknesses for optimal comfort
Nordic ski tights or a cross-country ski pants
socks
a pair of nordic gloves both windproof and breathable
a balaclava, headband or bonnet
of sunglasses or a Norse mask / visor index 3 or 4, to effectively protect the eyes against UV
a cross-country ski belt, a hydration bladder or a water bottle containingwater
un in case to restore you in case of cravings
of spare clothes to be dry during après-ski
To complete the preparations before setting off to attack the Nordic trails of Combloux, make sure that your nordic equipment (shoes, bindings, poles) either well settled and your waxed skis!
Where else can you go cross-country skiing in the Pays du Mont-Blanc?
Have you already explored the Combloran Nordic area long, wide and across… and the cross-country ski trails of Combloux no longer hold any secrets for you?
Once you've gotten your hands (and legs) on our 5.5 km of multi-course routes, why not set off to tackle the many other cross-country ski areas in the area?
Our beautiful Arve valley overlooked by Mont-Blanc is full of marvelous spots for your cross-country ski outings, away from the crowds, in the heart of the mountains – just waiting to be explored!
---