The official route of the Tour de France 2023 was publicly unveiled on Thursday 27 October. What will be the route of the 110th edition of the Grande Boucle? The suspense is at its peak…
Exclusive reveal! The 16th stage of the world's largest cycling event will be marked with a unprecedented time trial competition between Passy and Combloux.
Find all the details of this decisive test which will take place at Pays du Mont-Blanc on Tuesday July 18 2023 next. Don't miss any of novelties and specificities of this 16 stage of the Tour de France !
Unpublished! The Grande Boucle arrives in Combloux for a time trial
The 110th edition of the Tour de France puts the Pays du Mont-Blanc in the spotlight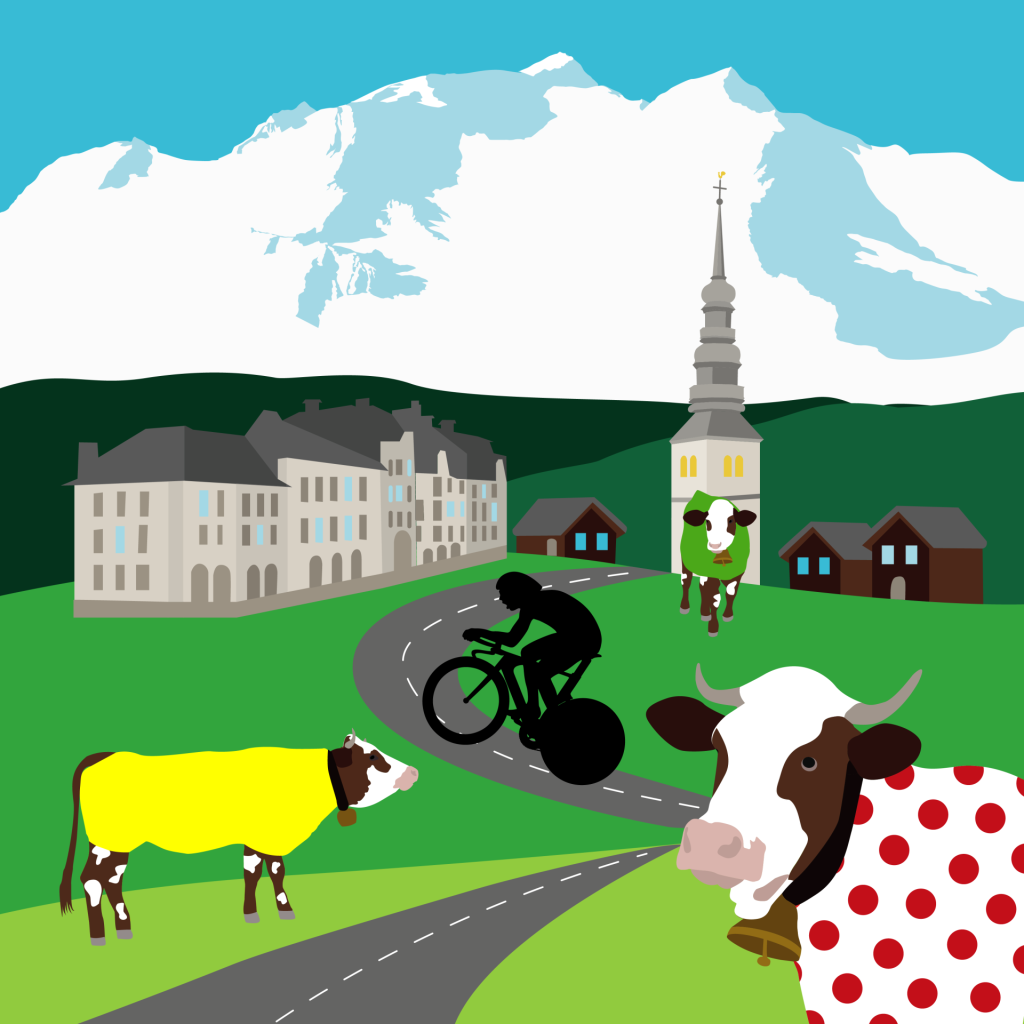 Stronghold of this international cycling event, Haute-Savoie will welcome, as usual, the most prestigious world event dedicated to cycling for its 2023 edition.
Sensational ! The official route of the Tour de France 2023 makes the part beautiful in the Pays du Mont Blanc ! The cyclists of the 110th Grande Boucle will thus criss-cross the roads of the upper Arve valley for 3 days, chaining the uneven and mountain passes, making us travel through our majestic alpine scenery.
Grande Boucle 2023: Profile of the Passy-Combloux time trial
It is after a well-deserved day of rest in Saint-Gervais-les-Bains, in the historic province of Faucigny, on Monday July 17, 2023, that our high-level athletes will resume service for a frantic race towards the Pearl of the Alps.
👉 Note the date of Tuesday July 18, 2023 in your diaries ! For this 3rd Tuesday of the Grande Boucle, Combloux 360° Mont-Blanc invites you to come cheer and salute the sporting achievement riders of the Tour de France 2023 ????
CLM Passy-Combloux: route of the 16 stage of the Tour de France
Visit our page dedicated to the Tour de France 2023 and discover exclusively the contours of the against the watch One-to-one which is looming Combloux 360° !
This very difficult endurance test will, among other things, distinguish the adventurers from the contenders in the general classification.
Book your accommodation in Combloux for the 16th stage of the Grande Boucle
To all those who wish being our front row seats for the arrival of this time trial, don't wait to find the rental of your dreams in Combloux.
Our charming destination facing Mont-Blanc, labeled for its commitment to families, is already making many efforts for you to to guarantee spend an exceptional stay in our alpine village on the occasion of this 110th Tour de France.
Our accommodation service will be happy to offer you personalized offers adapted to your desires!