The resort's ski equipment rental companies welcome you all winter to equip you during your stay in Combloux.
Alpine skiing, cross-country skiing, ski touring, snowshoeing, sledding, snowboarding or even baby carriers and 4×4 strollers… Travel light and enjoy quality snow equipment at the best price in Combloux.
Why rent your equipment?
Renting your ski equipment for a stay in the mountains involves many benefits :
Practice : no need to carry bulky equipment. You are free to come by any means of transport. Also forget the problems of storing your equipment all the rest of the year.
Easy : book your equipment in advance and save time when you arrive in the resort to enjoy your stay.
Economic : it is more economical to rent your equipment if you only practice a few days a year. You avoid expensive investment and maintenance costs. For children who grow quickly, no need to renew expensive equipment every year! By booking in advance, you can also benefit from cheaper prices.
Smart: benefit from recent, well-maintained and well-adjusted equipment, adapted to your needs and your level.
Equipment rental in Combloux: how does it work?
Reservation in advance or rental on site, You choose !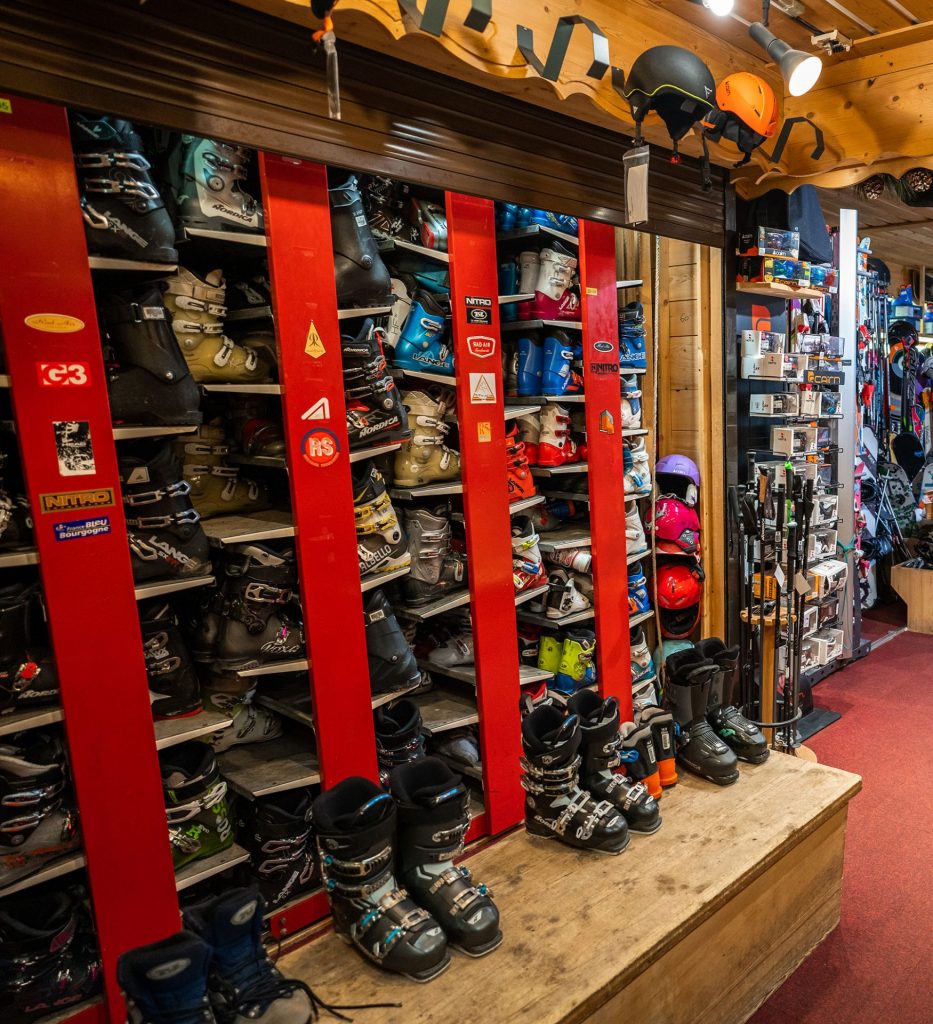 Booking in advance:
You can book directly online or by phone with equipment rental companies. Each rental company offers packs with different options and equipment according to your needs. (Please note that not all sports are available for advance booking).
When you arrive in the village, go to your rental company to try out the reserved equipment and collect it. You are ready to ski the resort's ski areas !
Rental on site:
If you opt for on-site rental, go directly to the store. The professionals will advise you on the equipment adapted to your needs and your level.
Ski equipment rental and snow activities
Find ski equipment rental companies (alpine, hiking, snowboarding) and other snow activities (snowshoes, sledges, scooters, etc.) in Combloux.
---
Rental of equipment for transporting children
Rent a baby carrier or a 4×4 stroller to facilitate your travels in the mountains. This equipment is available from the following rental companies.
---
Children's ski clothing rental
Traveling Kids offers a ski clothing rental service for children. A useful and economical service to limit your skiing expenses during a family holiday!
The set including: ski + mittens + snow boots (from 12 months to 5 years old) is less than €25 per week.
---
---