Looking for fun activities to do in Combloux and its surroundings during these Easter holidays? Because each season has its favorite hobbies, find here a complete list oforiginal animations, ofentertaining occupations and outdoor recreation to be tested for the return of fine weather to the Pays du Mont-Blanc.
Alone, with friends or family, come experience theeffervescence of spring in our family destination where many attractive activities await you.
Easter holidays in Combloux: an entertainment program for the whole family
Nature is waking up, the days are getting longer and the sun is gently warming the peaks... no, you're not dreaming: the spring is well and truly back in the Pearl of the Alps!
To celebrate this season of renewal, Combloux has concocted a exceptional entertainment program ! The knell for the holidays having sounded, our entertainment center is pulling out all the stops from Easter to Pentecost, to the delight of young and old alike.
Sports workshops galore
With longer days and increasingly mild temperatures, the Easter holidays offer optimal conditions to indulge in all kinds ofphysical activity. And what better way to move while having fun, than to take up the challenge as a team ?
Discover here our selection of collective sports activities to participate in Combloux. These football or volleyball tournaments are an opportunity:
to make great encounters, to share friendly moments with your teammates,
to progress in your practice,
all, whatever your age and level of training.
01
Tournoi de Football
Alone or with friends, come and test your football skills through a tournament organized by our host Julien.
02
On sort le grand jeu
A day dedicated to children but also an Olympiad which brings together several games and especially friends.
03
Volley ball
A sporting and friendly moment with friends or family, several teams a single trophy.
04
Stage de foot
If you like to touch the ball and have fun, take part in the course organized by the Football club of Combloux, during the All Saints holidays! Licensed or not, aged between 6 and 17, this internship is for you! All the info from the club!
Family Fun Galore for the Easter Holidays
Yes, yes, school is out! What can you do to make the most of every moment of your stay in the Pearl of the Alps?
Beyond sports tournaments and other ball games, theCombloux Tourist Office invites you to take part in all kinds of original workshops conducive to laughter. Something to enliven your Easter stay as it should be while having a good time alone or in the company of your entourage!
Fun challenges for young and old, creative workshops, crazy activities, fun... Cap on the wide variety ofanimations that punctuate local life, for unforgettable Easter holidays at the mountain.
01
Tournoi de pétanque
Come and spend a friendly moment alone or accompanied to share a game of petanque with Julien, host of the Tourist Office. Balls provided by the Office (you can bring your own).
02
Molkky party
The principle of the game is to knock down wooden skittles using a launcher called Molkky.
03
Tournoi de fléchettes
Want to have a good time? We hit the bullseye by offering you a game of darts in the sun in the company of your entertainers.
04
Défi musical – blind test
In the company of our host Julien, come and take part in a festive moment around an unmissable blind test! With friends or family, come and test your musical knowledge and your alertness. Animation accessible without reservation.
05
Tournoi Mario Kart
Meet around this essential video game to have a good time around Mario Kart circuits. Whether you are on vacation in Combloux or whether you live here, come and take up the challenge and give the best of yourself behind the controller.
06
Soirée challenge boys Vs girls
One evening, several challenges, two teams, ONE winner. The entertainment team awaits you for an evening worthy of the biggest TV sets.
07
Défi tik tok
Your animation team invites young people to come and take part in a tik tok video put together by professionals and then broadcast on the Office's account.
08
Marche nordique
Discover the benefits of Nordic walking with breathtaking views.

All the entertainment for the month of April in Combloux
The snow has melted, but that's not the end of the beans since our village resort is constantly renewing. Combloux is worth the detour in any season, that goes without saying.
Each period of the year being synonymous with new experiences to test, discover in this program, all the activities of the current month in our charming destination. Among all the outings on offer, you are bound to find what you are looking for!
Entertainment in Combloux during the Easter holidays
Whether in the bright sun or in the pouring rain, a visit to our family destination in the spring is always synonymous with joy and fun!
Here are our suggestions for Colorful April holidays in Combloux and its surroundings.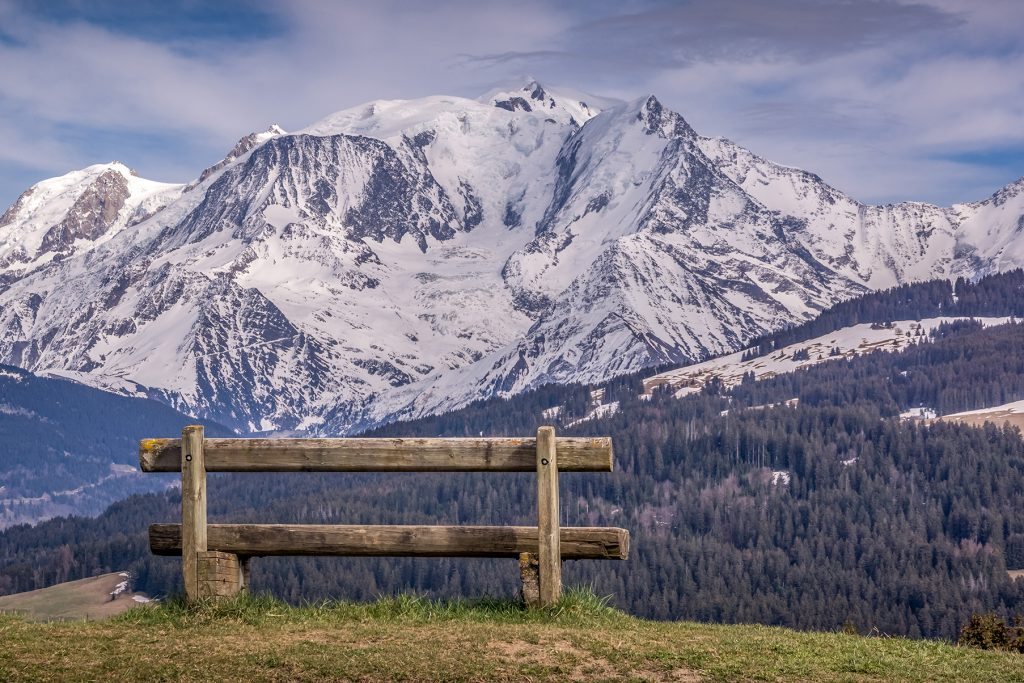 Because every moment of life can be conducive to learning, why not take advantage of a getaway to our picturesque village to learn more about our emblematic destination and its surroundings?
For the pleasure of our visitors of all ages, Combloux is full offamily cultural attractions : walks, hikes, fun visits, activities on the farm... Heading for the must-haves for this Easter holiday !
Easter workshops at the GAEC Les Montagnards Farm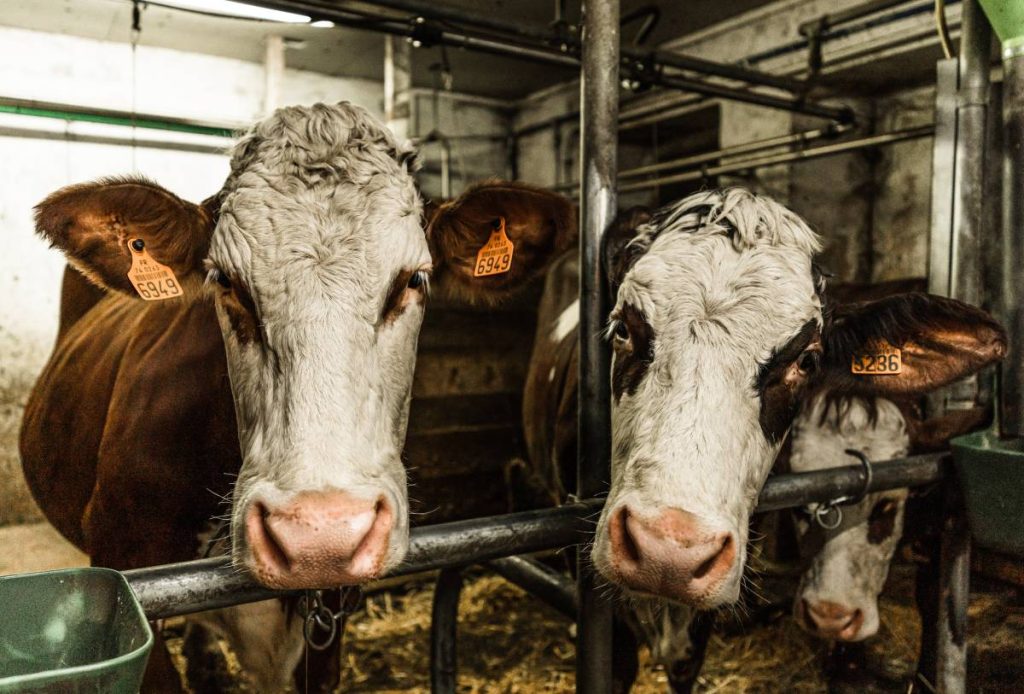 Immerse yourself in the local and agricultural life of our Haute-Savoie village while visiting the Farm GAEC Les Montagnards : an authentic and warm place to share good times along with those around him.
To celebrate Easter in style, this educational farm has planned a multitude of playful workshops mainly aimed at children. By reservation.
---
In spring in Combloux, we have a lot of fun!
Or borrow board games for the holidays?
Nothing like a good board game to spend a friendly moment with family or friends during your Easter stay in Combloux !
Passing through our intergenerational destination, did you know that the municipality puts free of charge a wide variety of board games available to parents and their children?
Go to the Tourist Office to discover them!
---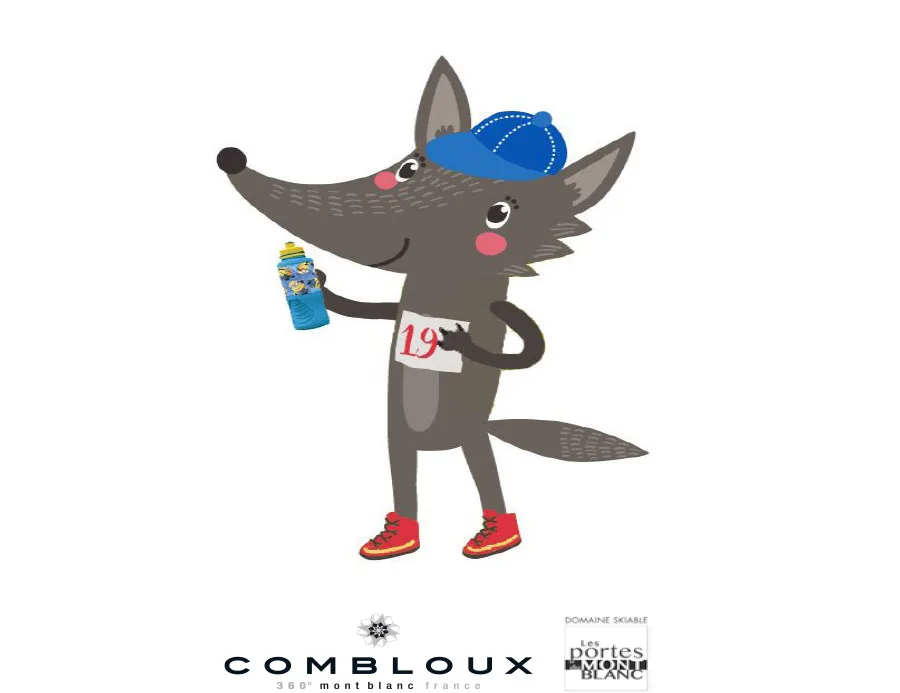 Treasure hunts: an experience that promotes family cohesion
Treasure hunts are popular summer entertainment in Combloux!
Families with toddlers are invited to embark on the adventure to discover the village and its unusual places in a fun way, while solving fun puzzles!
---
Discovering the cultural gems of the region
The April school holidays are a privileged period for discover the rich heritage of Combloux and its region, Mont-Blanc country.
Indeed, our territory straddling Savoie and Haute-Savoie, is full of historical and cultural treasures just waiting to be explored, such as the famous bell tower of the Saint-Nicolas church, the charming chapels that dot the valley...
---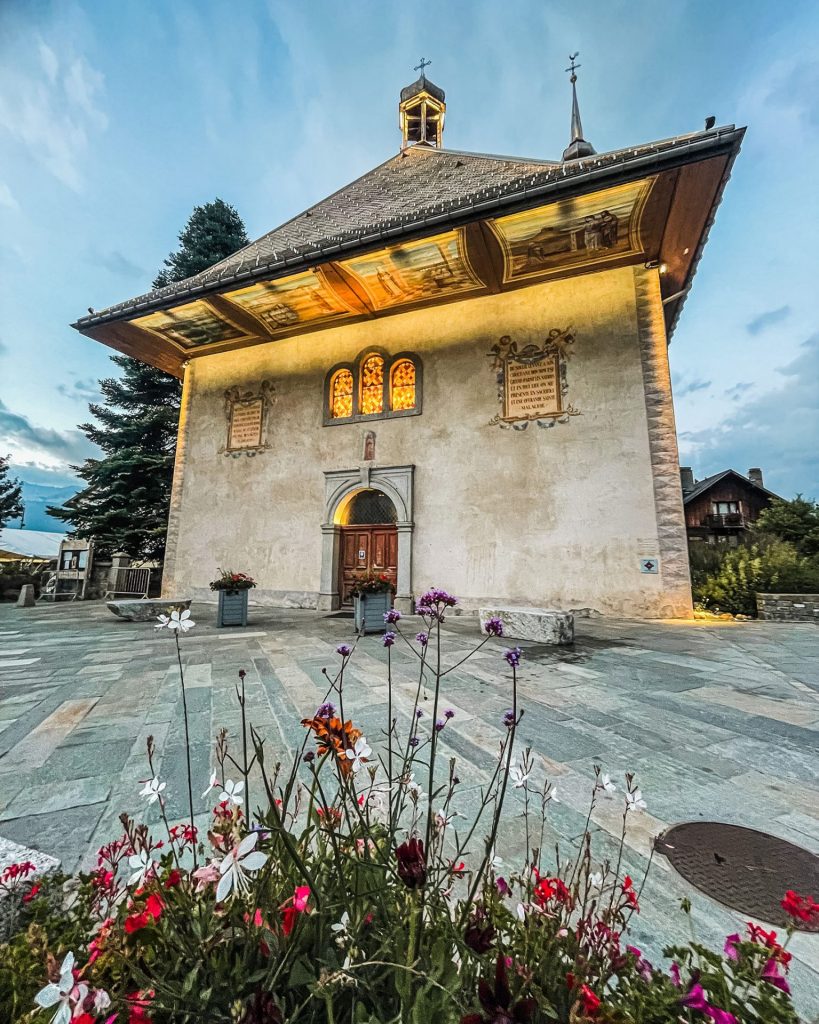 Guided heritage tours
Are you passionate about history, culture or nature? Let our heritage guides guide you!
Thanks to their expertise, they will disclose to you the secrets well guarded emblematic places of the region.
A wonderful opportunity to glimpse the hidden gems of the Pays du Mont-Blanc, as you have never seen them before.
---
Family outings in the Pays du Mont-Blanc: Our favorites in April
The Chateau des Rubins, Observatory of the Alps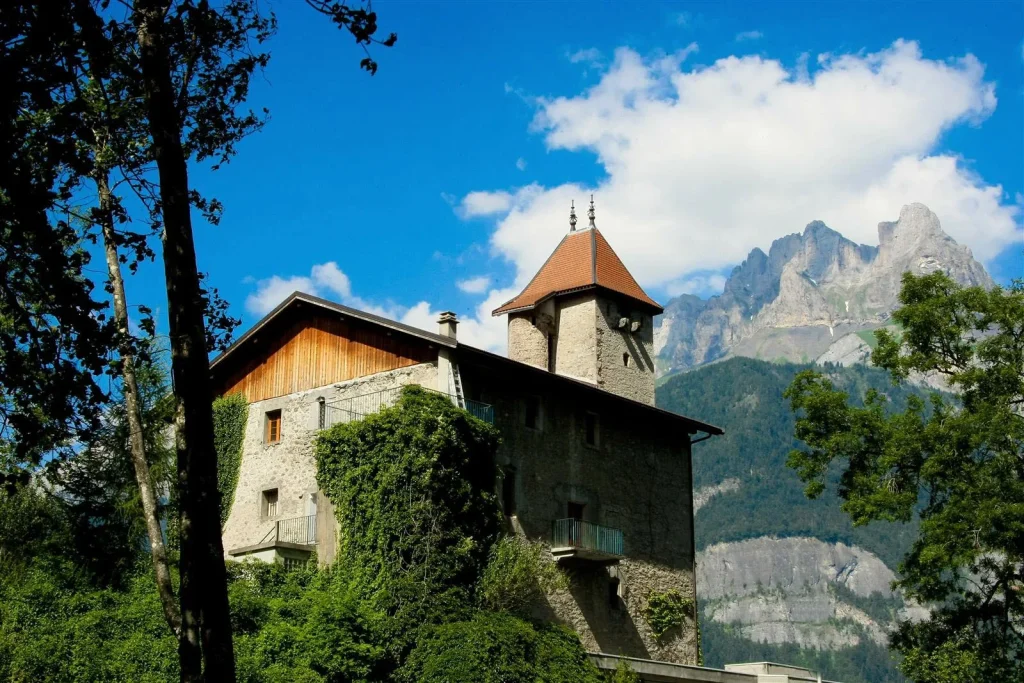 Nothing like a springtime family visit to Rubins Castle to immerse yourself in the history of the Alps !
Located in Sallanches, this fabulous museum featuring themountain environment in all its states, will provide a memorable experience for lovers ofnatural History of all ages.
In addition, throughout the year many workshops are offered on Wednesdays and Sundays (by reservation).
---
Get your fill of thrills aboard the 4S toboggan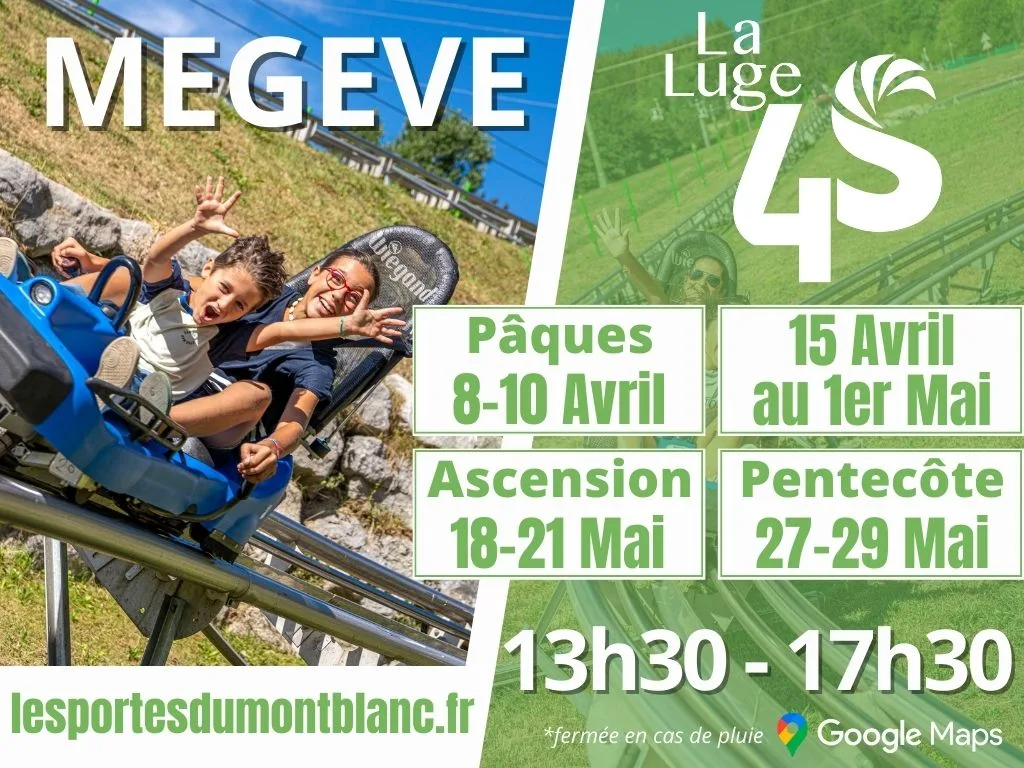 In search of'adrenaline ? Take on the 4S luge and its 715 meters of descent!
This equipment located at the foot of the Jaillet gondola in Megève welcomes you throughout the school holidays to make you live a sensational experience.
---
Participate in nature activities at the Center de la Nature Montagnarde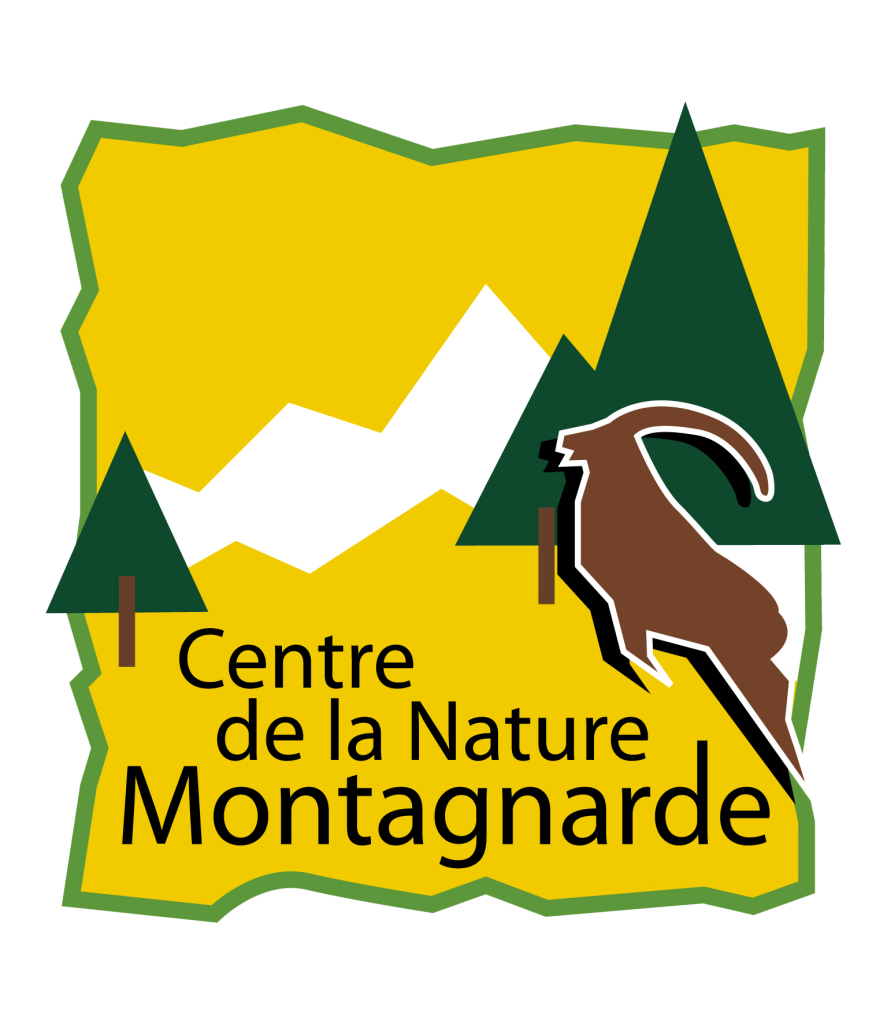 The Pays du Mont-Blanc offers a grandiose alpine environment. To make you discover all his riches – whether geological, botanical or animal – the Center de la Nature Montagnarde (CNM) runs a wide variety of nature workshops:
Discovery of edible plants
Black grouse outings
Artistic workshops
Botany lessons suitable for all levels
etc
This spring, the Center de la Nature Montagnarde is making available to the public a wide range of training accessible to all levels. Consequently, everyone will be able to become aware of the mountain environment. How to become a real budding naturalist!
---
Nature excursions for young and old around Combloux
Combloux and its region, the Pays du Mont-Blanc, have a grandiose natural territory.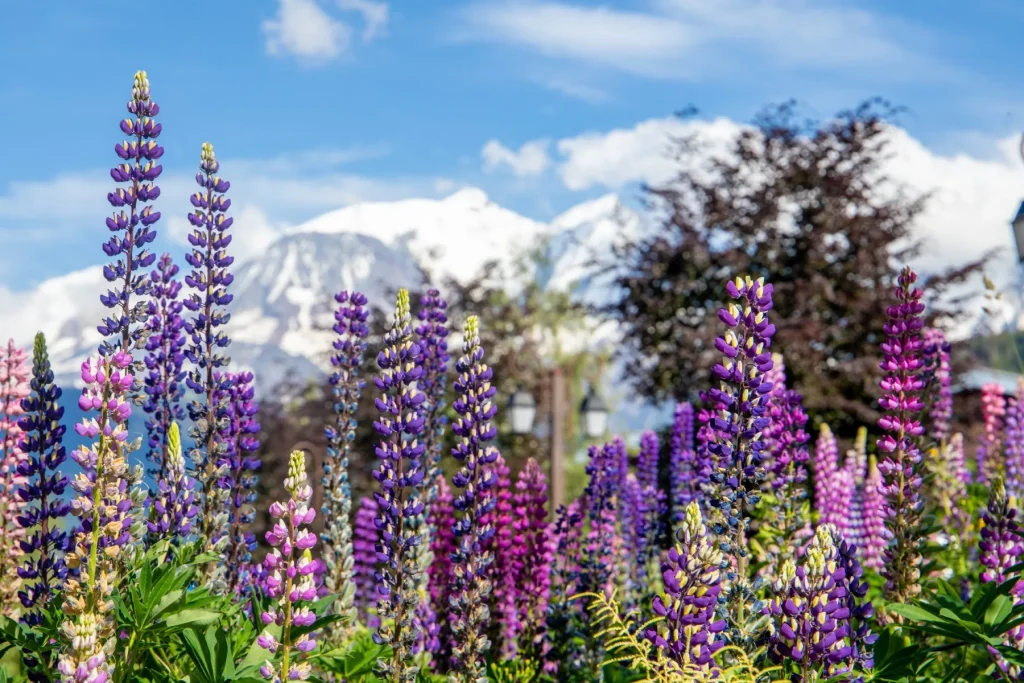 In this season where everything is reborn:
the trees take on their colors again,
the flowers are budding
the peaks are adorned with breathtaking natural beauty.
Then it's the perfect time to get out of your home and let yourself be captivated by the wonders of awakening nature after the coldwinter.
---
The ideal season to enjoy outdoor activities!
As previously mentioned, the Easter holidays, which mark the start of the spring, offer a perfect setting for outdoor recreation. The mild and pleasant temperatures make it possible to to take full advantage of of walks and nature excursions.
With its lush alpine alpine nature and its breathtaking view of the Mont-Blanc massif, there is actually something to marvel at throughout the summer in Combloux.
Whether you are a fan of hiking, running, cycling or outdoor sports in general, Combloux is full of nature activities to satisfy all tastes and all ages.
Whatever your preferred mode of transport, discover our suggested routes to explore the Comblorans trails in the spring.
Are you looking to deepen your knowledge of the mountain environment? Opt for one of our supervised nature excursions : a friendly option to discover new places in the mountains, in complete safety.
Rather sporty hiking, cycling, Nordic walking, yoga walk? Choose your favorite discipline and let our professionals guide you, who will adapt to your desires and your level of practice!
---
Combloux: the ultimate open-air playground
Combloux is an ideal destination for families looking for entertainment and outdoor recreation.
Offering a multitude of modules adapted to each age group, the playgrounds, freely accessible in the village, impose themselves as high places of amusement both for children and teenagers.
Often located near relaxation areas, they are also particularly popular with parents.
---
The major spring events in Combloux
You ask yourself where to go out in the Pays du Mont-Blanc this Spring ?
If you are looking for outing ideas to brighten up your spring days and evenings in the upper Arve valley, know that Combloux offers all year round many unmissable events.
Between traditional festivals, cultural shows and major sporting events, the April holidays are no exception to the rule. You will inevitably find something to entertain you in our charming mountain village during this auspicious Easter period.
Light on the major spring events which punctuate the life of the town, while giving us the promise of beautiful encounters and fabulous discoveries.