We tested the Giant Swing for you, an XXL swing at the top of Jaillet, facing Mont-Blanc. Thrills guaranteed!
The Portes du Mont-Blanc ski area has installed a new attraction, unique in the Alps. Launched during the 2022 summer season, it will also be available in winter. Curious about this innovative concept, we went to test the Giant Swing for you. Here is our feedback!
The Jaillet area
The Giant Swing is placed a few dozen meters from the arrival of the Jaillet gondola. Thus, you have several options to access it. Either with the ski lifts or using the hiking trails. Arrived on site you will find a multitude of infrastructures: 60m zip line, trampolines, big airbag, wooden games, bouncy castles, picnic tables etc... All with a breathtaking view of the entire Mont-Blanc massif! It is also possible to eat at the Jaillet foodtruck.
What is the Giant Swing?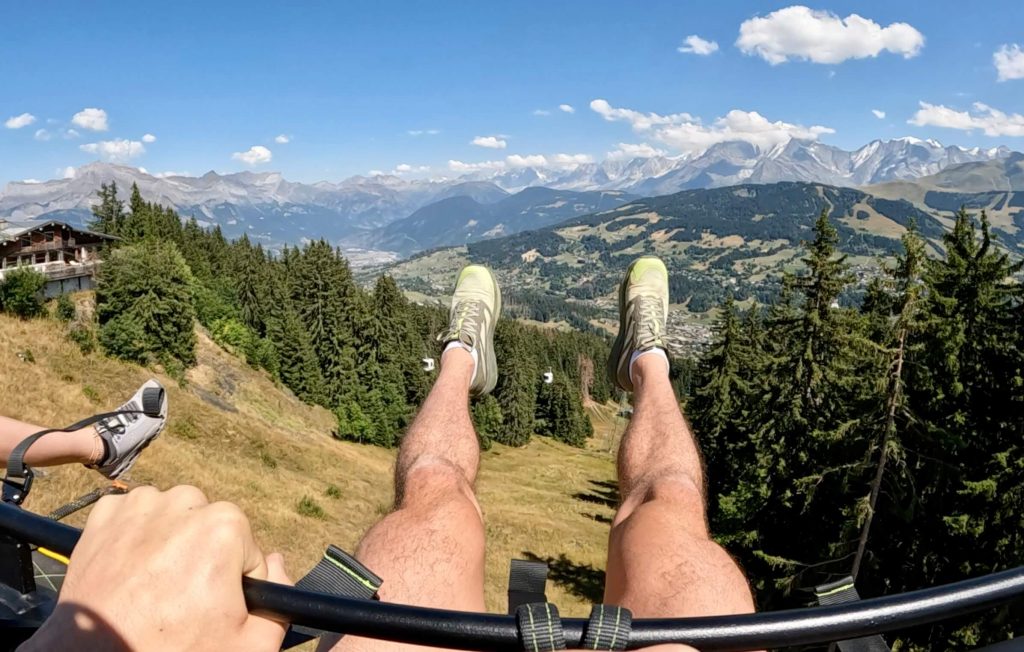 Translated into French, we will understand giant swing. But what is it, then ? We are used to the children's version, but we usually have less experience with XXL swings. This one offers 3 seats, well attached with harness and carabiners. The users are climbed to 16m high thanks to a cable then they are released suddenly, gravity doing the rest. Pendulum movements follow as on a classic infrastructure. All in an exceptional setting with views of the surrounding mountains.
Take-off preparation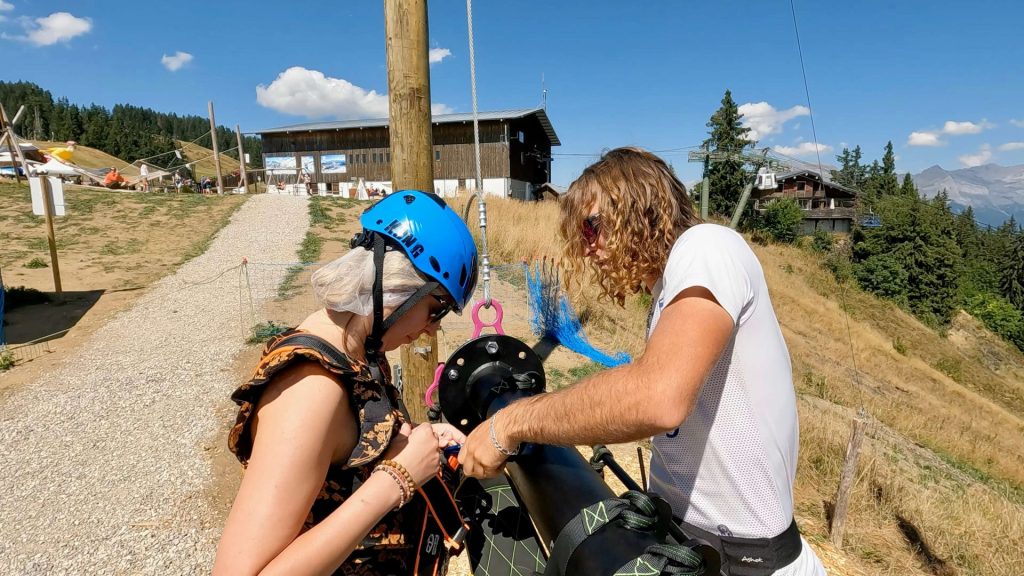 To test the activity we were 2: Elodie and Paul. Arriving there we see people doing the activity. They scream but think it's great! This vision immerses us directly in the atmosphere and in the challenge that awaits us. It's a little higher and faster than we imagined. Apprehension and excitement mingle in us.
Our turn is coming quickly. It is Ben who welcomes us and who will be in charge of our security. He gives us a helmet and a harness to put on and then takes us up on the platform. He checks that everything is in order and shows us where to place our hands to hold ourselves. That's the only thing we have to do: hold the helm and enjoy.
The long-awaited moment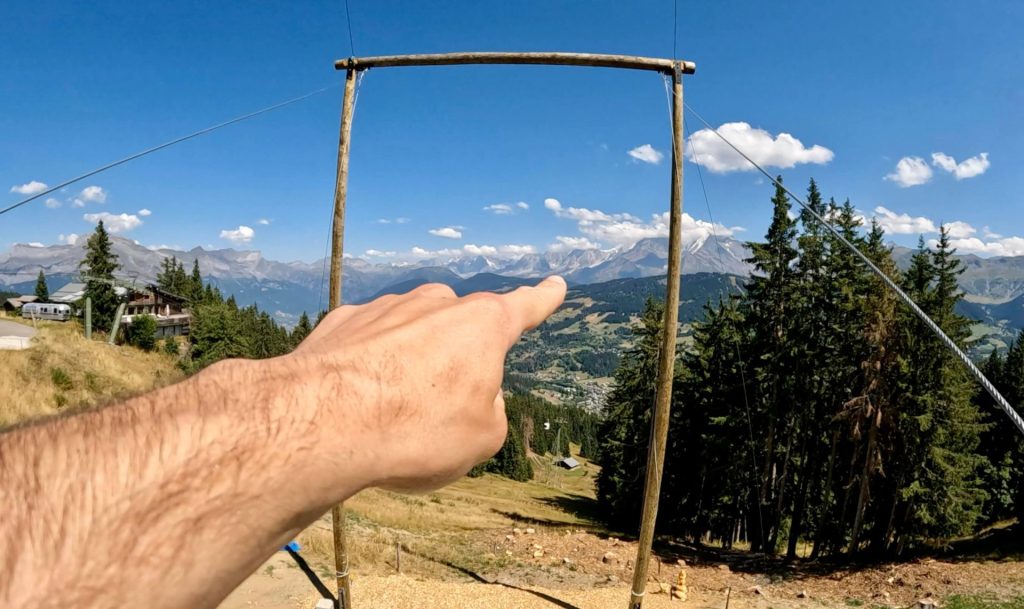 When everything is ready Ben begins the climbing process. A rope slowly but surely hoists us up to 16m high. The view is very beautiful, we can see Mont-Blanc and other peaks, but the view is especially impressive with the void under our feet. Ben tells us that he will soon start the process to make us leave. Before removing the rope that keeps us in the air, he counts down: 5, 4… The tension is mounting, did we do well to embark on this activity? 3, 2… We can't go back. 1… GO The first thing that happens is the adrenaline of full speed, free fall descent. The second is the loudness of Elodie's cries, a real alarm. The back and forth are linked and we make the most of it! The sensations are difficult to describe and different for everyone, but it is a unique attraction that we recommend!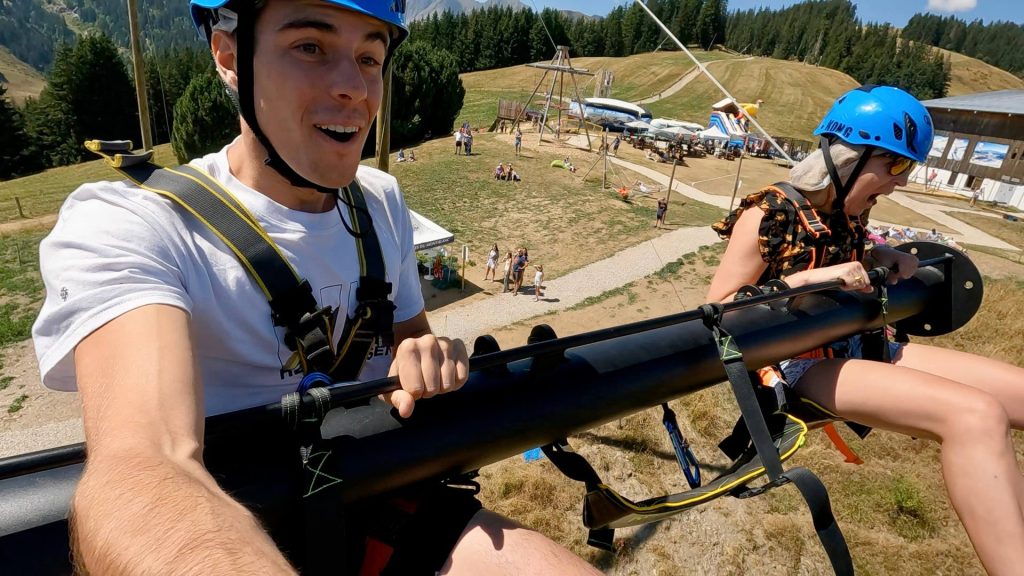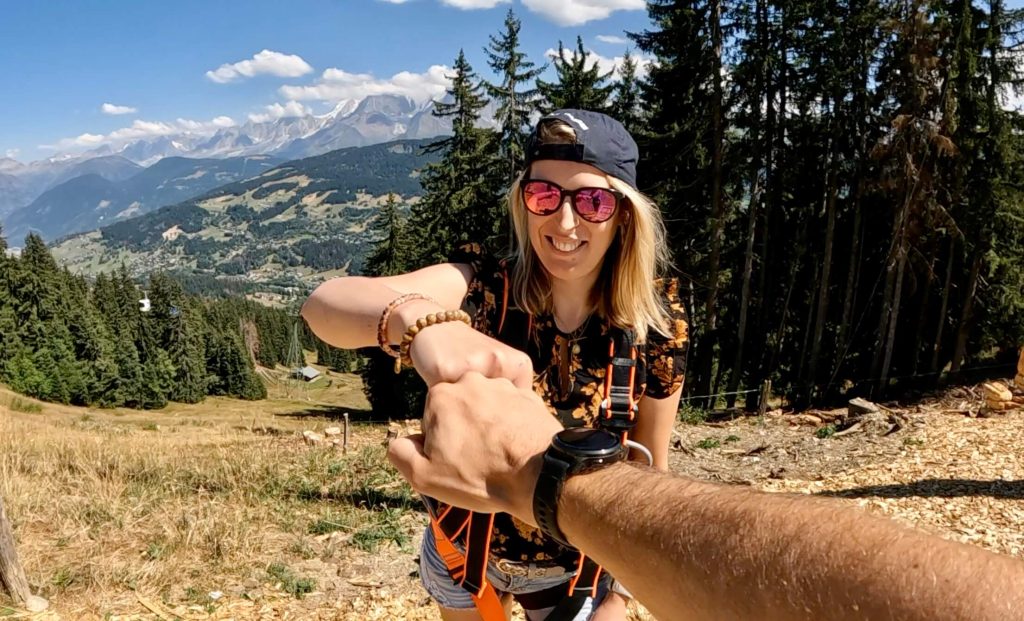 Practical information on the Giant Swing
Opening hours
Opening hours from July 08 to September 03, 2023

Monday
Open from 10:30 a.m. to 17 p.m.
Tuesday
Open from 10:30 a.m. to 17 p.m.
Wednesday
Open from 10:30 a.m. to 17 p.m.
Thursday
Open from 10:30 a.m. to 17 p.m.
Friday
Open from 10:30 a.m. to 17 p.m.
Saturday
Open from 10:30 a.m. to 17 p.m.
Sunday
Open from 10:30 a.m. to 17 p.m.
Estimated dates and times
Discover the Giant Swing on video!