During school holidays, the Les Montagnards farm opens its doors and welcomes you for a visit rich in learning!
A new generation farm, this farm has state-of-the-art tools to improve animal welfare, an example of a successful combination of technology and tradition.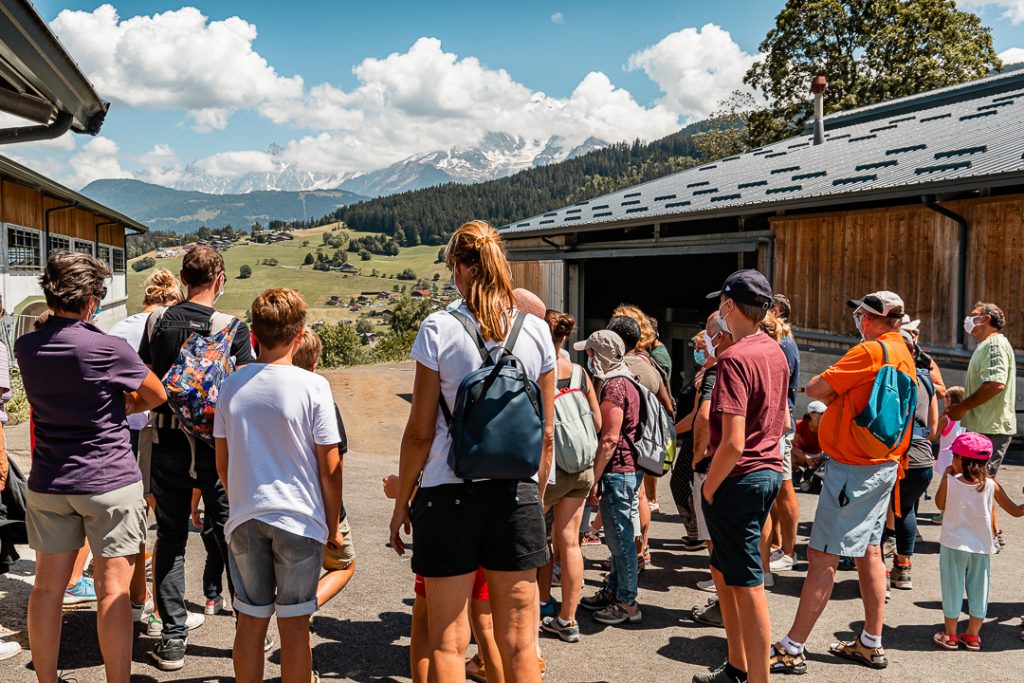 History of Les Montagnards farm
The origin of the Ferme les Montagnards dates back to 1982, when it was built. The establishment welcomes dairy cows, then cows specially selected to produce Reblochon. Everything is going well until the summer of 2010 when the farm disappears in a fire. After this dramatic event, the owners took 3 years before relaunching a project: making a new start with the welfare of animals and employees as a guideline. This is how in 2013 the farm rose from its ashes with new innovative infrastructures!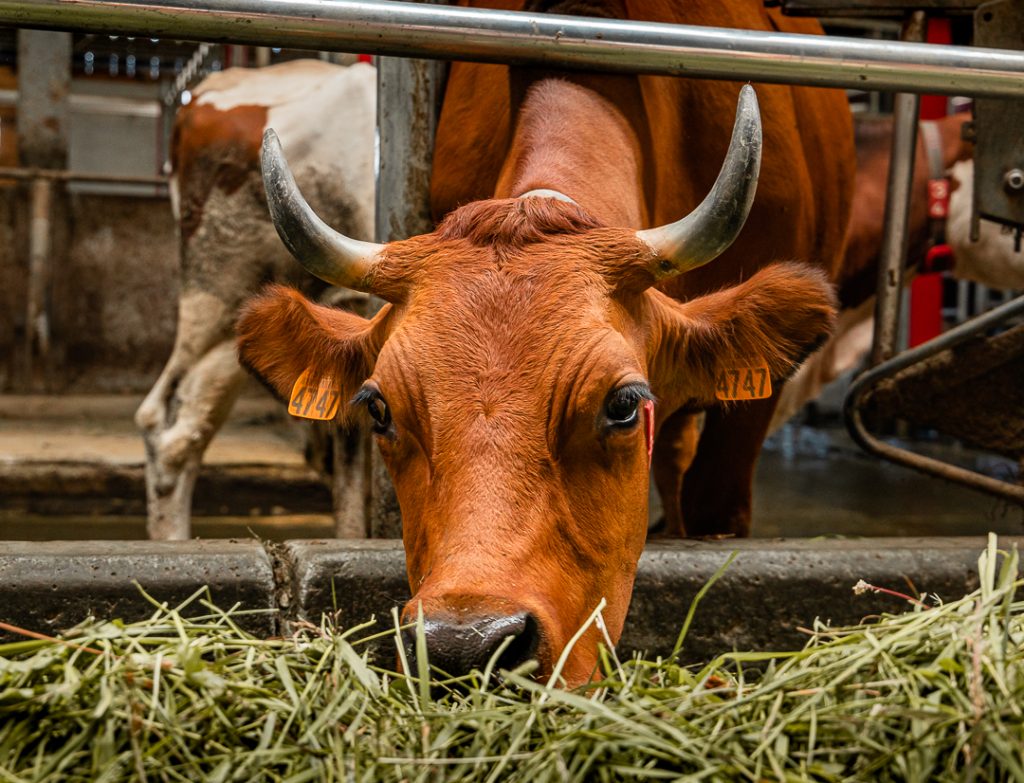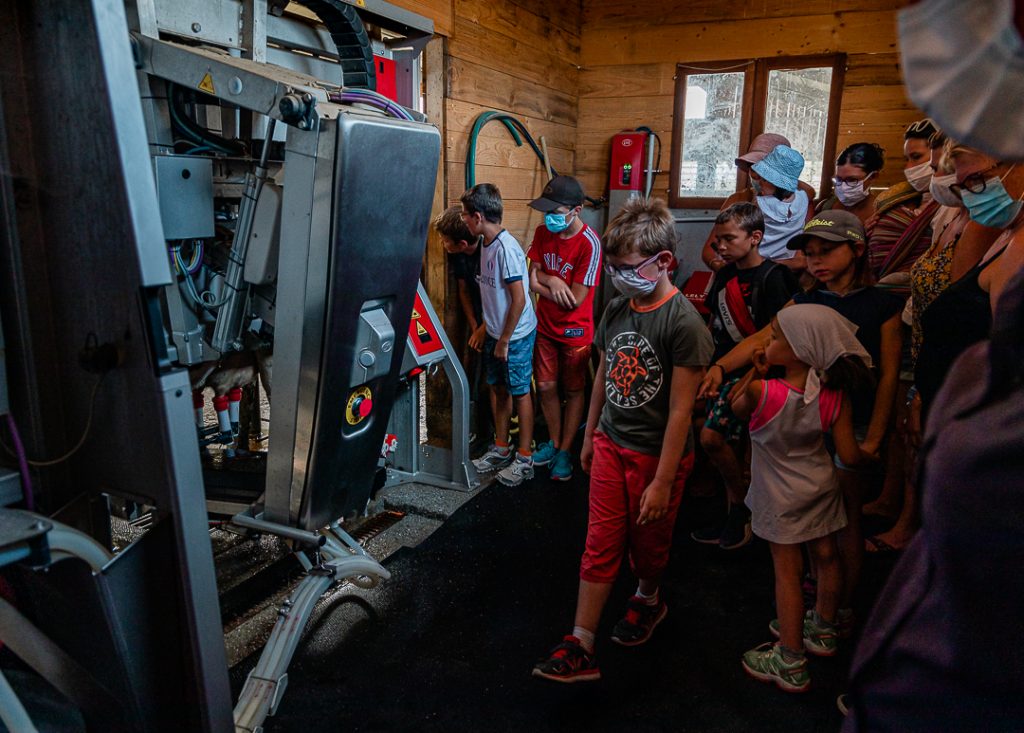 A one-of-a-kind farm
Since its reconstruction, Les Montagnards farm is an example of which Combloux is very proud! The animals are treated with affection and enjoy excellent living conditions. Everything is designed to comply with both regulations and animal welfare. To meet this challenge, the farm has invested in state-of-the-art equipment. For example, cows are milked when they want by an intelligent robot, capable of recognizing the cow that comes its way. You can also witness this process during the visit!
---
Visit of the educational farm
During your visit you are warmly welcomed by Delphine. After a presentation of the different buildings, she will explain to you how the various machines work and introduce you to her little residents: cows, goats, pigs, rabbits, geese, hens, ponies... Finally, the secrets of a good Reblochon will be revealed to you!
The making of Reblochon
Reblochon is the emblematic cheese of our territory! Its production is highly regulated and you have to respect a whole set of specifications to use this appellation. Whether in the choice of the breed of cows, in the delimitation of the geographical area, in the feeding of the animals or in the production time, this cheese requires a certain expertise.
During the different stages of the visit, your guide will explain the different points of importance to respect to make Reblochon, show you the techniques for transforming milk into cheese and offer you a little tasting!
Book your visit to the Ferme les Montagnards
Further information
The visit only takes place during school holidays on Tuesdays and Thursdays from 10 a.m. to 12 p.m. or from 14 p.m. to 16 p.m. Reservation required on 06 21 02 18 99.
Visits to the "Les Montagnards" farm temporarily suspended
In order to view the different information, you can use the navigation arrows placed to the right of the table
Opening hours on December 26, 2023

Tuesday
Open from 10:30 a.m. to 11:30 p.m.
Opening hours on January 02, 2024

Tuesday
Open from 10:30 a.m. to 11:30 p.m.
This activity is possible whatever the season or the weather. Even in rainy weather, you are safe from drips as the tour is inside farm buildings. However, bring warm clothes if the temperatures are low.
At the end of your visit, you can buy local products in the farm shop (fresh milk, cheese, cream, cold cuts, jam, cakes and other regional specialties).
Shop hours
Opening hours from January 01 to December 31, 2023

Monday
Open from 08:30 a.m. to 12 p.m. and from 14 p.m. to 18 p.m.
Tuesday
Open from 08:30 a.m. to 12 p.m. and from 14 p.m. to 18 p.m.
Wednesday
Open from 08:30 a.m. to 12 p.m. and from 14 p.m. to 18 p.m.
Thursday
Open from 08:30 a.m. to 12 p.m. and from 14 p.m. to 18 p.m.
Friday
Open from 08:30 a.m. to 12 p.m. and from 14 p.m. to 18 p.m.
SATURDAY
Open from 08:30 a.m. to 12 p.m. and from 15 p.m. to 18 p.m.
Closed Saturday afternoon & Sunday
---
Getting to Les Montagnards farm
Farm. Opens tomorrow at 08:30 p.m.
74, path of Poses
Hamlet of Ormaret
74920
Combloux
Calculate my route